Pulled pork is a favorite in our home. I have no complaints about it, especially since I consider these Slow Cooker Pulled Pork Wraps a super easy meal to pull off. A few minutes of prep, throw in the slow cooker and a few hours later the pay off is huge.

Admittedly, if I could slow cook and waffle every meal, I probably would. But I think my family would revolt and I'd end up cooking meals under screaming cries and watchful eyes.
So instead, I simply have to get creative and find ways to spin some family favorites, like presenting pulled pork in a wrap with Flatout Bread.
And oh, hey, I even made a video so you could see just how easy this is.


Yield: Serves 6-8
Slow Cooker Pulled Pork Wraps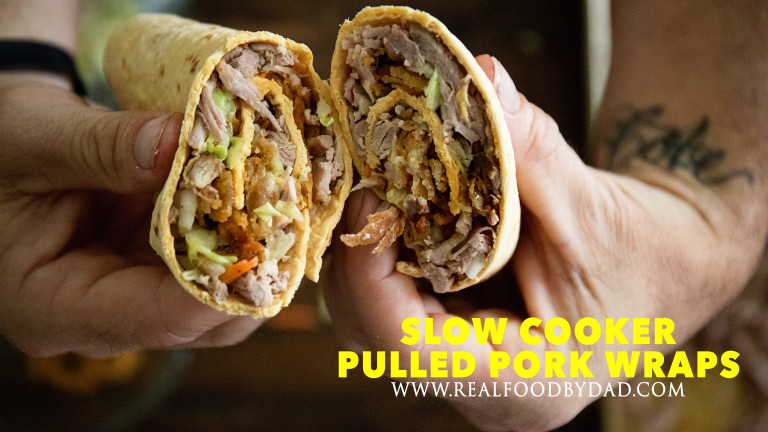 Ingredients
1/4 cup brown sugar
1 tablespoon kosher salt
1 tablespoon black pepper
1 tablespoon cumin
1 1/2 teaspoon smoked paprika
3/4 teaspoon cayenne pepper
1 cup chicken stock
3/4 cup ketchup
1/2 cup dark molasses
2 tablespoon Worcestershire
1 tablespoon Dijon mustard
5-6 lbs. pork shoulder
1 onion, halved
6-8 Flatout Bread
2 cups crispy onions, your preferred recipe
1 1/2 cups coleslaw, your preferred recipe
Instructions
In a large bowl, combine and whisk together first 6 ingredients; set aside. In a second bowl, combine and whisk together next 5 ingredients.
Place pork shoulder in slow cooker followed by halved onion. Add dried spices followed by wet ingredient mixture. Cover and cook on low for 8 hours. Remove pork shoulder and shred with two forks.
To assemble wrap: Layer Flatout Bread with pulled pork, coleslaw and crispy onions, making sure to leave a 1/2 inch border all the way around. Starting from one end, roll, and slice in half. Serve immediately.