There are many things I love in our kitchen, but the slow cooker is near the top of my list of favorites. And every time I use it, I always wonder why I don't use it more.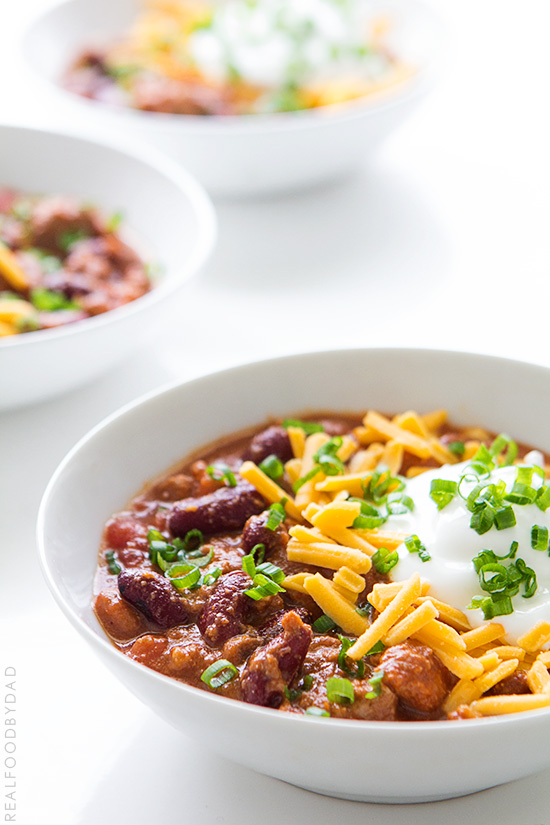 This easy slow cooker chili is the latest recipe to come from it.
Most slow cooker chili recipes call for cooking the vegetables and meat on the stove-top first then transferring it to a slow cooker with the remaining ingredients. But since I really didn't feel like standing over a pan and stirring, I simplified the prep by roasting the vegetables rather than browning them in pan. And I skipped browning the meat for throwing it all in at once.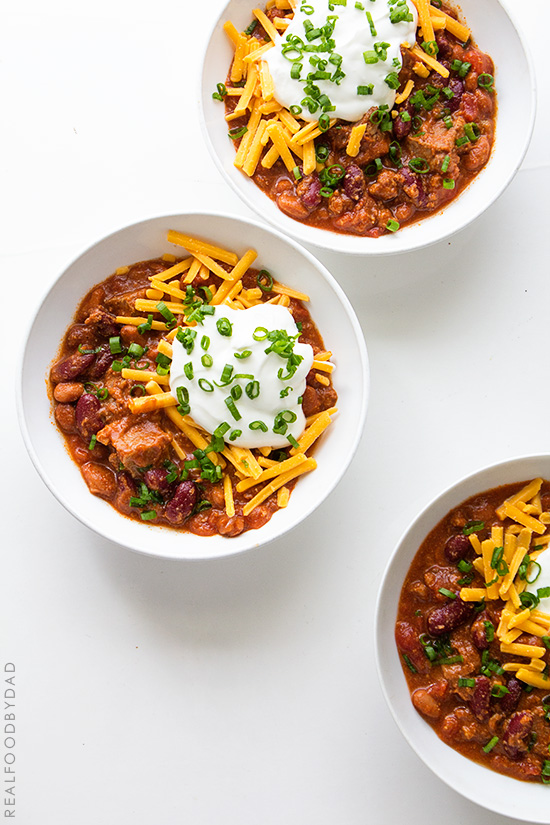 I'm happy to report, the flavor–it was all there! The best part of all this chili other than being spot on–the recipe makes a hearty size, so eat up! Or save the leftovers, because I've got some fun ideas coming that pair well with this chili.
Yield: 10-12 servings
Slow Cooker Chili
Ingredients
2 red bell pepper, diced
2 yellow onion, diced
2 jalapeno, diced
1 4oz. can green chilis
2 tablespoon olive oil
2 16oz. can red kidney beans, with juice
2 16oz. can pinto beans, with juice
1 14.5oz. can diced tomato, with juice
1 6oz. can tomato paste
1 1/2 cup Coke
2 teaspoons coriander
2 teaspoons cumin
2 teaspoons garlic powder
2 teaspoons onion powder
2 teaspoons smoked paprika
2 teaspoons chili powder
2 teaspoons cayenne pepper
2 teaspoons fresh cracked pepper
2 teaspoons kosher salt
1 1/2 teaspoons chili powder
1 teaspoon cayenne pepper
2 lbs. rib-eye steak, trimmed and cut into 1/4 inch cubes
2 lbs. ground beef
1 lbs. sweet Italian sausage
Instructions
Heat oven to 425 degrees. Toss bell peppers, yellow onion and jalapeno in olive oil and spread onto bake sheet. Roast for 20 minutes or until vegetables start to brown. Remove from oven and set aside.
Place all ingredients but the meat in the slow cooker and stir to combine. Add in roasted vegetables and stir to combine. Add in meat and submerge in juice (Do not break up ground beef, it will fall apart on it's own and you can break it up further at the end). Cook on low for 8 hours or on medium for 5 hours.