This Cinco de Mayo, let's keep things simple with an easy, slow-cooker chicken taco recipe.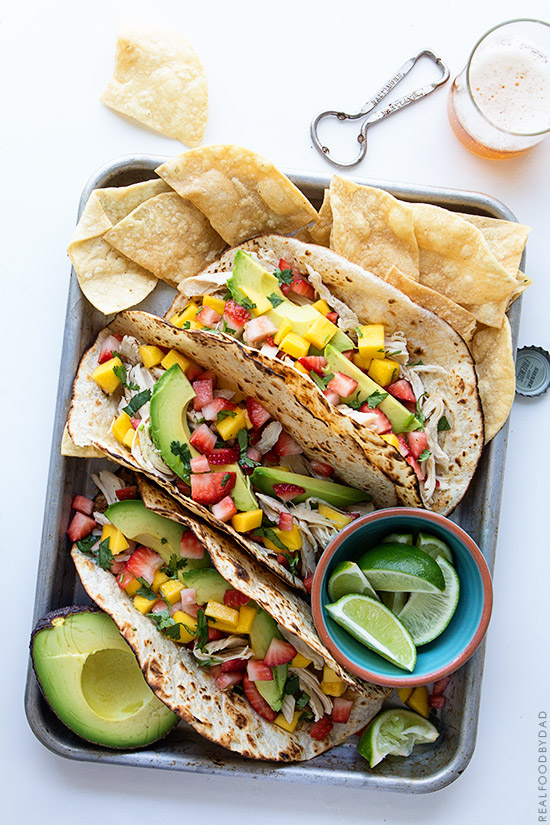 The idea of slow-cooker chicken tacos made with salsa is not new, in fact it's been around forever. But choose the wrong salsa and you'll have a big bowl of mush that's pretty flavorless as well.
Generally I make this slow-cooker taco recipe with my from-scratch, restaurant-style, fire roasted salsa recipe from here. But this time around, I decide to go a little tropical and went with a mango salsa recipe. Now I don't know which one I like better, but ask my family and they will tell you the tropical version with the mango salsa is the way to go. It's sweet and savory and gets better as it sits, since the flavors intensify—gotta love it when leftovers almost taste better than the first day, right?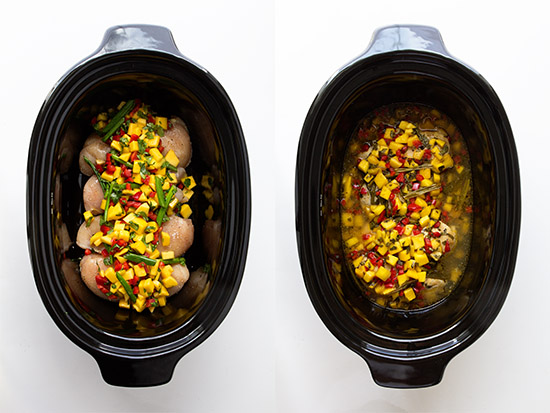 Now of course you can serve the finished tacos with the salsa from the slow cooker, but I made some fresh mango salsa and threw strawberries in it for a bright burst of flavor. If you want to liven it up more, throw in a chopped jalapeno or better yet, serve it with a pineapple serrano margarita.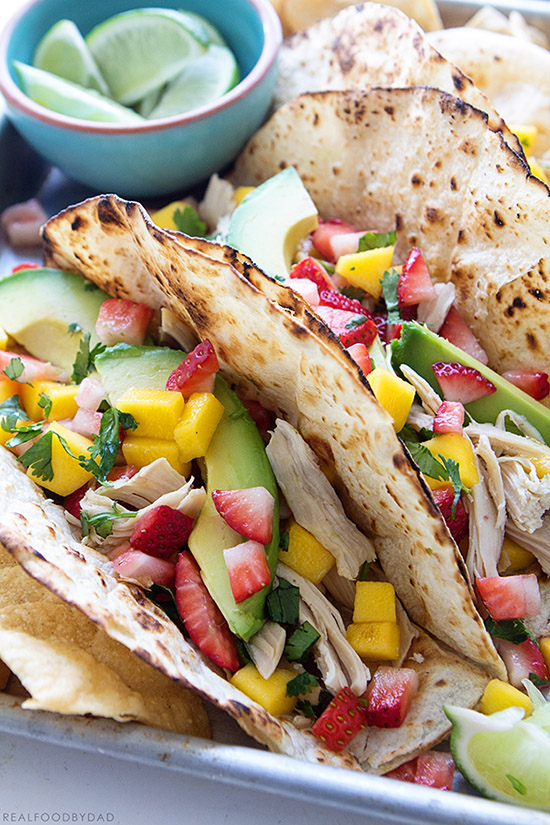 Yield: 4-6
Slow Cooker Tacos
Ingredients
4 chicken breast (2 lbs.)
salt and pepper
2 cups diced mangos (10 oz. about 3 large mangos)
1/2 cup diced red bell peppers ( 3 oz. about half a large red bell pepper)
1/4 cup green onions
1/4 cup chopped cilantro
2 tablespoons olive oil
Mango and Strawberry Salsa
2 cups diced mangos (10 oz. about 3 large mangos)
1/2 lb. strawberry, diced
1/3 chopped cilantro
3-4 tablespoons fresh lime juice
1 jalapeno, finely chopped (optional)
Instructions
Salt and pepper both sides of chicken breast. Place chicken breast in slow cooker pot. Combine and toss remaining ingredients in a medium size bowl. Sprinkle mixture on top of chicken breast. Set slow cooker to high for four hours or low for 6 hours. Remove chicken and shred by hand or place in a stand mixer bowl with a paddle attachment and turn mixer to low for fast shredding.
To make mango and strawberry salsa: Place all ingredients in a bowl and toss to combine.