Don't be fooled by the humble appearance of this stew. It's one of my favorite comfort dishes that's punched up with some of my favorite flavors, like Caribbean allspice and thyme.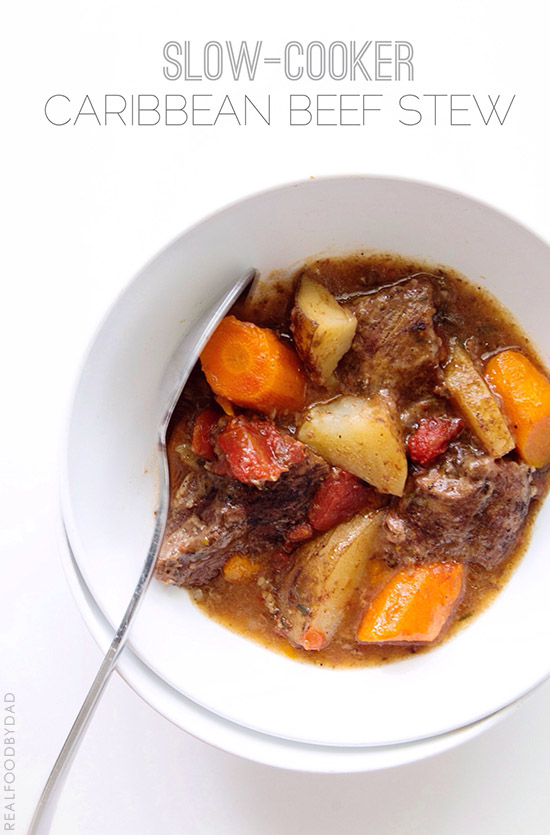 The best part of this dish is that it's a slow-cooker recipe.
When I was kid, my mom used a slow-cooker all the time. When you have 9 kids, that's just what you do. And to this day, she calls it a "crock pot", and I do too. But somewhere along the way, "crock pot" gave way to "slow-cooker". Maybe because crock pot is a brand, but whatever the reason—so long as it can extract the flavors of slow cooking, I don't care what its nomenclature is: crock pot, slow-cooker, time saver, sanity preserver—I can't imagine life without one.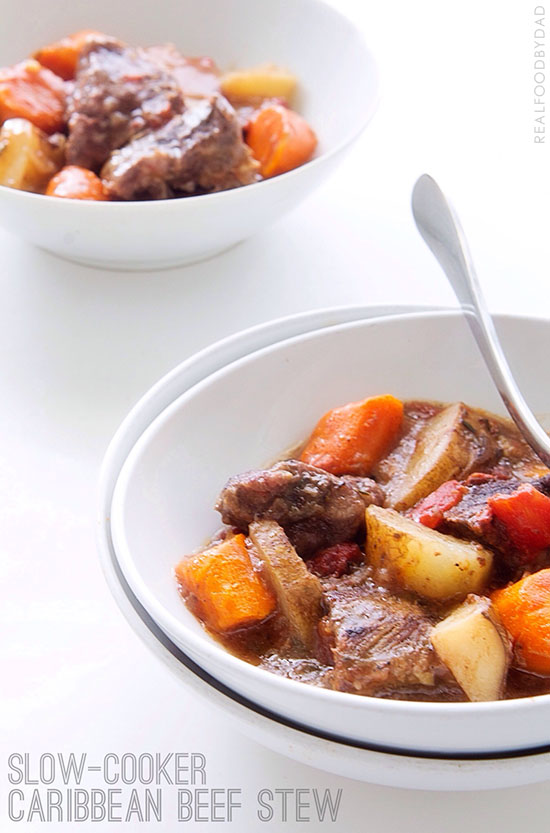 Up until I started cooking for myself, I had no idea how convenient a crock pot could be. Seriously, you throw it in a pot, set it on low, go about your day, then 7-8 hours later, done? Why doesn't everyone parent teach their child this? This could have saved me numerous fast food meals and a few five dollar bills (and by a few I mean a lot!).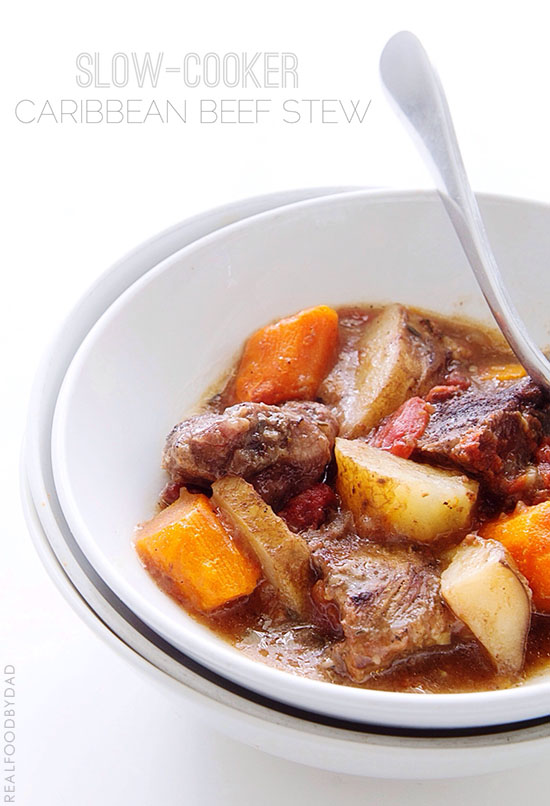 Do yourself a favor, make this comfort meal and then send your college-aged child off to his or her dorm with one of these. Yay, I'm preach'n, but I'm a huge a slow-cooker fan. And while we're on that note, don't forget to check out my slow cooker ribs recipe.
Yield: 4
Slow Cooker Caribbean Beef Stew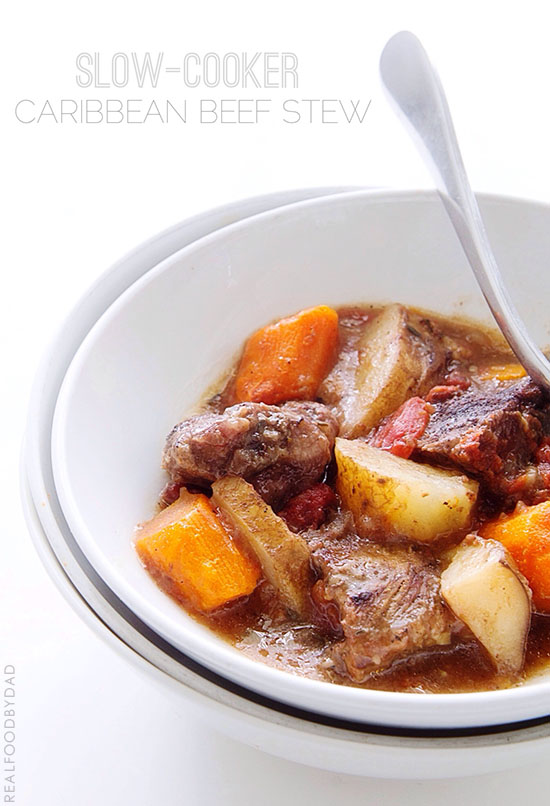 Prep Time 10 minutes

Cook Time 7 hours

Total Time 7 hours 10 minutes
Ingredients
3 sprigs thyme
1/3 cup all-purpose flour
1/4 teaspoon ground allspice
salt and pepper to taste
2 lbs. beef stew
1 lb. Yukon gold potatoes, quartred
5 medium carrots, peeled cut crosswise into 1/2 inch pieces
1 1/2-inch piece ginger, peeled and finely chopped
1 clove garlic, finely chopped
2 teaspoons Worcestershire sauce
1 14.5 OZ can diced tomatoes
Instructions
Strip the leaves from 1 sprig. ; combine with flour and allspice, salt and pepper. Add beef and toss to coat. Place potatoes, carrots, the remaining two thyme sprigs, ginger, and garlic into a 5-6 quart slow cooker. Add the beef, reserving any flour in the bowl. Whisk1/2 cup of water and Worcestershire sauce into the reserved seasoned flour, then add it to the slow cooker. Pour the tomatoes on top. Cook on low for 7 hours or on high for 4 hours.
**NOTES** (1) This recipe is adapted from the Food Network Magazine. (2) The changes I made: I decreased the ginger from 1 inch to half an inch. I increased the carrots from 3 to 5 carrots. I used regular diced tomatoes rather than Mexican-styled diced tomatoes with green chilies.