Everyone has their go-to Super Bowl food. I certainly do and this easy slow cooker beef ragu is one of them. You can easily put it together in a matter of minutes. It's great to serve over pasta, put in sandwiches, or my favorite – creamy polenta. It's especially perfect for the latter when you want a big bowl of comfort.
Which is exactly what I was craving last week with all the rainy, cold weather in Southern California. I don't know what it is about the cold, but I just want to get under the covers and binge watch the latest NetFlix sensation. But anyone with kids knows, that's nearly impossible. If it's not figuring out food for the ever-hungry teenager, or icing down a rolled ankle or jammed finger for the non-stop basketball playing 9-year old, I'm fishing out trains (not train) from the toilet bowl because the toddler decided Thomas and Friends need to go for a swim. Do you see what I mean? Binge watching is not in my future for a good long while.
Although, I can't complain. I don't think anyone has ever looked back on their life with kids and said, "I wish I watched more TV". But the Super Bowl is a different story. The Super Bowl is a must and my boys know it. It's all about the game and the food. No messing around!
I sound so firm don't I? Who am I kidding? The only for-sure thing on that day is the food. Food like this beef ragu that I will have sitting in a slow cooker along with a few more goodies I'll be sharing next week.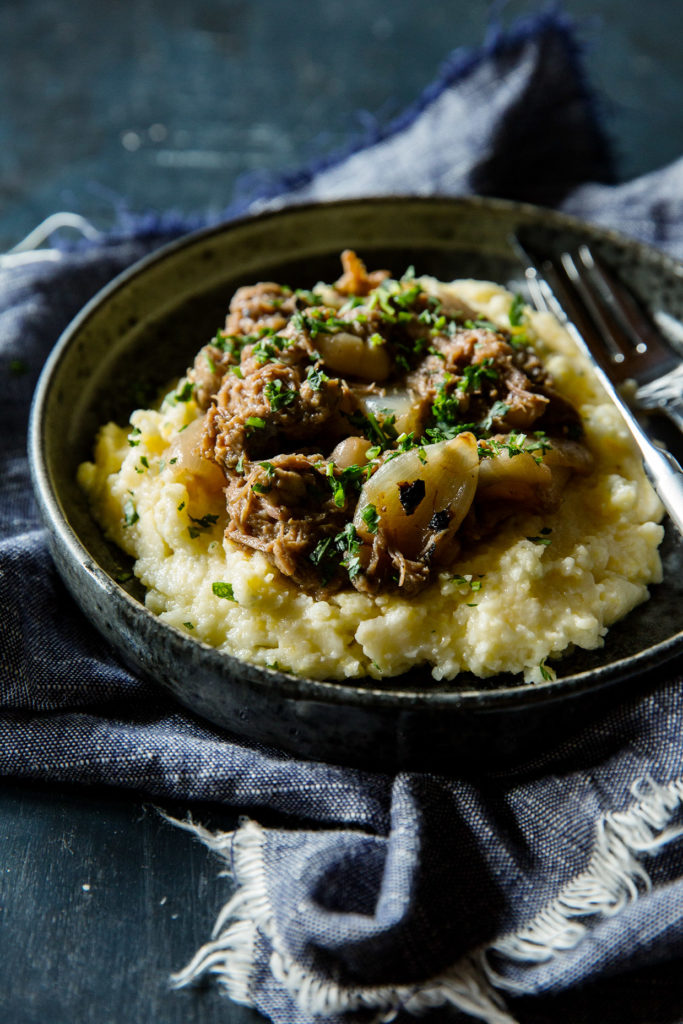 Yield: Serves 6
Slow Cooker Beef Ragu
Ingredients
1 medium yellow onion, diced small
3 garlic cloves, minced
6 tablespoons tomato paste
3 tablespoons chopped fresh oregano leaves (or 3 teaspoons dried)
1 beef chuck roast (4 pounds), halved
Coarse salt and ground pepper
1 to 2 tablespoons red-wine vinegar
Instructions
In a 6-quart slow cooker, add onion, garlic, tomato paste, and oregano. Season roast to preference with salt and pepper and place on top of onion mixture.
Add 2 cups water, cover, and cook on high until meat is tender and can easily be pulled apart with a fork, about 4 1/2 hours (or 9 hours on low). Turn off mixer and let cool 10 minutes, then shred meat in slow cooker with 2 forks and stir in vinegar to taste. Serve with mashed potatoes or creamy polenta.
Recipe adapted from: http://www.marthastewart.com/891902/slow-cooker-beef-ragu