Sloppy Joe Casserole ~ A freezer casserole that you can assemble with fully cooked components, then freeze and bake when you're ready to feed your family.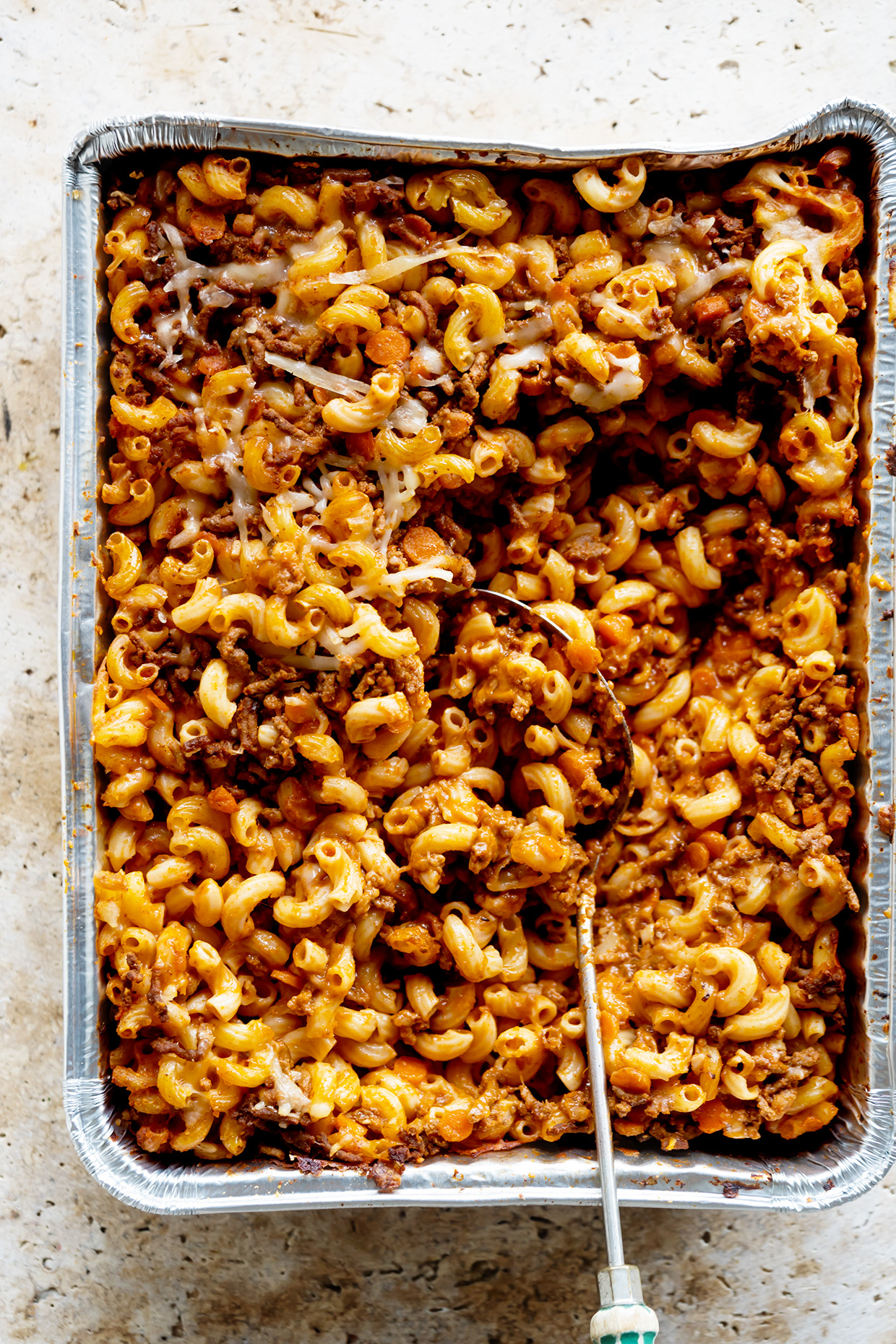 In this time of social distancing and distance learning, I'm all about meals like this. It decreases my trips outside for grocery runs (which by all accounts results in me only finding 25% of what I need) and saving me time in the kitchen for time that will be spent aiding the kids with online school and keeping them from tearing at each other.
This week is spring break, so I don't think it's quite hit them just yet. Let's see how Day 15 of Shelter in Place hits them. For now they have Discord and FaceTime to get through video gaming with one another. For Naomi and I, we are putting together easy pantry meals like this that freeze well, so on the days when things seem to hit the boiling point we are prepared..
A few notes:
This recipe can easily be halved.
Make sure to cook the pasta until just al dente, or you could end up with mushy noodles.
Cheddar instead of mozzarella cheese will work just fine.
Stay tune, as I'll be rolling out a few more so we can get through this together.
Yield: Serves 8
Sloppy Joe Casserole
Ingredients
1 lb. pasta
10 oz. mozzarella cheese
6 oz. grated parmesan cheese
2 tablespoons olive oil
1lb. ground beef
2 garlic cloves, minced
1 large shallot finely chopped
3/4 cup (4.5 oz) diced carrots
3/4 cup (4.5 oz) chopped red bell pepper
2 teaspoon garlic powder
2 teaspoon onion powder
1 ½ teaspoon kosher salt
1/2 teaspoon chipotle chile
1/2 teaspoon smoked paprika
1 cup Marsala wine
1/3 cup tomato paste
1 tablespoon Worchestire sauce
2 cups beef stock
2 cups whole milk
2 1/2 cups tomato sauce (homemade or store bought)
Instructions
¥ Cook pasta according to package. (Note: Make sure to salt the water until it tastes like the ocean). Drain and set aside.
In a large bowl toss together mozzarella and parmesan cheese. Set aside.
In a large skillet, heat oil over medium heat. Add beef and break it up just slightly. Cook and stir occasionally to brown beef about, 6 to 8 minutes. Beef will not be fully cooked, pink spots may be visible. Use a slotted spoon and transfer the beef to a bowl. Discard any beef juice from the pan. 
Add remaining tablespoon of oil. Add shallot and garlic, cook and stir until shallots are soft and translucent. Add the carrots and bell peppers, then stir in kosher salt, garlic powder, onion powder, chipotle chile and smoked paprika. Cook and stir mixture, until vegetables are very soft, about 8 to 10 minutes.
Return beef to pot and pour in marsla wine. Reduce heat to medium, cooking and stirring while breaking apart beef until the wine is nearly evaporated, about 8 to 10 minutes. Add the tomato paste, cook and stir until tomato paste darkens, about 2 to 3 minutes.
Pour in Worchestire, stock, and milk, reduce heat to low. Let mixture cook for 20 minutes to tenderize the meat. Remove from sloppy joe mixture from stove top. Stir in tomato sauce. Set aside to cool for 20 minutes.
If not freezing: toss sloppy joe mixture with pasta. Pour half the mixture in a casserole pan top with half the cheese mixture. Pour remaining pasta mixture on top and finish with remaining half of cheese mixture. Transfer casserole to the oven and bake at 350F for 20 minutes or until cheese melts. Serve immediately.
To freeze: cool sauce completely before tossing with pasta. Layer casserole pan as instructed in the step above. Tightly wrap pan with plastic wrap and then wrap once more with foil. Freeze until ready.
To bake after freezing: Remove foil, reserving some it. Remove plastic wrap and discard. Heat oven to 350 F. Place foil back on top of casserole and transfer to the oven. Bake for 55-65 minutes or until casserole is completely warmed through.