Skewered Beef Bowls ~ This skewered beef bowl is a recipe from Rachael Ray Everyday, that I had to try and then of course, had to riff. I mixed it up a bit by slicing the beef nice and thin, as Naomi instructed me is the traditional way and then added it to a bowl filled with Japanese seasonings, because I figure why not make it a multi-ethnic bowl? It might not make culinary sense, but it makes perfect eating sense. The furikake and togarshi give it a bit of punch and the miso-soy dressing gives it some depth.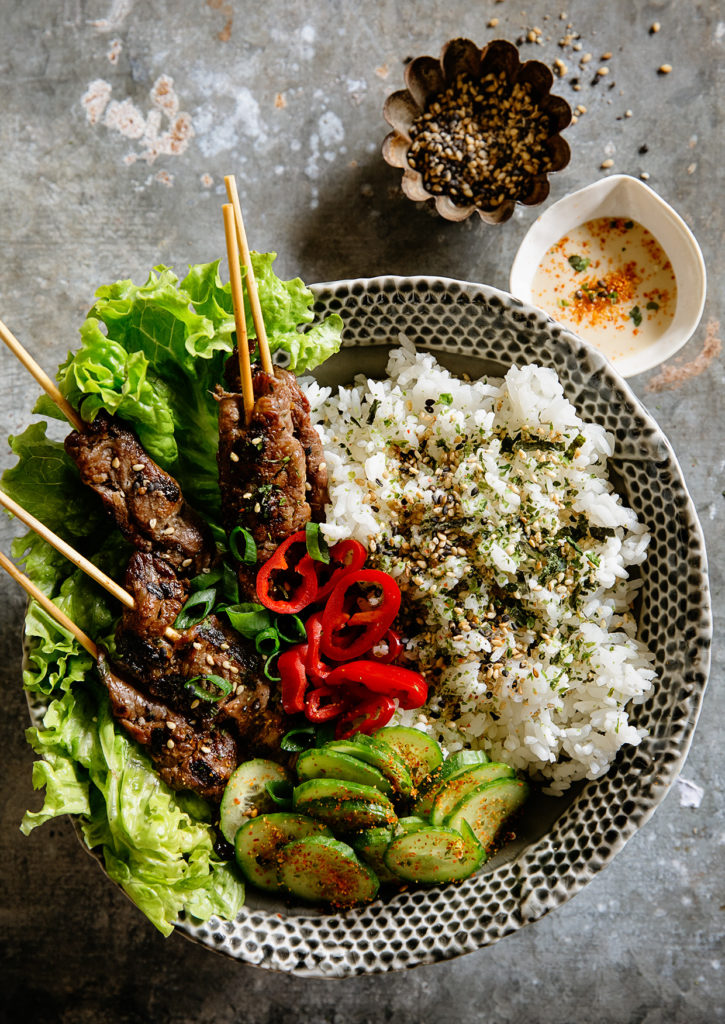 If you ask Naomi she'll tell you to add some bean sprouts and Thai basil with a squeeze of lime, but that's not how our boys like it, so all the added lawn clippings were left out. Of course, I'm poking fun at her, but really, nobody has time for all that added fuss and fluff. Thankfully the boys and I are pretty simple, because those three ingredients I mentioned—I didn't have them on hand and I wasn't making a special trip to the store.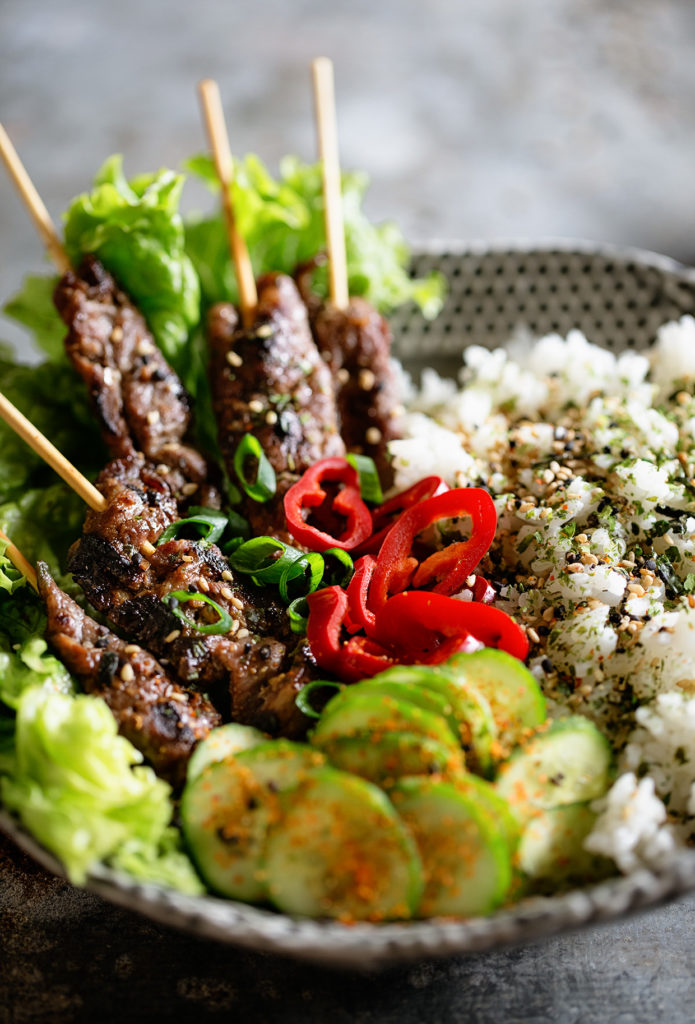 Especially not after a hard workout and making this dinner. I've been hitting the gym pretty hard after being out of it for three weeks, so bowls like this are helping me get lean and shed the Netflix 5 – that's what I'm calling the extra 5 pounds I put on while being sick in bed for three weeks.  My boys call it back fat. Nothing like kids to give you a mean dose of reality. Thankfully, they are just as happy to eat along with me as I mix healthy-ish dishes like this against my comfort food belt-busters.


Yield: 6 servings
Skewered Beef Bowls
Ingredients
Vietnamese Beef
1/2 cup sugar
3 tbsp. fish sauce
1 clove garlic, grated
2 teaspoon grated fresh ginger
2 lb. beef tenderloin, sliced into 6-inch strips, 1/8-inch thick (If you are working with a dull knife, freeze the beef for an hour for easier slicing.)
1 tablespoon canola oil
Miso-Soy Dressing
3 tablespoons canola oil
1 tablespoon Mirin
1 teaspoon white miso
1 teaspoon low-sodium soy sauce
1/2 teaspoon sesame oil
1/2 teaspoon honey
For the bowl assembly
6 cups white rice
3 English cucumbers, thinly sliced
6 red jalapenos, thinly sliced
3-4 green onion stalks, thinly sliced
furikake
togarashi
sesame seeds
Instructions
Preparation: Soak wooden skewers in water for 15 minutes.
In a large skillet, over medium-high heat, add the sugar and do not stir. Use the hand of the skillet and swirl sugar until melted, about 5 minutes. Add 1/3 cup of water, use a whisk and stir to blend, about 2 minutes. Set aside Stir in fish sauce, garlic, ginger, and 3/4 teaspoon of pepper.
Thread beef onto skewers then coat with oil and season with salt and pepper to taste. In a grill pan over medium-high heat, cook skewers, turning often, about 2 minutes. Remove skewers from grill pan and brush with sauce. Return skewers to the grill pan and cook for 2 minutes more.
To make the sauce: In a large bowl whisk together all ingredients until well combined.
Assemble bowl with rice, sliced cucumbers, jalapeños (or serrano peppers), and green onions. Sprinkle furikake on rice and togarashi on cucumbers. Serve sauce and sesame seeds on the side.
**Beef Skewer recipe adapted from Rachel Ray Everyday.