This Shrimp and Corn Chowder Soup recipe is from Food & Wine's magazine. It's in their latest issue billed as a special edition because it's celebrating the top 40 recipes in the last 40 years.
It's crazy how many food magazines arrive in the mail box each month. Naomi orders one after another and I'm not even sure how she gets to them all each month. But without fail, if I pick one up, there will be coffee-stained pages, dog-earred recipes and flags with notes for herself or for me.
For this month's Food & Wine, there are so many flagged recipe, it was hard to decide which one to start with. But since I'm not totally ready to let go of summer, I thought I used this recipe to leverage the last bit of summer corn while slowly gearing up for fall with soup as the vehicle.
And since it's simple to make, my time-strapped schedule didn't need too much shifting around to knock this one out. The only difficulty with the recipe was actually finding the annatto seeds. I wasn't able to source it anywhere near me, but I was able to find ground annatto. If you plan ahead, you can definitely source the seeds online.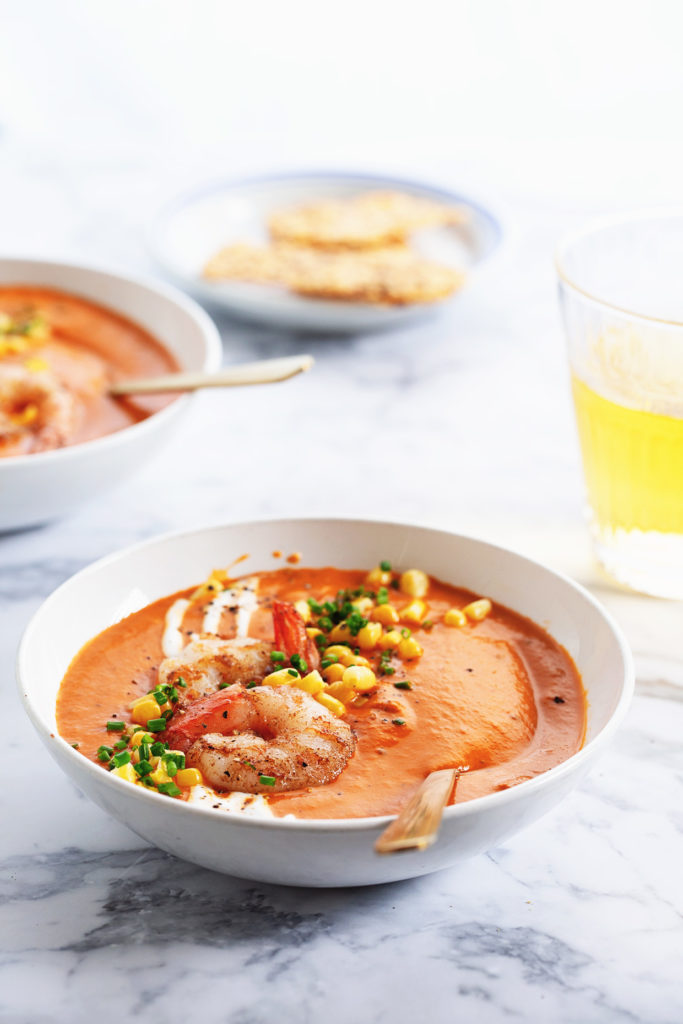 Whatever you end up with, this is a soup worth making. It's the kind of soup that subtly changes in flavors as it travels from the front to the back of your tongue. It starts off strong and aromatic and finishes with a sweet softness. Once you taste this, you'll understand why it made Food & Wine's 40 for 40.
A few notes:
As I mentioned above this is a Food & Wine recipe that I made a very minor modification to. To find the original recipe as it is printed, hit the jump here. The only modification I made was to use ground annatto since I couldn't source the seed to make the annatto oil that the recipe calls for.
The tangy corn salsa that soup calls for works great, so don't skip it. It's what gives the whole ensemble the subtle sweetness. The recipe for that can be found here. 
Yield: Serves 2
Shrimp and Corn Chowder
Ingredients
* 2 pounds medium shrimp, shelled and deveined
* 6 garlic cloves, minced
* 2 scallions, minced
* 2 tablespoons fresh lime juice
* Salt2 cups fresh or thawed frozen corn kernels
* 2 cups whole milk
* 2 tablespoons Annatto Oil
* 1 large red onion, finely chopped
* 1 red bell pepper, finely chopped
* 1 teaspoon ground cumin
* 3 plum tomatoes—peeled, seeded and finely chopped
* 6 cups fish or chicken stock or canned low-sodium broth
* 1 unripe (green) plantain, peeled and coarsely grated
* 2 tablespoons cilantro leaves
* 1 1/2 teaspoons ground annatto
* 1/4 teaspoon cayenne pepper
Instructions
In a large bowl, add the shrimp with two-thirds of the minced garlic, the scallions, lime juice and 1 teaspoon of salt then toss to combine. Cover with plastic wrap and transfer to the refrigerator for at least 1 hour, up to 3 hours to marinate.
In a food processor bowl, fitted with a blade puree the corn with the milk. Pour the puree through a medium strainer, pressing on the solids to extract as much liquid as possible.
Heat the oil and the remaining garlic, onion, bell pepper and cumin and cook over moderate heat, stirring, until the vegetables are slightly softened, about 5 minutes. Stir in the tomatoes and cook for 2 minutes longer. Add the corn milk, stock, plantain, cilantro, ground annatto and cayenne and bring to a boil. Lower heat and let simmer for about 20 minutes for flavors to be extracted.
Pour the soup through a coarse strainer. Working in batches, puree the vegetables in a blender. Return the puree and the strained broth to the saucepan and bring to a simmer. Add the shrimp and its marinade and cook over moderate heat until the shrimp are just opaque throughout, about 2 minutes. Season with salt and serve in warmed soup plates or bowls with the Tangy Corn Salsa (salsa recipe here: https://www.foodandwine.com/recipes/tangy-corn-salsa)