No tagine, no worries! This oven-riff on the classic Moroccan dish captures the flavors and all the warm spices that make it a comfort dish. Everything comes together quickly and easily. Then the oven does all the work to turn the chicken golden and crispy while caramelizing the vegetables to merry everything together. Serve this over couscous with a side naan to complete the meal.
*This post is written in collaboration with ALDI. All thoughts and opinions are my own.
This is like the ultimate comfort meal—minimal effort, with a huge payoff! You can mix and toss everything in one large bowl. No extra pinch bowls or prep dishes are needed. And it cooks off on a sheet pan, so there are no multiple pots and pans. I'm all about being a minimalist when it comes to cooking.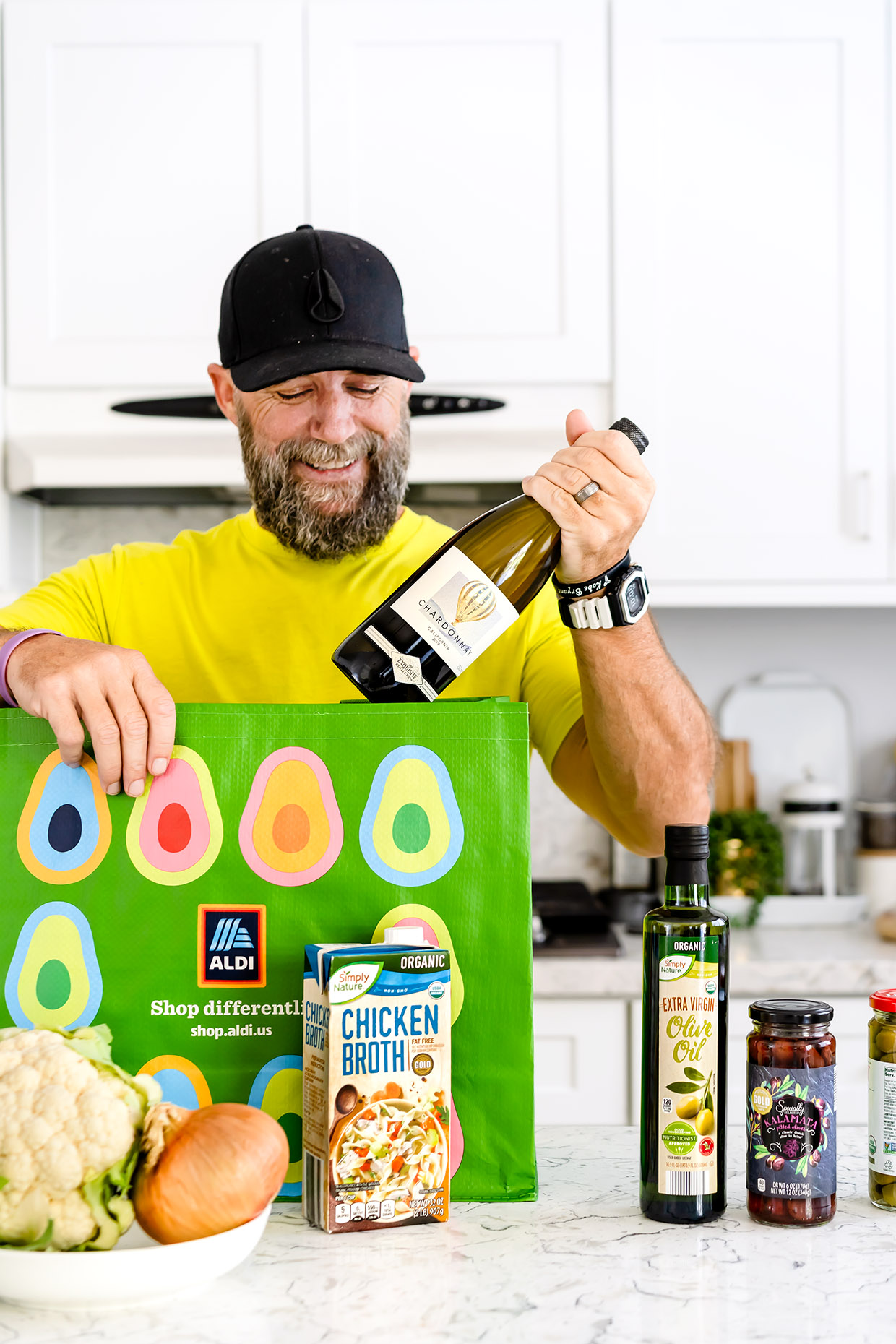 I'm the same when it comes to grocery shopping as well. Who wants to spend more money than they need to, right? Exactly. ALDI makes grocery shopping affordable and efficient. They have high-quality, amazing products at even better prices. A must when grocery shopping!
It's the way life is meant to be. No running from store to store to get the best deals or what I need. Efficiency is key when it comes to planning and making meals. 
Stay tuned because while everyone is turning to soup season, I'm all about sharing more sheet pan meals like this!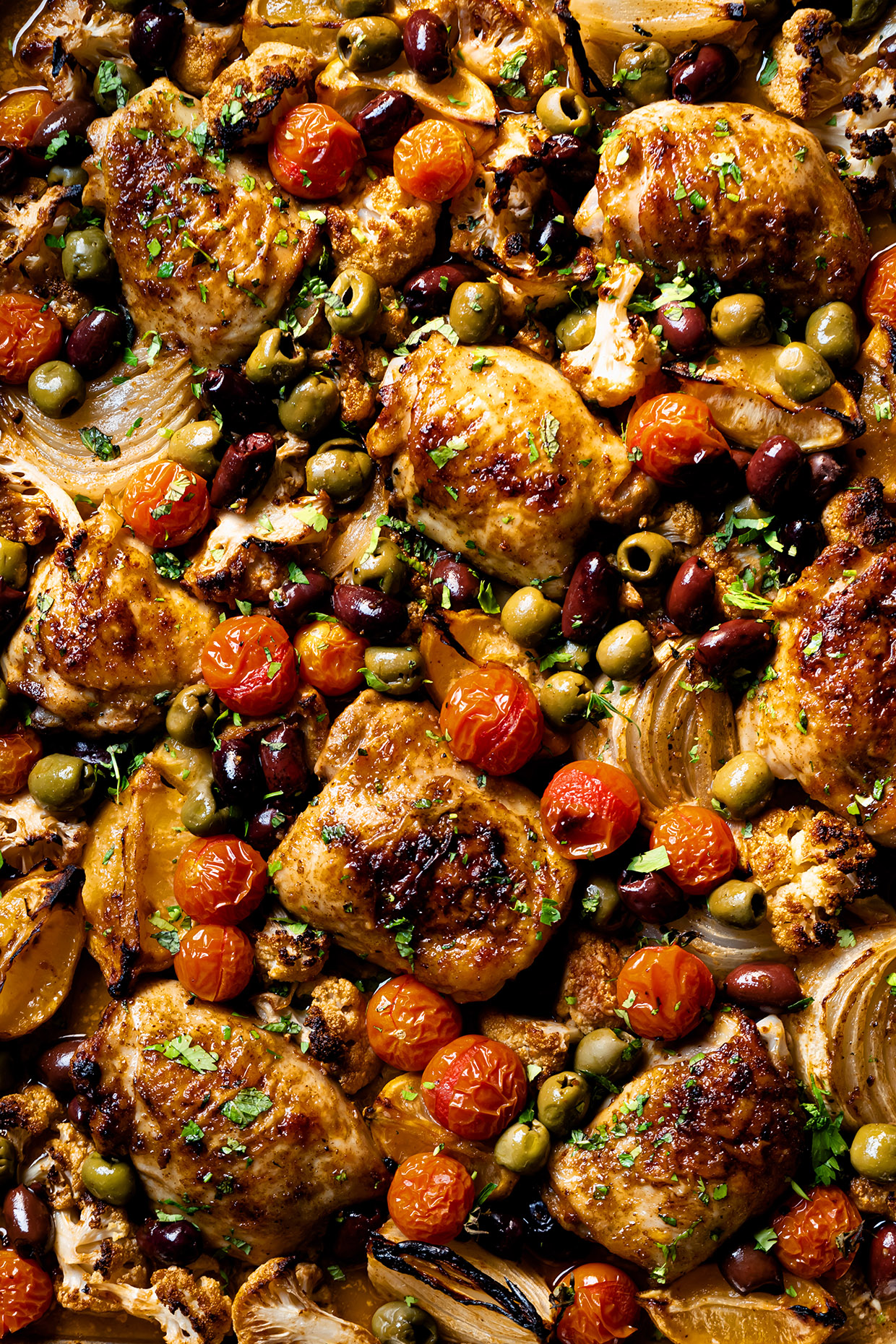 Sheet Pan Chicken Tagine with Cauliflower and Olives
Prep Time 15 minutes

Cook Time 30 minutes

Total Time 45 minutes
Ingredients
1 cup mayonnaise
4 tablespoon Simply Nature Organic Extra Virgin Olive Oil, divided use 
2 teaspoon Happy Harvest Tomato Paste
4 cloves garlic, finely chopped
1 1/2 teaspoon paprika
1 teaspoon cumin
1 teaspoon cinnamon 
1 teaspoon ground ginger
1/2 teaspoon turmeric
3 pounds Simply Nature Fresh Organic Chicken Breasts
1 1/2 lb. cauliflower, broken into florets
1 onion, cut into 6 wedges
1 lemon, cut into 4 wedges
1 lb cherry tomatoes
6 oz. Specially Selected Kalamata Olives
1 tablespoon chopped parsley
1 tablespoon chopped cilantro
 
Instructions
Preparation: Heat oven to 400F. 

In a large bowl, mix together the mayonnaise, 2 tablespoons olive oil, and the next six ingredients. Add the chicken, and toss to combine. Arrange chicken on a sheet pan skin side up. 

In the same bowl, toss together cauliflower and onions. Drizzle the remaining 1 tablespoon of olive oil on top, and toss to combine. Arrange the vegetables around the chicken. 

Add the quartered lemon throughout. Sprinkle kosher salt on top. Roast for 20 minutes.

Remove the sheet pan from the oven and scatter tomatoes and olives throughout. Return the sheet pan to the oven and roast for another 10 to 15 minutes or until the chicken is cooked through. The temperature should read 165F when taken at the thickest part of a thigh.

To serve, squeeze roasted lemon all over and scatter with fresh chopped herbs. Don't forget the Earthly Grains Couscous, Specially Selected Original Naan Bread and a glass of Exquisite Collection California Chardonnay for serving.