**This is a sponsored post in collaboration with American Pecan Council. All opinions are my own*
I'm super pumped to be sharing today's recipe. Pecans are one of my favorite nuts, so I'm proud to share that I've partnered with the American Pecan Council for this Seared Scallops and Pecan Pesto Over Polenta recipe.
Did you know pecans are the only tree nut indigenous to North America? I didn't, until just recently. Nor did I know that pecans are packed with health-promoting nutrients, including "good" monounsaturated fats, protein, fiber, thiamin, copper and zinc—who knew it was such a nutrition powerhouse.
 
Now that you are in the know and the holidays are here, I know you love them in pecan pie and almost any baked goods, but did you know pecans are also a workhorse when it comes to savory recipes? Yep, that's why I use it in my pesto. I love the naturally rich and buttery texture it has and the slightest sweetness it imparts.
And since pecans are harvested in the fall, now is the time when they are the freshest so I'm stockpiling and turning out one recipe after another with them. Remember these pecan shortbread cookies from a few weeks ago? Well—from sweet to savory, let's do this Seared Scallops and Pecan Pesto Over Polenta recipe.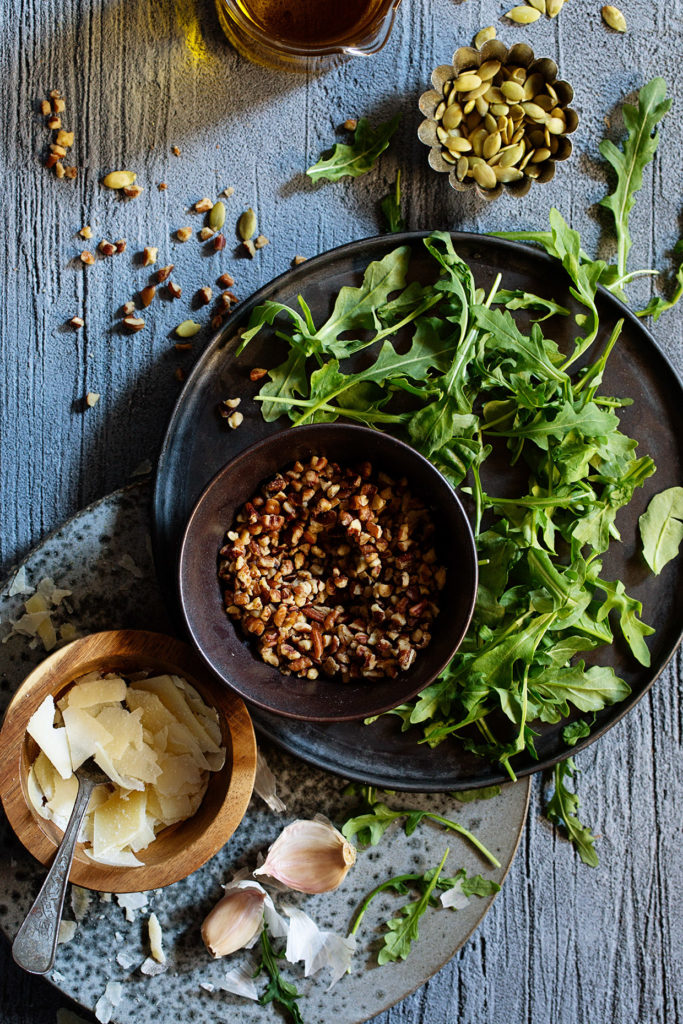 This is the kind of meal that comes together in less than an hour. That is, unless you have a trouble-making toddler wandering around in the kitchen. By trouble-making I mean one that is now tall enough to pull open drawers and empty them. That less-than-hour meal I mentioned turns into about an hour and half.
But if you find yourself in the kitchen without a little one to wreak havoc, then start with making the polenta, them move to the pesto and finally to the scallops.  Working in that order will definitely have you seated at the dinner table much faster. Want to be even more time efficient? Make the pesto ahead of time (up to four days will work).
Speaking of pesto, I'm curious—what's your favorite pesto recipe? What nuts do you use in it and have you tried pecans in pesto? Of course, I also want to know what savory dishes have you made or want to try that involves pecans. Let me know in the comment section.


Yield: Serves 4
Seared Scallops and Pecan Pesto Over Polenta
Ingredients
Polenta
3 cups milk
½ cup chicken stock
2 teaspoons kosher salt
1 cup of polenta
4 tablespoons unsalted butter
11/2 cup grated Parmesan cheese
1/2 cup Parmigiano Reggiano
Pesto
3/4 cup pecan pieces
2 tablespoons pumpkin seeds
3/4 cup olive oil
3 cups packed arugula
1 small garlic clove
1 cup Parmesan cheese
1/4 cup Parmigiano Reggiano
Scallops
1 teaspoon Kosher salt
1 teaspoon black pepper
1 lb. scallops
1 tablespoon canola oil
Instructions
To make polenta: Place the milk, chicken stock, butter and salt in a large heavy bottom saucepan over medium heat. Bring to a simmer, and then slowly whisk in the polenta. Stir frequently until polenta has started to thicken, about 10-15 minutes. Reduce heat to low, cover the pot and cook for another 15-30 minutes, or until soft and tender. Remove from heat, stir in butter, and fold in cheese. Place lid back over pot and set aside.
To make pesto: In a food processor bowl fitted with a blade, pulse 1/2 cup pecans and pumpkin seeds to a fine crumb. Add the oil and pulse to combine. Add the arugula and pulse in 5-second burst until well blended. Add garlic and cheese and pulse a few times until well combined. The pesto will yield more than you need for this recope. Pesto will keep tightly covered and refrigerated for up to 4 days.
To make scallops: Gently pat scallops dry, then sprinkle salt and pepper on both sides. Transfer scallops to refrigerator and heat pan. Heat oil in a large skillet over medium-high heat. Heat oil until it lightly smokes then add the thyme. Remove scallops from refrigerator (pat dry if needed once more) and place into the hot pan, making sure not to crowd the pan. Let cook for 1 minute untouched. Flip scallops and let cook for another minute untouched. Remove pan from heat and transfer scallops to a paper towel-lined plate to drain.
Serve immediately on polenta with a warm pesto drizzle and finish by dividing remaining 1/4 cup of chopped pecans between the servings and sprinkle on top.