Even though this is called a breakfast casserole, we ended up having it for dinner. I made this in middle of the day and intended on just holding it over for breakfast the next day.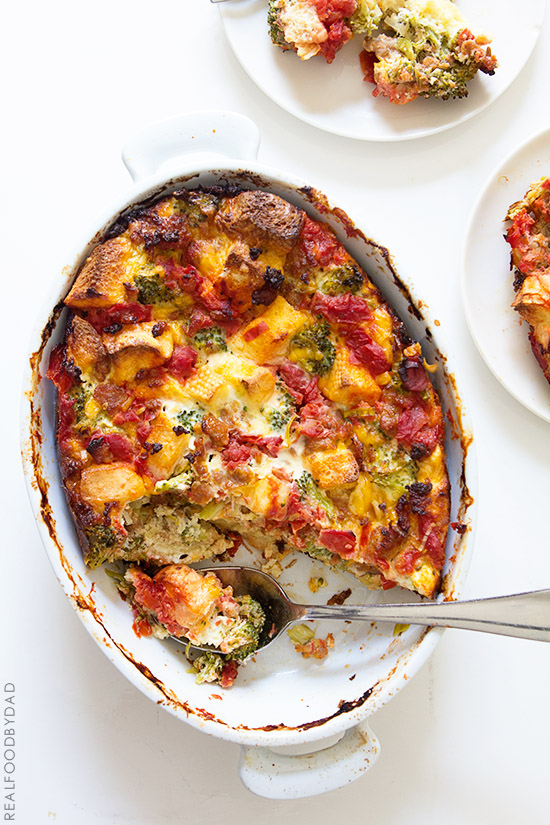 But I just couldn't. After scooping into it for the pictures and trying bits and pieces, I ended up with a full plate. I love a good brinner!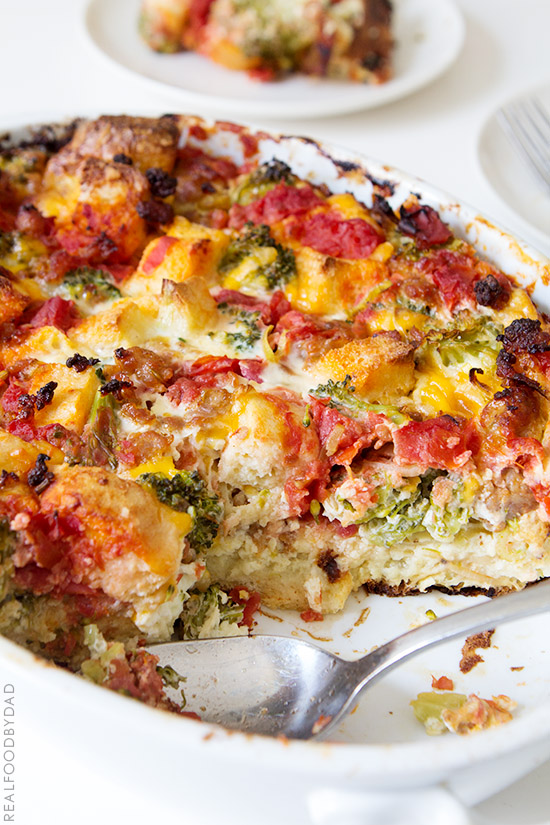 Naomi will tell you I'm always nibbling at corners, undersides, and any place that isn't noticeable when I make food for the blog. I don't have the patience to wait until after the pictures to eat.
And apparently, no one in the house was going to wait until breakfast to dig in. As I mentioned, this ended up being dinner. I'm not sure it would have gone over as well if I told the little guy the casserole was really a refrigerator clean out dish made of some broccoli, sausage, leeks, crushed tomatoes, and odds and ends of breads.
Yield: Serves 6
Sausage Breakfast Casserole
Ingredients
3 sweet sausage links, casing removed
1/3 cup thinly sliced leeks
2 cups broccoli, cooked (firm)
1/2 cup drained crushed tomatoes
5 eggs
1/4 cup milk
1/2 cup finely grated parmesan
1 1/2 cup gruyere cheese
1/2 teaspoon salt
2 cups cubed rustic bread
Instructions
Place large skillet over medium high heat and place sausage in pan, break-up and cook until browned. Add leeks and cook until softened. Remove from heat and mix in cooked broccoli and crushed tomatoes; set aside.
Whisk together eggs, milk, parmesan, gruyere and salt. Pour an 1/8 inch of egg mixture onto the bottom of 2 quart casserole pan; set aside. Toss and mix cubed bread and into sausage mixture. Sprinkle bread and sausage mixture into casserole pan and pour remaining egg mixture on top. Gently press down so that bread absorbs egg mixture.
Bake at 400 degrees until browned and center gently jiggles when pan is shaken, about 30-40 minutes. If top browns too quickly, place foil on top.

My mom would be so proud. I literally cleaned up what I usually throw out. If you have items that need to be purged, just keep the egg, milk and bread ratio while swapping everything else out as you need or to your preference.