I should clarify, that's Sausage and Peppers Fettuccine with some spinach. I know the traditional sausage and peppers is just that—sausage and peppers.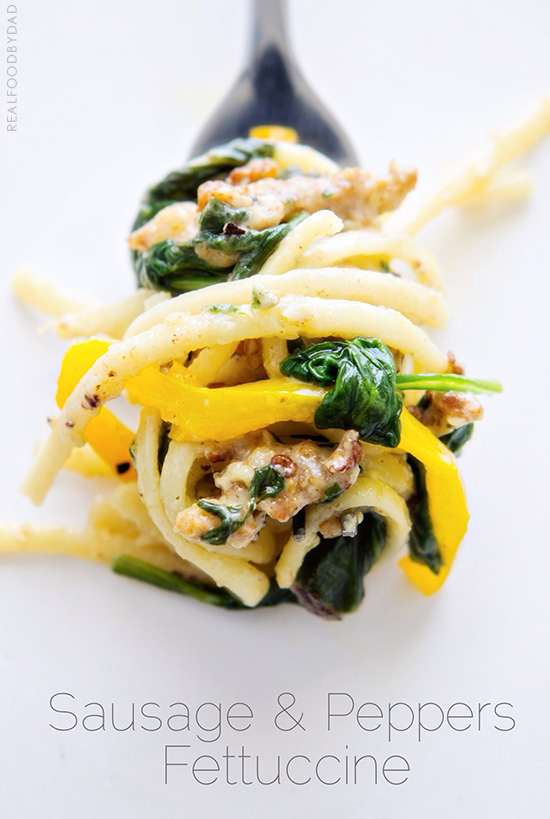 But Cole loves spinach, and since I don't mind it—in it went. Yes, you can skip the spinach, but why would you when you can easily get your greens in with this creamy dish?
With baseball back in season, fast and easy meals are even more important, and even more so since our baby is getting older and requiring more attention. There's no way I have hours to spend in the kitchen. Nope, between the boys, baseball and the blog, I don't have much time to be in the kitchen longer than 30-40 minutes.
Lucky for me (and you), this dish comes together in less than 3o minutes. It's pretty easy, and easy is a must around here—remember when I mentioned the baby getting older above. Well, cooking with one arm, while holding a wiggly baby in another, is getting more and more challenging.
Which means you can expect a lot more fast and easy recipes like this. For this sausage and pepper version, I kept it more mellow by skipping the the green bell peppers. But feel free to punch up the flavor by throwing some green and red peppers alongside the yellow and orange ones. And if you are a regular reader, you know my aversion to onions. Although I cooked the sausage with onions, but then threw them out after they softened and their flavor was fully extracted (it's a texture thing). If you have an aversion to them like I do, don't dice the onions, just leave them in large slices. Now for the fat, you can skip the heavy cream for low-fat sour cream, but I prefer the full fat flavor.
And finally, as always, the leftovers of this—breakfast with a fried egg on top—it's good, really good!
Sausage and Peppers Fettuccine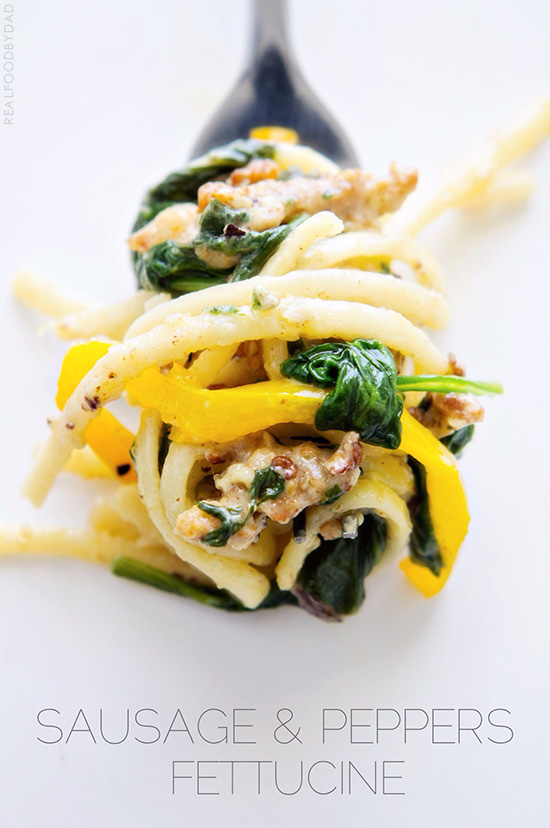 Prep Time 10 minutes

Cook Time 20 minutes

Total Time 30 minutes
Ingredients
3/4 lb. fettuccine, cooked according to instructions
1/2 lb. sweet Italian sausage (about two links), casing removed
1 small onion, diced
2 small yellow bell pepper
2 small orange bell pepper
3/4 cup Marsala wine (or dry white wine or chicken broth)
2/3 cup heavy cream
1 1/2 cups finely grated Parmesan Romano
3 tablespoons parsley
salt and pepper to taste
Instructions
Set cooked pasta aside, reserving 1/4 cup of the cooking water. Heat one tablespoon of olive oil in a large skillet over medium-high heat and cook sausage for about 3 minutes, or until sausage starts to cook enough to crumble with a spatula. Turn heat to high and add in onions and peppers and cook until softened.
Reduce the heat to medium-high and add in the wine and scrape the bottom of the pan to pull up any brownie bits. Cook until wine is reduced by half, about 4 minutes. Add in cheese and stir until combined into pasta. Add the cream and cook until sauce becomes slightly thickened, about 4 minutes. Stir in parsley and remove pan from heat. Add the pasta to the skillet and toss until pasta absorbs sauce (add pasta water to loosened if necessary.