It's time to get ready for some football, so I thought we might as well get geared up and conditioned for some tailgating with another burger for the week. This one is a twofer stack that combines a burger with some sausage and peppers.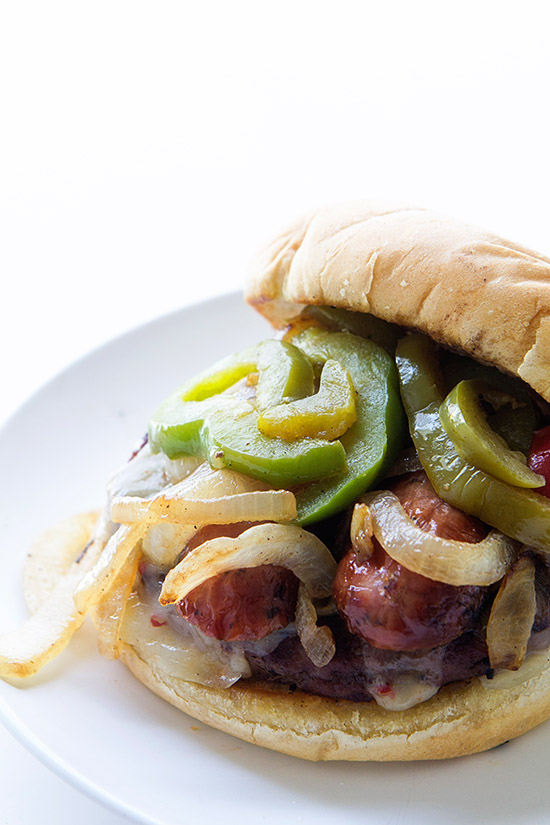 I'm all about extreme burgers lately. Sure it's heavy food, but summer is nearly over anyways, so let's beef-up for the onset of fall.
And if you are a regular reader here, then you know Naomi and I at times like to do a little blogger vs. blogger face-off. Today we did burgers, a theme picked out by our little guy Cole, so hit the jump here to see what she came up with. And pssst. . . he was also the judge that picked mine as the winner. Of course photo and presentation, Naomi easily has me beat.
Lucky for us, we love working together so a little friendly kitchen competition is always fun.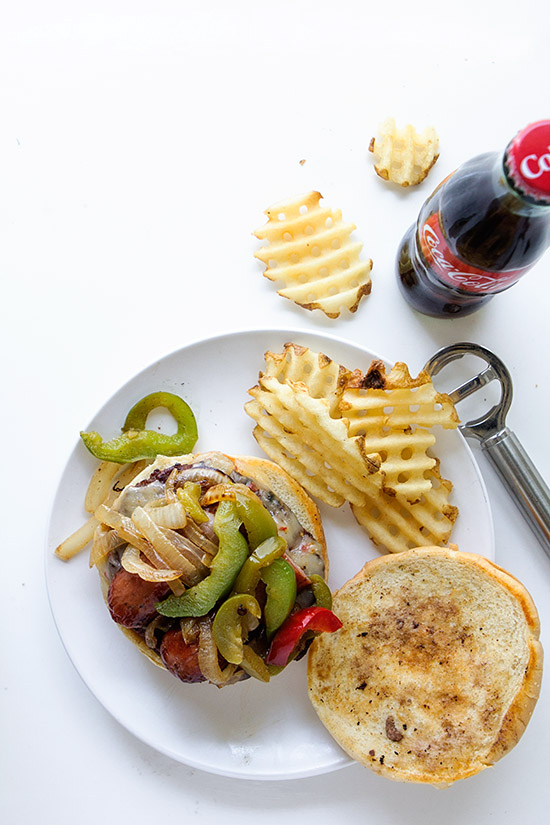 Yield: Serves 4
Sausage and Peppers Burger
Ingredients
1 pound 20 percent fat ground beef chuck
1/2 pound ground rib-eye beef steak
1 1/4 teaspoons kosher salt
1/2 teaspoon freshly ground black pepper
4 cooked spicy Italian Sausage, sliced in half
1/2 cup onions, browned
1/2 cup green peppers (and red if desired), browned
Instructions
Heat cast iron skillet over medium-high until sizzling hot.
Using your hands, blend chuck and rib-eye; divide mixture into four equal parts. Shape each portion into round patty, about 3/4-inch thick and 4-inches in diameter.
Season 1 side of each patty with salt and pepper. Place seasoned-side–down in hot skillet. Cook until bottom side is browned and crusty, about 5-7 minutes. Season top side of patties and flip. Place cheese over browned side of patties. Cook patties to desired doneness. Transfer burger patties to bun bottoms and layer with sausage, onions and peppers. Serve immediately