Roasted Za'atar Chicken with Butternut Squash – This is what to make when you want dinner in a hurry and you want it done all on one sheet.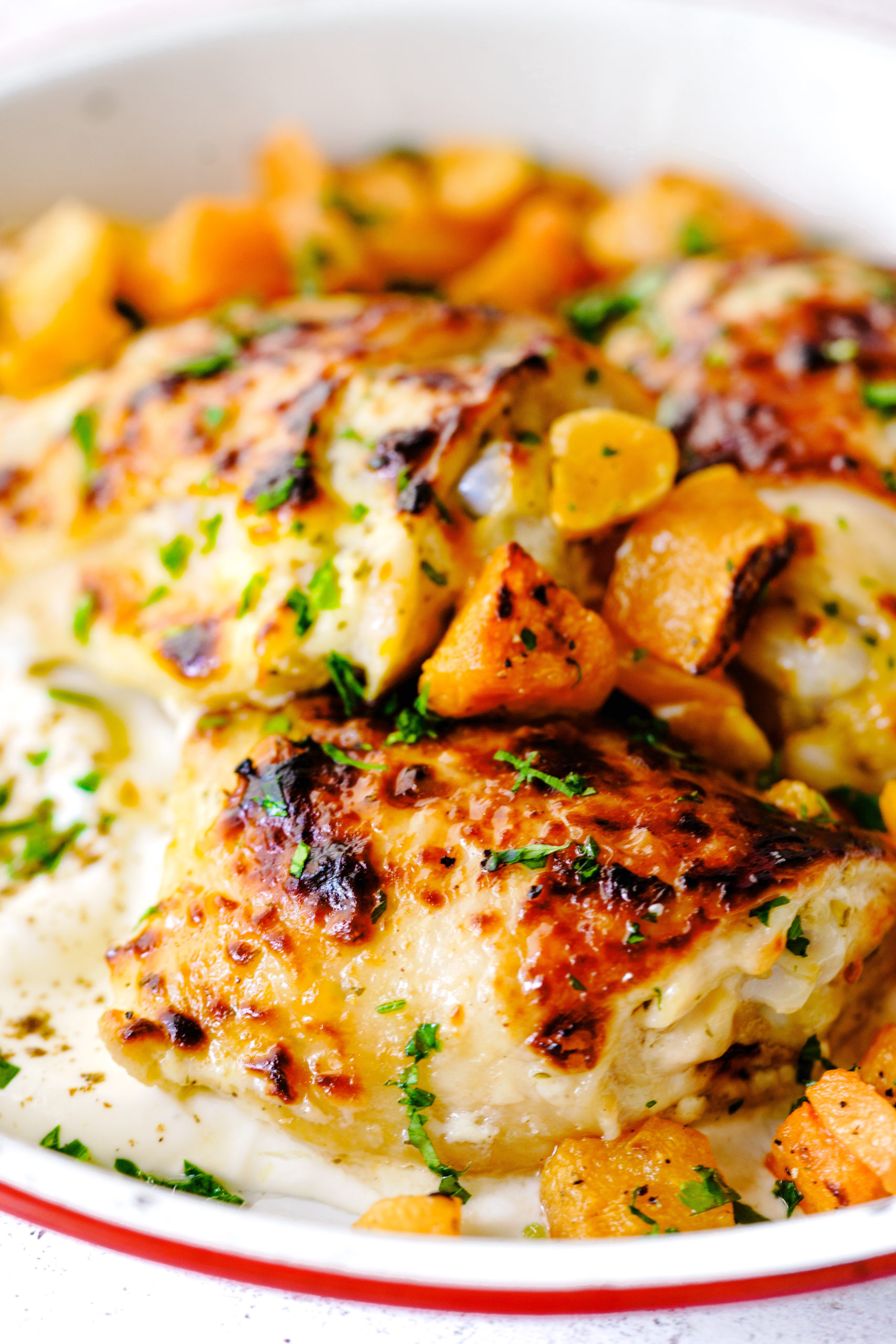 I'm late to the game with getting on the sheet pan dinner trend and the kids want to know why. They are all about the charred, caramelized flavors of high temperature roasting. I am too, but I'm also ALL about easy meal making and the low maintenance clean-up of sheet pan dinners.
I know fall is casserole and soup season, but it's hard to go full speed into fall when it's still 80+ here in California. That's why I'm meandering my way into it by slowing rolling out fall flavored meals like this one. If you are like me, then you might find the warm spices of the Za'atar yogurt marinade on the chicken paired with the butternut squash the kind of recipe to ease you into all the coziness of fall.
Here are a few notes to help you get started on the Roasted Za'atar Chicken recipe:
For the Za'atar, you can make your own or buy it. What you should keep in mind when buying it, is that are subtle but noticeable differences in flavor from one Za'atar maker to to the next. The one I recommend is from McCormick.
For the yogurt, I have strong feelings about this one, while this isn't a sponsored post, I do have a partnership with Wallaby Yogurt and the one I prefer to use for this recipe is their //. Their court is smoother and less tangy than other brands. Pro-tip: when you make the marinade make double. It works great as a marinade and a dipping sauce.
When it comes to the butternut squash, if you want a strong roasted charred finish, place the butternut on a separate pan than the chicken but roast both at the same time. Doing so will the prevent the butternut squash from having a steamed-like finish as the chicken sweats out juices.
Once you are done bookmarking or making this, don't forget to check out these other easy dinner chicken recipes: Chicken Parmesan, Pizza Chicken, Grilled Chicken Pesto Sub.
Yield: Serves 4
Roasted Za'atar Chicken with Butternut Squash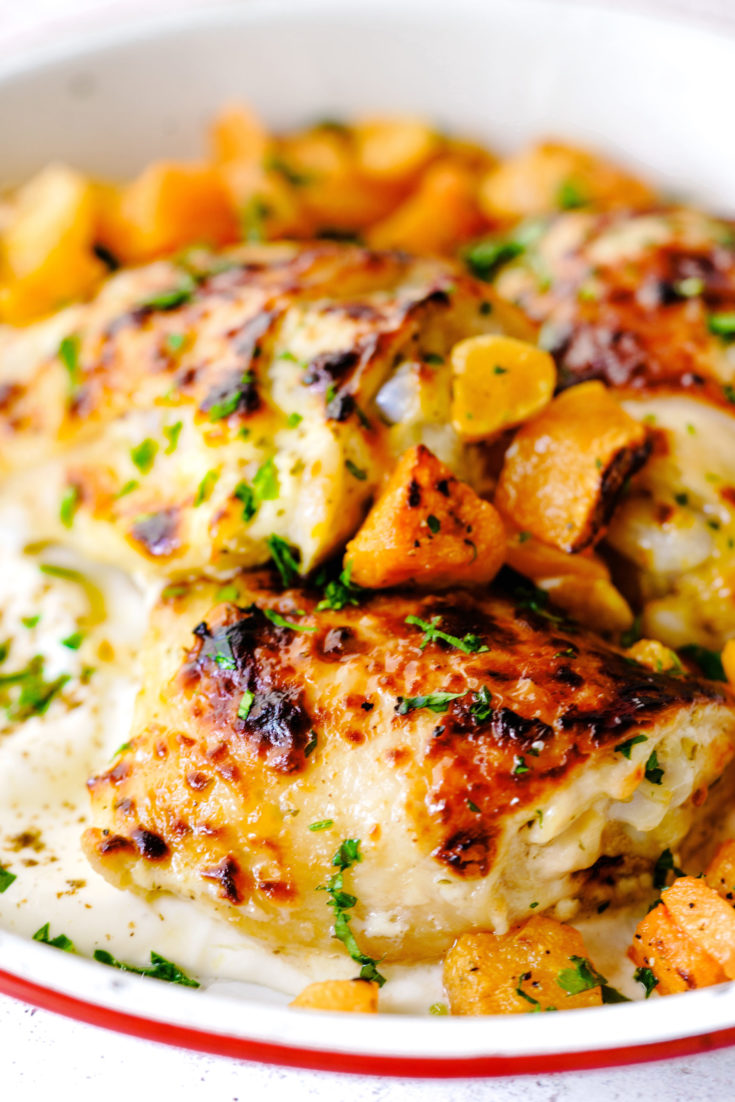 Prep Time 20 minutes

Cook Time 40 minutes

Additional Time 4 hours

Total Time 5 hours
Ingredients
1.5 lbs, chicken thighs, skin on bone-in
salt and pepper
1 cup Wallaby Organic® Plain Greek Whole Milk Yogurt
1 tablespoon sugar
2 tablespoon Za'atar
1 tablespoon lemon zest
2 teaspoon orange zest
1/4 cup olive oil, divided use
juice of 1 lemon
juice of 1/2 orange
2 lbs. butternut squash
salt and pepper
Instructions
In bowl whisk together yogurt, sugar, Za'atar, oil, orange zest, lemon zest, lemon juice. Reserve 1 cup for serving alongside finished chicken. Pour remaining marinade mixture over chicken. Turn the chicken to coat well. Cover and refrigerate for 4 hours. Bring to room temperature prior to cooking.

To cook the chicken: Heat oven to 350 F. Transfer chicken, skin-side up, to an oven safe pan. **Toss the butternut squash in the remaining oil and season with salt and pepper, then place it all around the chicken. Transfer pan to the oven and roast for 40 minutes, basting at least twice through out the cook time.

Chicken is ready when the thickest part of the chicken is pierced with a knife and the juice runs clear or when thermometer inserted at the thickest part of the chicken reads 165F.

**For a more caramelized finished on the butternut squash, roast it on a separate pan to avoid the butternut from being steamed by the chicken juice. Roast it at the same time as the chicken.