The roasted cauliflower baked ziti recipe is a classic comfort food. It's the best, all veggie (yup, it's meatless) baked ziti around.
Trust me, this takes some work. Two out of 3 of my boys are not vegetables lovers and could survive the rest of their childhood without ever eating one. As a result, I'm always trying to find creative ways to showcase different vegetables. This roasted cauliflower ziti is one of my favorite vegetarian main dishes in my arsenal. If you want more then check out my Sriracha Mac & Cheese Vegetable Bake, Spinach and Artichoke Rice Casserole, and Vegetarian Buddha Bowls.
Naturally as the universe would have it, my vegetable-adverse toddler loved this and my vegetable-loving son who has spinach salads for his fifth grade lunch ate it, albeit picking his way around all the florets. I just don't get what's not to like about cauliflower that becomes caramelized.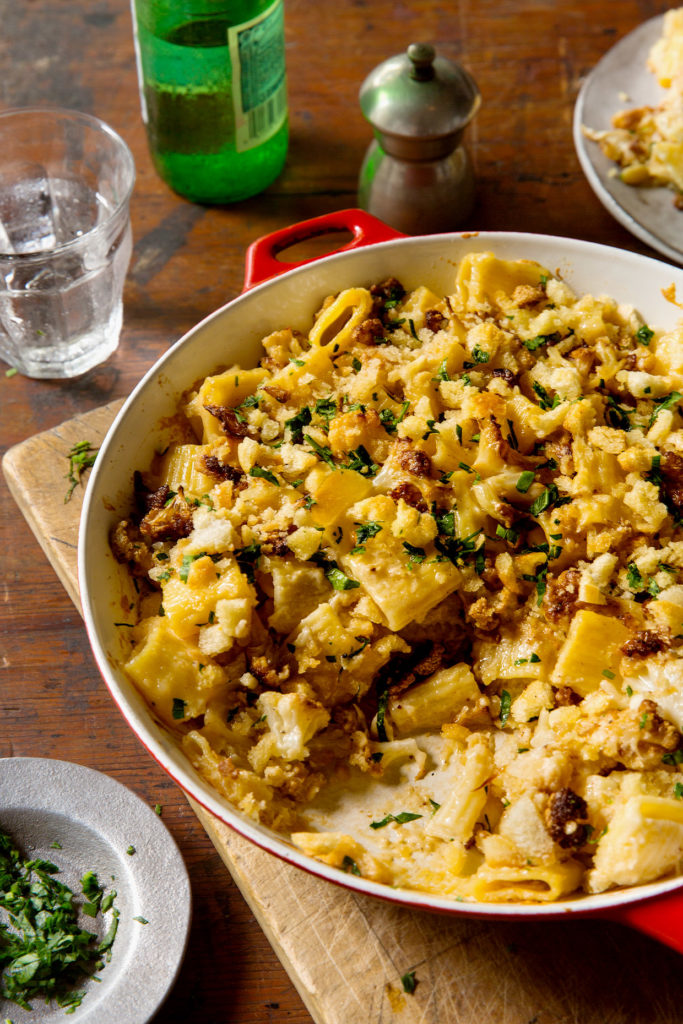 In any case, I may not have totally convinced him of it yet, but he at least he ate some of the casserole. Which is more than I can say for my teenager, who is an even pickier eater than I ever was. But slow and steady, right? If I keep offering and exposing the boys to things outside of their repertoire then eventually it'll catch on, right?At least that's the hope.
Yield: Makes 6-8 servings
Easy Roasted Cauliflower Baked Ziti
This roasted cauliflower baked ziti recipe is classic comfort food. It's the best, all veggie (yup, it's meatless) baked ziti around.
Ingredients
2 large cauliflower heads, cut into florets
1/4 cup olive oil
salt
1/2 French bread loaf
3/4 cup grated parmesan cheese, divided use
12 tablespoons unsalted butter, divided use
1lb. tube pasta
4 tablespoons of flour
3 1/2 cups milk, heated
2 teaspoons kosher salt
2 teaspoon garlic powder
2 teaspoon onion powder
1 teaspoon smoked paprika
8 oz. fontina cheese, shredded
Instructions
To make the roasted cauliflower: Heat oven to 425°F. Toss florets on a large baking sheet with 1/4 cup of olive oil. Season with kosher salt and freshly ground black pepper. Roast, tossing occasionally, until florets are caramelized and tender about 35-40 minutes. Remove from oven and set aside to cool. This step can be completed two days ahead.
To make the bread crumbs: Pulse French bread in a food processor to a rough crumb. Portion out 4 tablespoons of butter and melt it. In a large bowl, toss bread crumbs with melted butter and 1/4 cup of parmesan cheese. Set aside.
Heat oven to 350 degrees F. Cook pasta according to package; and set aside.
In a large oven-proof, heavy-bottom saucepan, over low heat, melt remaining 8 tablespoons of butter. Add the flour and whisk until a smooth paste forms, about 5 minutes. Slowly whisk in the hot milk, stirring continuously until the sauce is thick enough coat the back of a spoon, about 17 minutes. Stir in the salt, garlic powder, onion powder and smoked paprika. Add the fontina and stir until melted, about 3 minutes. Stir in remaining1/2 cup of parmesan cheese. Add cooked pasta and roasted cauliflower stir to combine.
Remove pan from stovetop. Sprinkle bread crumbs mixture on top. Transfer pan to the oven and bake for 15-20 minutes or until cheese is melted and top is slightly golden.

For more pasta dinner ideas check out my Everything Pasta Dinner or Chicken Ranch Casserole.