**This is a sponsored post in collaboration with fairlife®
Want to know how to make your overnight oats even better and creamier?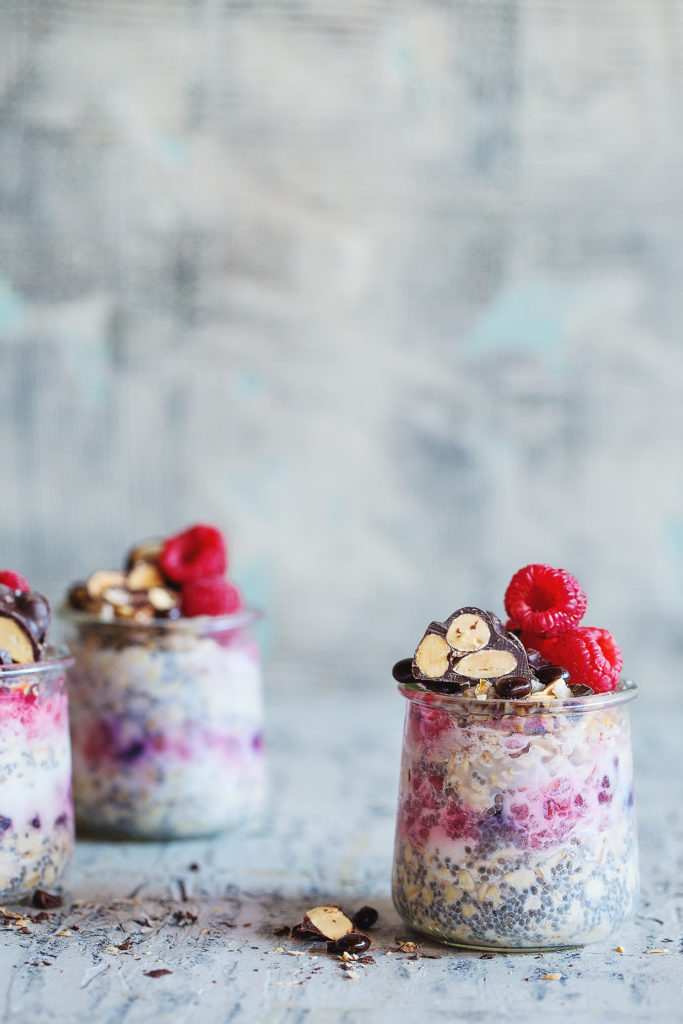 Use whole milk and yogurt. And not just any milk, but fairlife® ultra-filtered milk. Not only does fairlife ultra-filtered milk taste better, it's also very creamy—an important factor when making overnight oats. I also don't mind that the fairlife whole milk contains 13 grams of protein (50% more) and half the sugars typically found in other milk. Yay to that.
But most importantly fairlife's extra creamy consistency yielded such a richer and creamier overnight oat. I'm thinking this is going to be my new swap out for all oatmeal recipes—overnight or not.
With the holidays rush and madness setting in early this year, I'm stocking the refrigerator with these pots of overnight oats. They are not only good for breakfast, but they make a great mid-day snack or fuel for when I'm trying to stay on top of the schedules and gift shopping.
I made this version with a mix of berries, chopped chocolate covered almonds and chia, but of course you can mix and match the add-ins according your palate. Whatever or however you do it, just don't forget the fairlife ultra-filtered milk!
Yield: Serves 2
Raspberry and Chia Morning Oats
Ingredients
1 ½ cup rolled oats
3-4 tablespoons chia seeds
1 ½ cups fairlife® whole ultra-filtered milk
1 cup yogurt (your preferred type and brand)
3 tablespoons honey
1 ½ teaspoons vanilla extract
2 cups raspberries (or mixed berries)
4 – 5 tablespoons of chocolate covered almonds
Instructions
In a large bowl, mix together the oats and chia seeds. Set aside. In a second bowl whisk together milk, yogurt, honey, and vanilla extract.
Portion out ½ cup raspberries and set aside.
Layer jars with: 1-2 tablespoons of oatmeal mixture. Pour enough fairlife ultra-filtered milk so that oats are submerged. Layer with berries. Repeat until process yields full jars.