This Quick Stir Fry Noodles comes together faster than it takes for Ubereats to show up at your door. It all has all the flavors, texture and fun you expect: spicy hits of garlicky goodness from the Sambal Olek, savory bites filled out with sesame oil, caramelized goodness that can only come from high heat cooking, added texture from sauteed cabbage and all the slurpy fun from the udon noodles.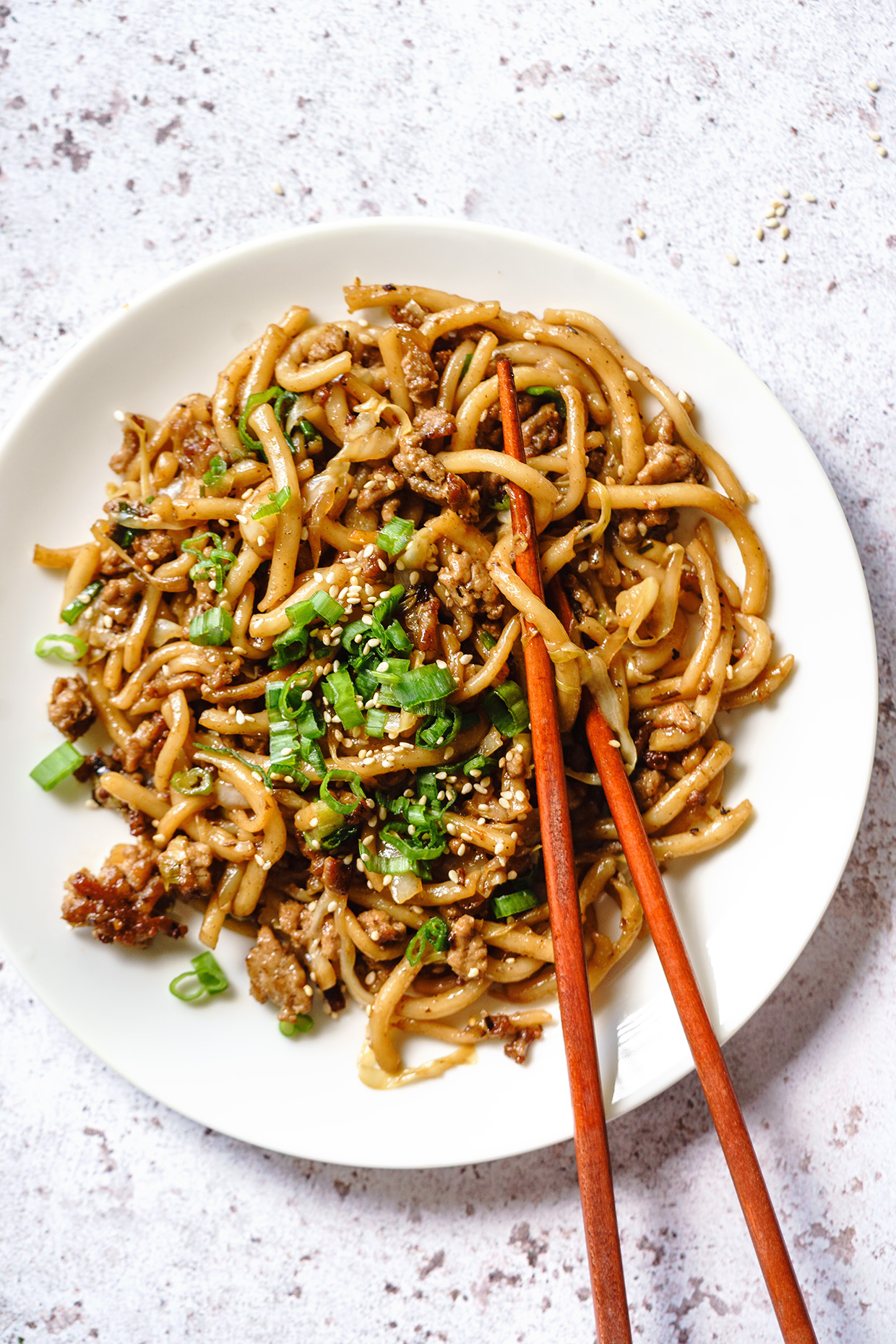 My kids are crazy about this dish. I like it even better because it's easy to pull together and execute. This recipe is from Bon Appetit. I've made it numerous times as written and with some simple riffs and subs. You can easily redress the ground pork for ground beef or chicken. If you don't have udon noodles, ramen noodles work just as well.
Here are the things you don't want to swap, negotiate sub or omit: the sesame oil. This is biggest flavor driver in the recipe. You don't need a lot, in fact, don't be tempted to go beyond the 2 teaspoons calls for it otherwise it can over power the whole dish.

A few notes before you get started on the Quick Stir Fry Noodles recipe:
Where can I find udon noodles?
In the Asian section of the grocery store in dry from (alot like how you would buy pasta) or as instant noodles in the same place (instant is as it sounds, fully cooked and just needs to be broken apart with a little water soaking). If you can't find udon noodles in your local grocery store, it can be ordered from Amazon.
Can I use regular udon noodles over instant udon noodles?
Yes. I prefer instant noodles, since they are already cooked so it shortcuts the prep time. Not many places carry instant udon. I order mine from Amazon, but as a workaround, you can just buy instant udon soups and toss the seasoning (same goes for the ramen – toss the seasoning and use the noodles).
Where can I find the remaining Asian ingredients like Sambal Olek and Mirin?
Both can be found in the Asian section of the grocery store or can be ordered from Amazon.
What if any changes were made from the original recipe?
The only change to the original recipe is swapping out the crushed red pepper for Sambal Olek. The latter provides more flavor and more heat. If spicy food isn't your thing, you can omit it completely.