Holiday madness is here and I'm arming myself with some easy recipes, like this Pulled Chicken Sandwich.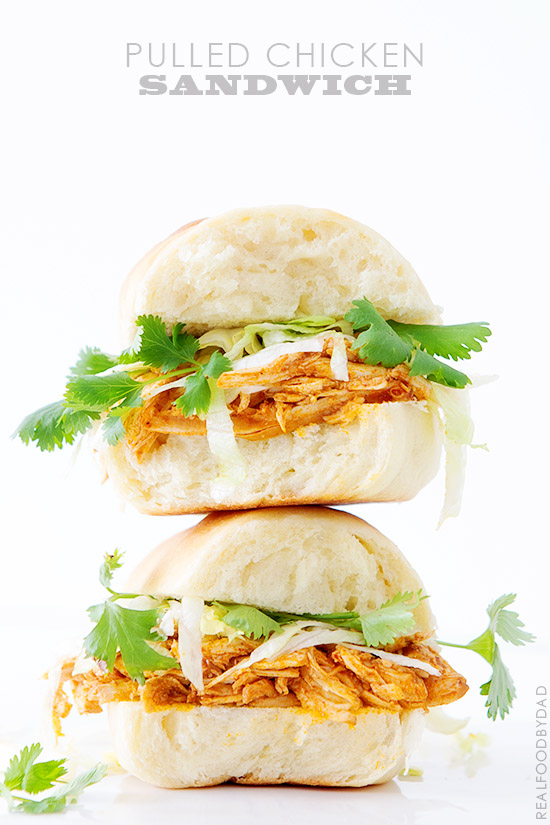 I promised Cole we would go crazy with Christmas decorations since we didn't really do Halloween this year. On the other hand, my older boy, Blake, groaned at the fact that Christmas decorations and the tree would be up by next weekend.
So maybe I'll compromise and everything but the tree will go up. I'm sure I'm not alone when I say Christmas is the best time of year and when you have kids it's even better. I don't want it all year long, but I do love it when it comes around, so I try to enjoy every minute of it.
There are bound to be crazy days ahead between work, school, family gatherings and all the other good cheer that goes along with this time of year. So dinner prep will need some significant time shaving. And yes, you can do pulled chicken in a slow cooker, but if you're anything like me, sometimes I just forget the ease of that and then I'm panicked trying to put something together.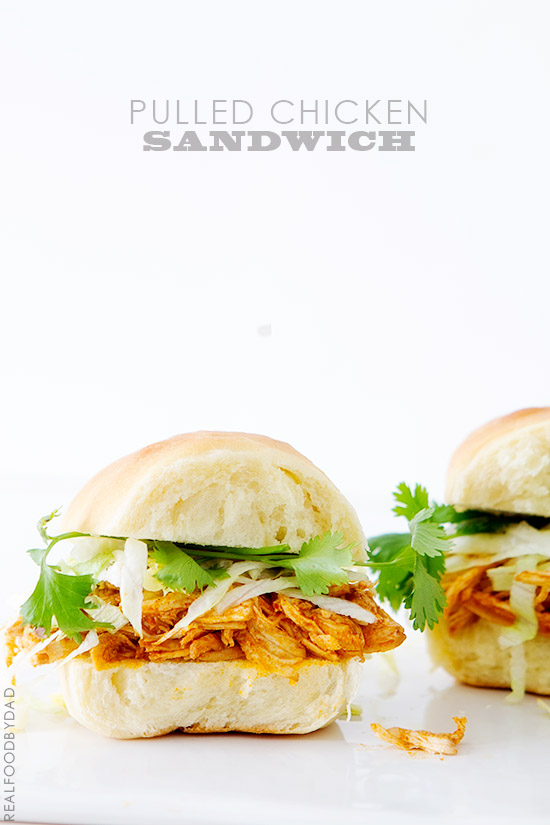 Well, thank goodness for McCormick's Skillet Sauces. These time-saving sauces can be found at Wal-Mart in the soup and sauce section. There are seven different varieties but for this recipe I used the taco seasoning flavor. I had intended on using in it some straight-up tacos, but then I didn't have any tortillas, so I got creative because these McCormick's Skillet Sauces are so versatile.
I decided to go with the pulled chicken recipe you see here. It was easy enough, just empty the sauce into a pan and add 1/2 cup of chicken broth and bring it to a boil, then let it simmer for 25 minutes and . . . done. Of course serve it as you like—I kept mine simple with just some shredded lettuce and a few cilantro sprigs for added flavor. It was awesome. A nice hot meal in less than thirty minutes with practically no prep work involved. This is bound to be a new go-to dinnertime favorite.
So when things get crazy this holiday season and you are ready to scream, just remember a good meal makes everything better.
Pulled Chicken Sandwich
Ingredients
2 lbs. chicken breast
1 McCormick Taco Skillet Sauce
1/2 cup chicken broth
2 cups shredded iceberg lettuce
sprigs of cilantro
Instructions
Place all ingredients in a pot large enough for chicken to be completely submerged in one layer. Bring to a boil and then lower heat and simmer until chicken is cooked through, about 20-25 minutes.
Remove chicken from pot and shred. Add 1/2 cup of sauce (or more per your preference) from pot to shredded chicken. Scoop shredded chicken onto rolls and layer with lettuce and cilantro.

Disclaimer: I'm participating in the McCormick's Skillet Sauce blogger campaign and was compensated for my participation. However, all thoughts and opinions are my own.