It's been what, a nano-second since I posted something with an egg on here or Instagram? But you guys know I love my eggs and breakfast. Add in some spinach for iron and bacon for more protein (but more because—well, just because) – okay more for taste; hash browns for texture, an English muffin at the bottom for structure and of course the avocado is a must.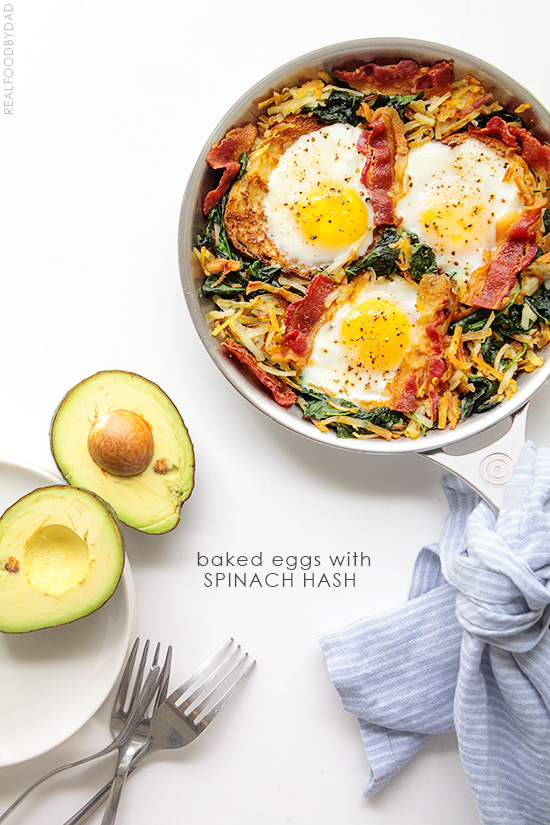 This is one of those meals that comes together quickly and easily.
And since baseball season will be here in no time, I'm tweaking all my favorites and classics like this one to power up the family this season. I don't always add spinach to this dish, in fact it's Cole who loves spinach in the family, so I muscle through it with him. If it were just up to me, I'd make the base a butternut squash and carrot hash. When I'm making this for Naomi, I end up throwing in all her mish-mash of stuff like quinoa, seeds, arugula and beets.
See where I'm going here? The dish is highly adaptable. All you need is an oven-proof skillet, some eggs, then start pairing things together or just clean out your refrigerator if need be. Whatever you do, this breakfast idea is easy to pull off and a great way to start your day.
Power Breakfast Skillet
Ingredients
2 English muffins, split in half and toasted
2 cups hash browns
3 oz. spinach
4-5 pieces of cooked bacon
3-4 eggs
salt and pepper to taste
Instructions
Preparation: Heat oven to 400 degrees F.
Place two tablespoons in a 10 inch skillet over medium high heat. Add in the hash browns and cook until golden brown, about 5-7 minutes. Add in the spinach, stir and cook until willted. Transfer hash brown and spinach mixture to a large bowl. LIne bottom of skillet with English muffins. Place hash brown and spinach mixture back into the pan around the English muffins. Tuck bacon into hash brown and spinach mixture. Gently crack an egg on top of the English muffins. Transfer pan to oven and bake until egg whites are opaque and solid and yolk is cooked, but still jiggly when pan is tapped, about 8-10 minutes. Serve immediately.