**This is post a sponsored post in collaboration with the National Pork Board
Growing up in a family of nine, casseroles were a regular thing for dinner. Today I'm continuing the tradition with my family—minus the  nine kids. My family is much smaller, but with my boys' ever-hungry appetites, I'm usually cooking up things for what seems like nine  kids. Things like this Pork and Polenta Bake.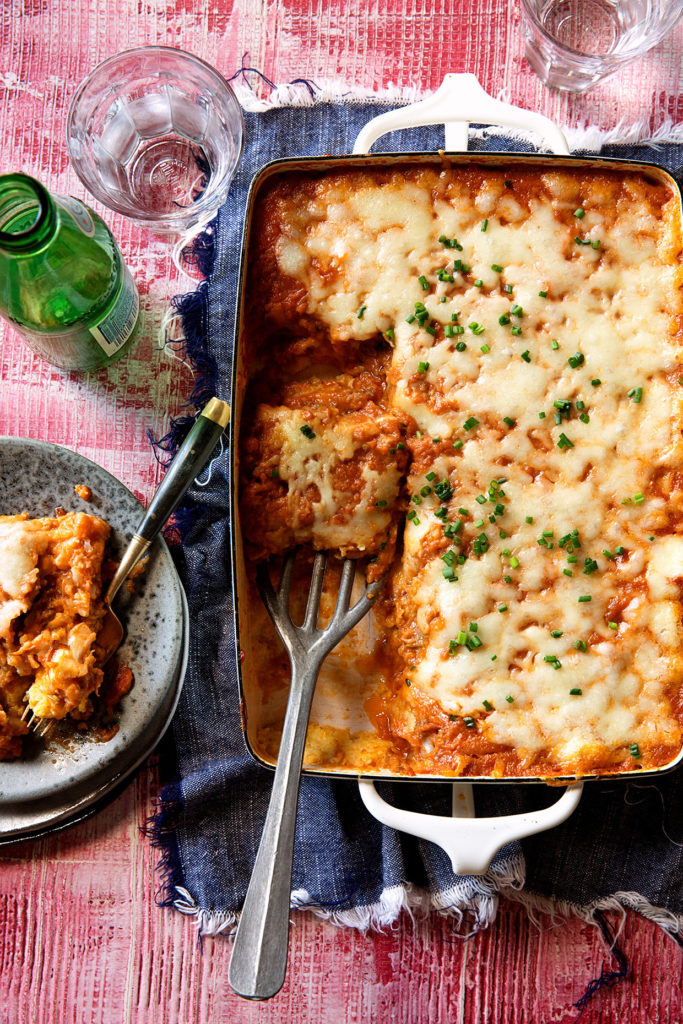 It's the perfect weeknight dinner that you can make two days ahead and reheat when ready. Or break the components out into pieces and meal prep so you can assemble it later in the week. However, if you decide to tackle this recipe, make sure you get a good cut of pork shoulder and ask your butcher to grind it up for you.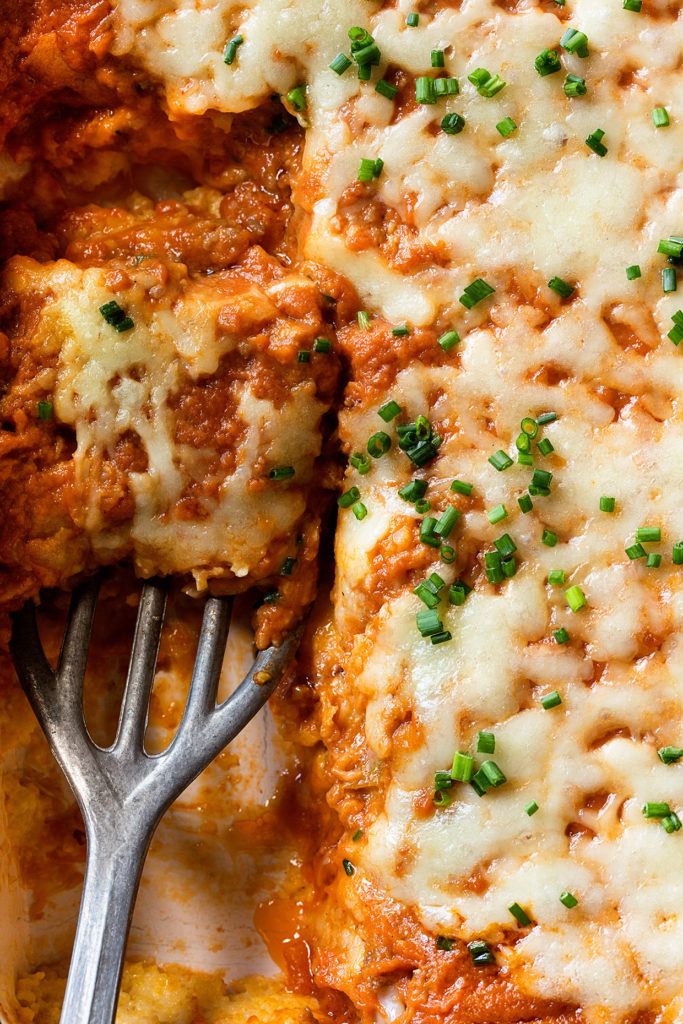 For those looking for a shortcut, yes you can use mild pork sausage, and for the polenta portion you can slice up ready-made polenta that you find in tubes. I skipped the short cuts and went for doing it all from scratch because it allows me to control the flavors and texture to my liking.
Like me, my kids are picky, which doesn't always make for easy dinners. But this dish is the exception. It's easy to make and none of the boys were picking around anything. Pork is a popular protein in our family. We love it for its rich taste, and I especially like it since it's also budget friendly and one of the hottest trending proteins. Since 2011, pork has grown in restaurants on a pound basis by more than double the next fastest-growing protein. That means pork recipes are becoming increasingly easier to find and being worked into the hottest culinary trends. That's a win-win for all of us.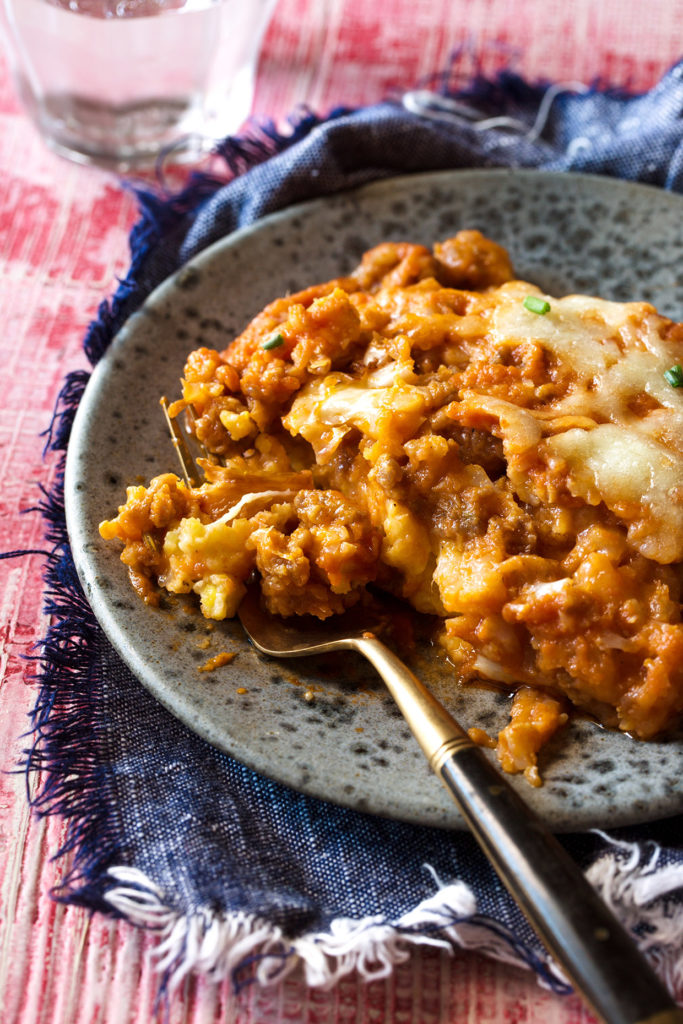 Stay tuned because I'll be sharing more hot and trending pork-inspired recipes that will have you running to the kitchen.


Yield: Serves 8-10
Pork and Polenta Bake
Ingredients
Sauce
1/4 cup + 4 tablespoons extra virgin olive oil
2 lbs. cauliflower, trimmed
12 oz. butternut squash, diced to 1/2 inch cubes
1 large onion, cut to 1/4-inch thick slices
1 large green bell pepper, seeded and cut in half
3 cloves of garlic
1 14.28 oz. can of diced tomatoes (do not drain)
2 tablespoons soy sauce
1 teaspoon kosher salt
Polenta
3 cups milk
1/2 cup chicken stock
2 teaspoons kosher salt
1 cup of polenta
4 tablespoons butter
1 cup grated parmesan cheese
1 cup grated fontina cheese
Meat
1 lb. pork shoulder, grounded (ask your butcher to do this for you)
2 tablespoons olive oil
2 shallots, minced
2 garlic cloves, minced
1 tablespoon minced fresh sage
1 tablespoon of ancho chili powder
2 teaspoons dried oregano
2 teaspoons onion powder
2 teaspoons kosher salt
2 teaspoons smoked paprika
1 teaspoon all spice
1 1/2 cups shredded mozzarella cheese
Instructions
Heat oven to 425 degree F.
Place the cauliflower on a rimmed baking sheet. Drizzle 1/4 cup of olive oil and toss to coat, then sprinkle with 1/2 teaspoon of salt and a few grinds of black pepper. On a second rimmed baking sheet, toss the onion, green bell pepper, garlic cloves and butternut squash with remaining 4 tablespoons of oil. Toss to coat, then sprinkle with 1/2 teaspoon of salt and a few grinds of black pepper.
Transfer the cauliflower to the oven and roast for 25 minutes then toss to brown remaining side of cauliflower. At the same time, place the pan of remaining vegetables in the oven. Roast until all vegetables are well browned and tender, about 25 minutes more.
While the vegetables are roasting, make the polenta. Place the milk, chicken stock, butter and salt in a large heavy bottom saucepan over medium heat. Bring to a simmer, and then slowly whisk in the polenta. Stir frequently until polenta has started to thicken, about 10-15 minutes. Reduce heat to low, cover the pot and cook for another 15-30 minutes, or until soft and tender. Remove from heat, stir in butter, and fold in cheese. Place lid back over pot and set aside.
In a large heavy bottom skillet, heat the olive oil over medium-high heat. Add the shallots, cook, and stir until softened, about 2 to 3 minutes. Add the garlic, cook, and stir for 30 to 60 seconds. Add the pork and cook, breaking it up with a spoon until well browned, about 7 minutes. The National Pork Board recommends to cook ground pork to an internal temperature of 160 degrees F, while pork shoulder should be cooked "until tender," to 170 degrees F. Stir in sage, chili powder, dried oregano, onion powder, smoked paprika, kosher salt and all spice. Remove from heat.
To assemble: At this point the vegetables should be done being roasted. Place the onion, bell pepper, and garlic in a blender with the canned tomatoes, soy sauce and salt, and then blend until smooth. Portion out 1 cup of sauce and reserve.
Roughly chop cauliflower florets to 1/2-inch pieces and add to large bowl with butternut squash and sausage. Add sauce and mix to combine.
Lightly cover a 13 by 9-inch casserole pan with nonstick spray. Transfer the polenta into the casserole pan and spread to an even layer. Add the meat mixture and spread to an even layer. Top with remaining 1 cup of reserved sauce. Sprinkle mozzarella cheese on top and transfer pan into the oven. Bake at 350 degrees F for 20 minutes or until cheese is melted and bubbly. Remove from oven and transfer to wire rack to cool and rest for 15 minutes before serving.