This post is in collaboration and sponsored by Mrs. T's Pierogies.
Are you ready to kickstart the next onslaught of game day eats for the NBA Playoffs and the start of the MLB season? If so, I've got you handled with these Pierogy Corndogs.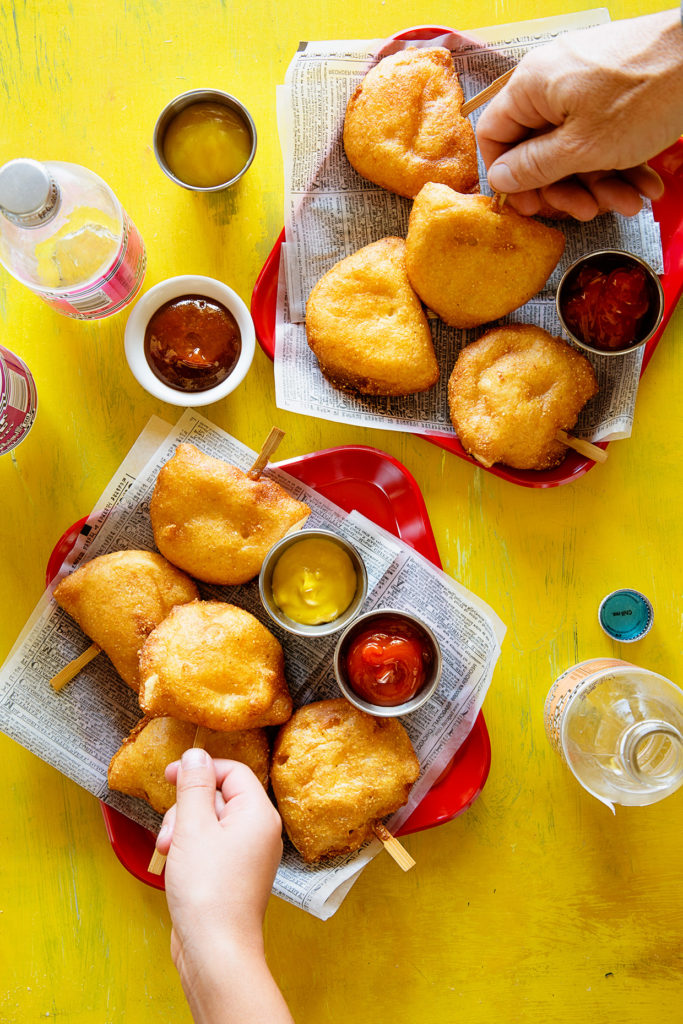 Seriously, how fun is this mash-up? But more than just fun, this Pierogy Corndog recipe is going be the next big hit when you're home-gating with friends.
To get started, you'll need to grab some Mrs. T's Pierogies. There are 15 varieties —even mini pierogies—but I used the Classic Cheddar Cheese. These potato-filled pasta shells burst with flavor and are the perfect vehicle for just about any mash-up, or you can serve them alone.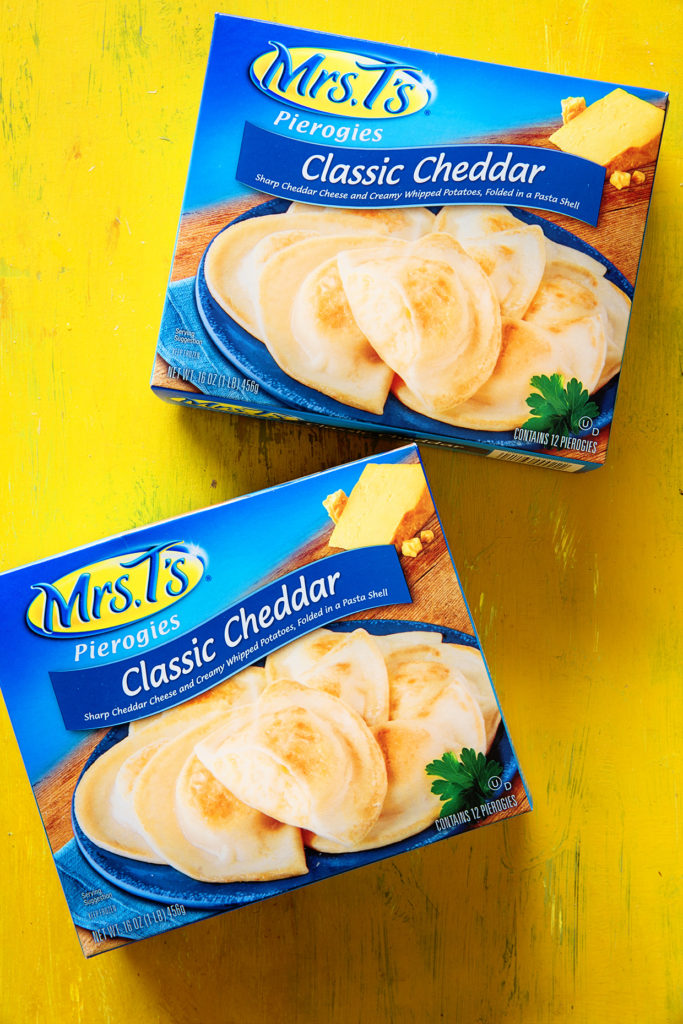 In fact, the boys and Naomi kept eating the ones that just came out of the oven, so I had to finally shoo them out of the kitchen before I had more corndog batter than pierogies. But to that point, when we aren't pierogy-fying a classic recipe, we eat them with a bevy of dips like pesto, Sriracha aioli, spinach and artichoke dip or if you have similar taste to my toddler — you'll like it with just a side of hot butter.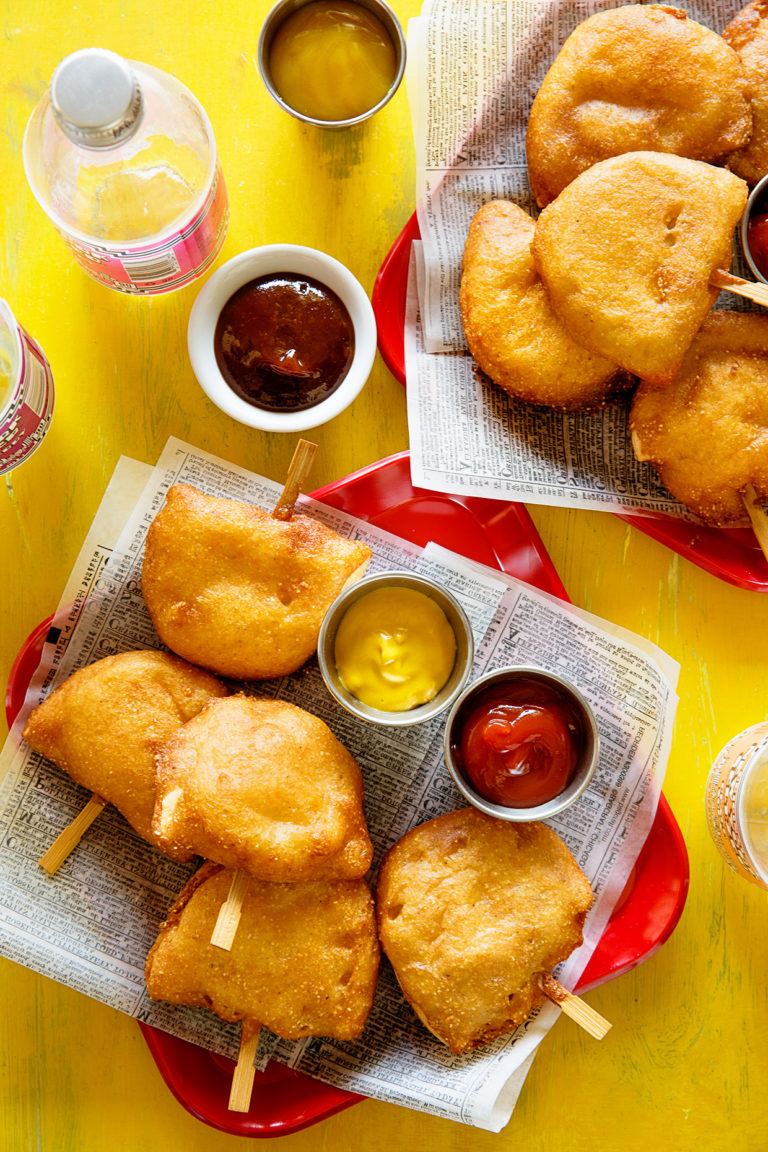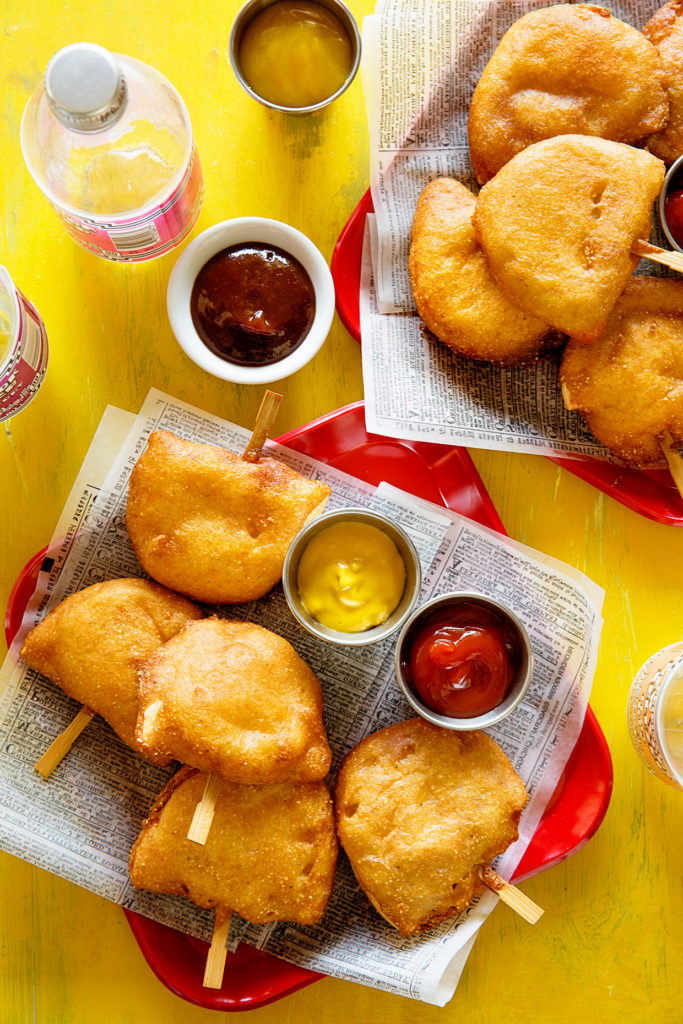 The versatility of them ensures that I always have a box in my freezer and you should do the same. Especially since you can always head over to Mrs. T's Pierogies website for all kinds of recipes and inspiration.


Yield: Makes 24
Pierogy Corndogs
Ingredients
1/2 cup all-purpose flour
1 cup cornmeal
1 1/2 teaspoons baking powder
1/2 teaspoon baking soda
4 tablespoons sugar
1 teaspoon onion powder
2 large eggs
1 cup buttermilk
1/3 cup whole milk
Instructions
Portion out and set aside 1/2 cup of flour on plate. Bake Mrs. T's Pierogies according to package, set aside to cool. Insert stick into pirogues and roll it in the flour and shake off excess.
Heat 5 inches oil to 350 degrees F in a heavy bottom sauce pan over medium-high heat.
In a large bowl, whisk together remaining flour, cornmeal, baking powder, baking soda, sugar and onion powder. Add eggs in one at time and incorporate completely before adding the next one. Add buttermilk and whisk until combined.
Transfer batter to a tall bowl or glass jar, so that the pirogues can easily be dipped and covered in one motion.
Working in batches of 2 or 3 dip pirogues, then fry, turning occasionally, until batter is cooked through and golden-brown on all over, about 3 minutes. Transfer finished corn dogs to a a paper towel-lined plate to drain. Return oil to 350 degrees F and repeat.