I am turkey-ed out. Sorry, but it's true. We've been eating nothing but turkey since Thursday, and while I look forward to doing exactly that every year, all that tryptophan has killed my motivation to get up and go to the gym or shoot hoops with the boys.
So when it came time to make lunch today, I lifted up the foil on the plate in the fridge and saw that there were only scraps left. That was a blessing in disguise, because poor Cole would have flipped if I made him another turkey sandwich. So instead, I had some fun and combined a couple of his favorites into one and made Pepperoni Pizza Grilled Cheese Sandwiches. And let me tell you, they were a huge hit with my boys.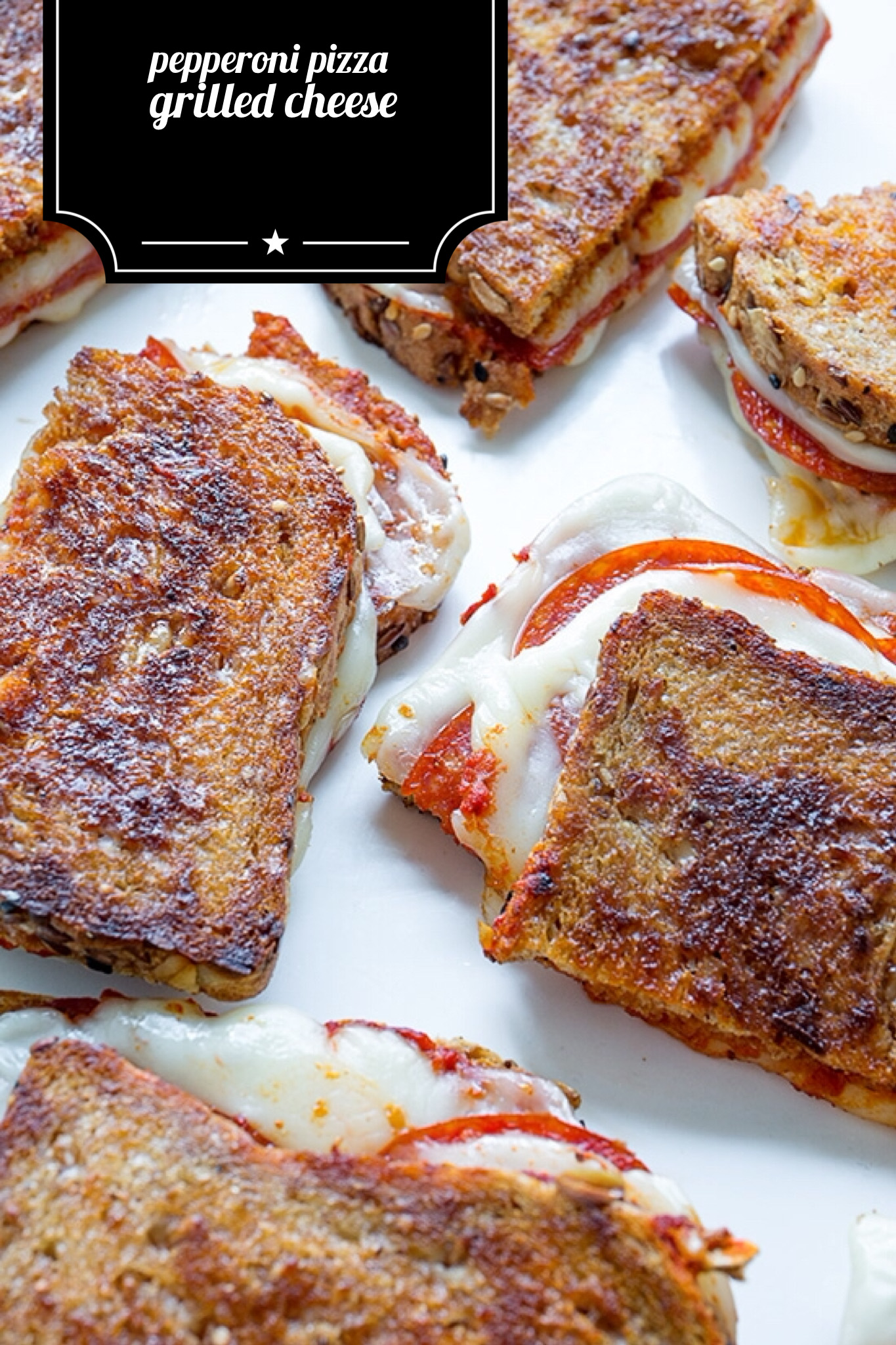 Grilled cheese, pepperoni pizza, nothing really healthy about that, right? And that's fine sometimes, but I figured I needed to make these a little healthier, and tastier, by using Dave's Killer Bread's Whole Grains and Seeds Thin-Sliced Bread. And pat on the back, that was an awesome decision. The bread added such a hearty flavor and being a quirky eater like I am, I loved the texture the bread added to the sandwich.
And unlike the turkey, there were no leftovers. But if there were, guess what I'm thinking? Yep, I've got to waffle these next time.
Yield: 1 sandwich
Pepperoni Pizza Grilled Cheese
Ingredients
2 slices Dave's Killer 21 Power Seed Bread
2 tablespoon mayonnaise
1 tablespoon butter
2 slices mozzarella cheese
2 tablespoon pizza sauce (more or less according to your preference)
6 pepperoni slices
Instructions
Spread 1 tablespoon mayonnaise on one side of bread, repeat on second slice with remaining tablespoon of mayonnaise. Melt 1/2 tablespoon of butter in a non-stick skillet. Once melted place 1 slice of bread, mayonnaise side down; spread 1 tablespoon of pizza on top; layer with mozzarella cheese and pepperoni slices and remaining slice of mozzarella cheese; salt and pepper to taste. Spread remaining tablespoon of pizza sauce on second slice of bread, place on top of sandwich, mayonnaise side up. Cook until underside is golden brown, about 4 minutes, turn sandwich and add remaining 1/2 tablespoon of butter to skillet. Slightly press down on sandwich to evenly brown bread and melt cheese, about 3-4 minutes.