I'm sure everyone has those things that reminds them of those hot summer days as a kid. For me, most of the time it's seeing my boys out in front of the house playing catch with bright red faces, then coming back inside for a popsicle or an otter pop. Along with that, it can be something as simple as the smell of something or the taste of a certain food, especially fruit.
Can you guess where I'm going? Yup, these popsicles came about from an abundance or ripe peaches.
You can imagine how strong the scent of 10 peaches, sitting pretty in a fruit bowl, can overwhelm a small room. Of all fruits, nothing transports me back to those play-filled kid days like peaches. The days when I would ride my bike from one friends house to the next until someone could play with me. I was that kid.
And when I grew up, it seemed like fruit trees were much more common, so between ringing one doorbell to the next, you could always find something to pick. Often times it was peach tree with an overhanging branch that was begging me to lighten it's load.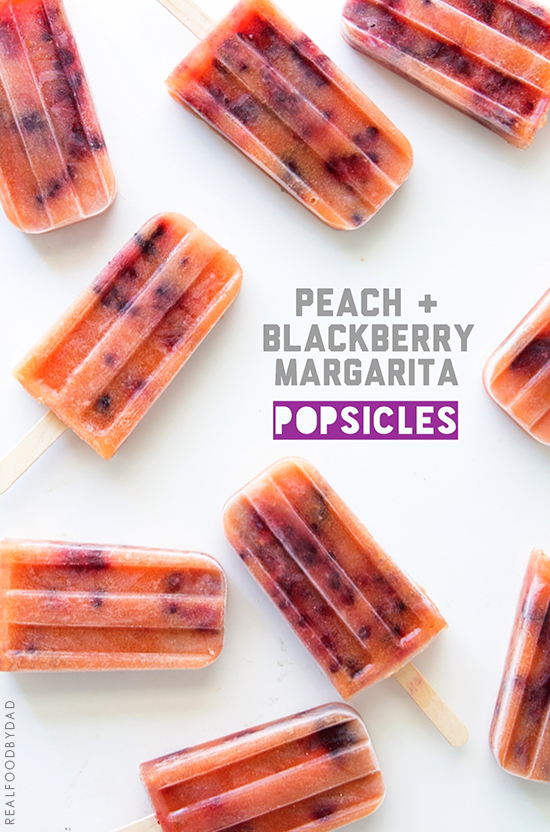 Who could resist such a sweet smelling invitation?! And apparently, I still can't resist it. Wait until you make this popsicle (because, yes, I insist that you do), the peaches will permeate your kitchen as you make it. And when they are ready to eat, it's like summer on a stick with an adult twist from the margarita mix-in of tequila and triple sec. Aside from the peaches, I threw in some watermelon, to thin out the mixture and some blackberries for a slight tart-like contrast to the sweetness. Lastly, if you want to make this kid-friendly, just omit the booze.
Yield: 16
Peach and Blackberry Margarita Popsicle
Ingredients
12 oz. watermelon (about half of a medium size watermelon)
1 lb. peaches, pitted (about 3 large peaches)
1/2 cup tequila
1/4 triple sec
6 oz. frozen blackberries
Instructions
Place all ingredients except the blackberries in the blender and process until smooth. Fill popsicle wells 1/4 of the way up and sprinkle in crushed blackberries. Continue layering like that until wells are full . Insert popsicle stick and let freeze until solid.
**NOTES**(1) If you have a good blender, you will not need to peel your peaches. (2) If your fruit is not at its peak and lacking some sweetness, add 1 tablespoon of agave syrup to the mixture until preferred sweetness is reached. (3) Use frozen blackberries as they are easier to crush and handle. (4) The recipe makes a total of 32 oz. The amount of popsicles it yields will vary on the mold used. The mold used in the photo yields sixteen 3oz popsicles. (4) If your popsicle mold does not have a top, cover the top with foil and outline each well with your fingers. Cut a tiny slit in the middle of each well and insert popsicle stick.