In embarrassed to say, but willing to admit, I don't regularly eat shrimp.. It's not something I crave or think about first when dinner is on the line. But I'm re-thinking my ways, because — I'm becoming a big fan of the taste, texture and how quick it is to cook!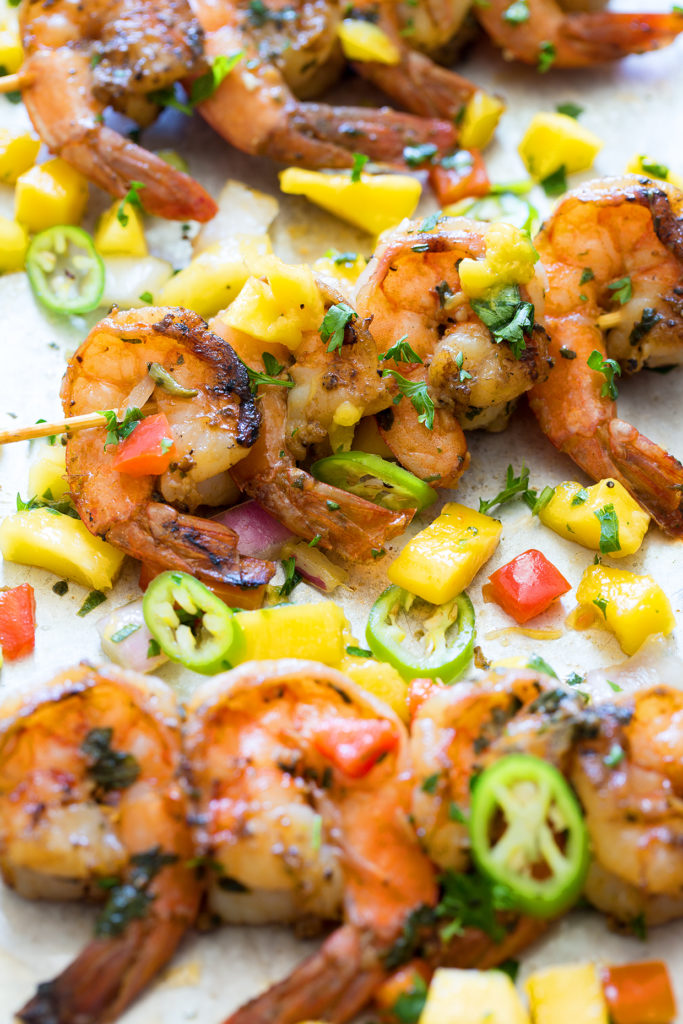 My little guy Cole loves it. I can take credit for introducing him to it. Ever since he was old enough to chew, Naomi has had him trying all kinds of foods. I'm sure as a preemptive move, to steer him away from of any picky-eating habits. Something I'm all too familiar with being a recovering picky eater myself.
Having said all that, I can take credit for making shrimp his favorite way: pan-seared with a mango salsa that's kicked-up with some Serrano heat. He's ten and loves spicy food. Between him and Naomi, Serranos are a regular vegetable around here.
How is he even my child?
I can do spicy, but it's certainly not something I request. Nor is shrimp, but the little man may just change my ways.
Yield: Serves 4
Pan Seared Shrimp with Mango Salsa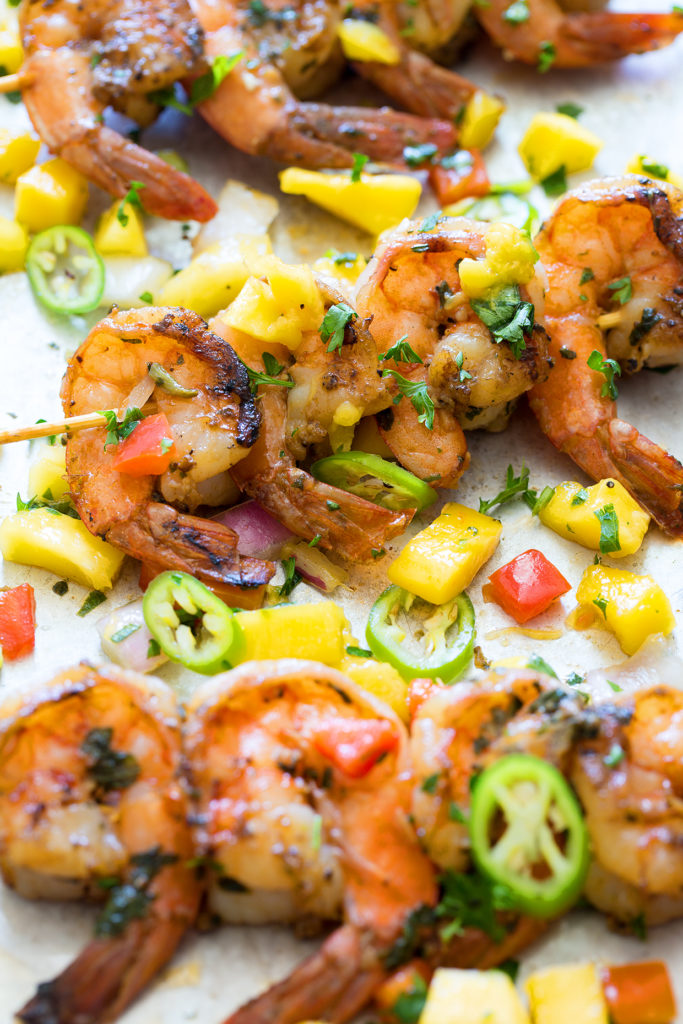 Ingredients
8 (6 to 8-inch) bamboo skewers
16 jumbo shrimp, deviened and peeled
Salt and pepper
1 tablespoon finely chopped garlic
1 teaspoon smoked paprika
1/4 cup orange juice
3 tablespoons lime juice
2 tablespoons chopped flat leaf parsley
3 tablespoon extra virgin olive oil, divided use
Tropical Salsa
2 cups diced mango
1/2 cup diced red bell pepper
1/4 cup diced red onion
3 tablespoons minced fresh cilantro
1 tablespoons minced fresh mint
2 tablespoons fresh lime juice
Optional: 2 tablespoons sliced serannos
Instructions
In a large bowl, combine and whisk together salt and pepper, garlic, paprika, orange juice, lime juice, parsley and 2 tablespoons of oil. Add shrimp and toss to combine. Cover and refrigerate for 2 hours.
In the meantime make the tropical salsa, by combining and mixing together all ingredients. Keep refrigerated until ready to use.
Remove the shrimp from the refrigerator. Thread 4 shrimp to a skewer. Heat a large heavy bottom pan like a cast iron pan over medium high to high heat.
Add remaining 2 tablespoons of olive oil to hot pan. Pan sear until shrimp is opaque and caramelized , about 2-3 minutes on each side.
Remove from heat and serve with tropical salsa