I rarely believed my friends when they would tell me how their newborn was already sleeping through the night. Until now. Our little guy Connor, who is 8 days old, sleeps through the night! We literally have to wake him every 3 hours to feed him, but he goes right back to sleep. He is so chill, I hope he stays that way. And it's been so nice for Naomi as she recovers from pregnancy and a long labor.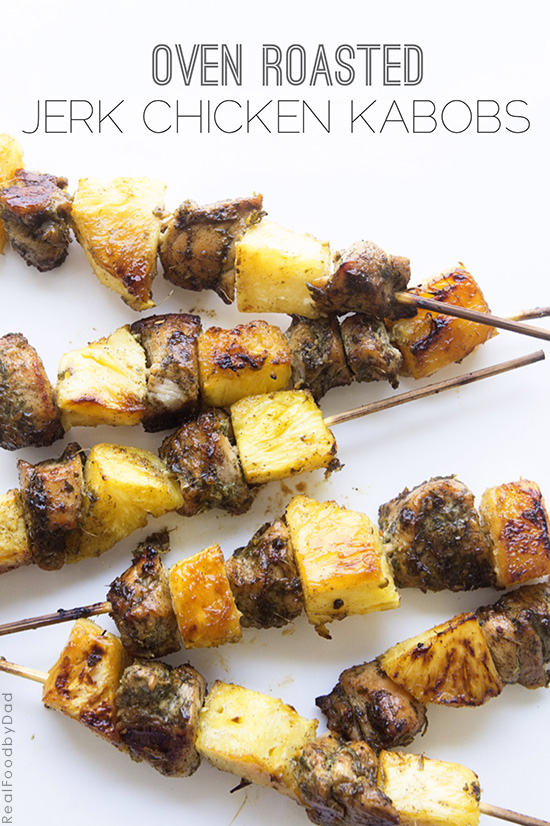 And over these last 8 days, as we get closer to summer, I've had our grill on my mind. Specifically, kabobs. The problem is, I look out on our porch and see the layer of dirt on the cover, and I'm not certain I cleaned it the last time I used it. And I don't have the time or energy to clean the darn thing. Between baseball playoffs for my 13 year old, wrapping up my 7 year old's season, and helping Naomi with Connor, life has been a little hectic. So I spared myself the hassle and came up with an easy recipe that can be done with one arm, literally (see below). Enter my Oven Roasted Jerk Chicken Kabobs.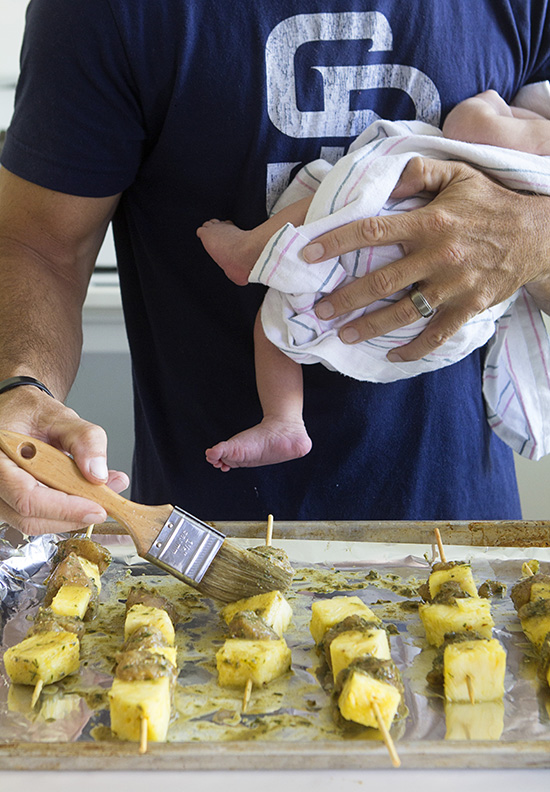 For a picky eater like me, I used to hear the words "jerk chicken" and I was immediately skeptical. And then I tried it. Addicted. Instantly. So instead of throwing these kabobs on the grill, with a baby in my arms, I decided to oven roast them, and they turned out awesome! The base recipe for the marinade is from America's Test Kitchen. It's the best one I've tasted, and needs little adaptation except to tweak it to your taste.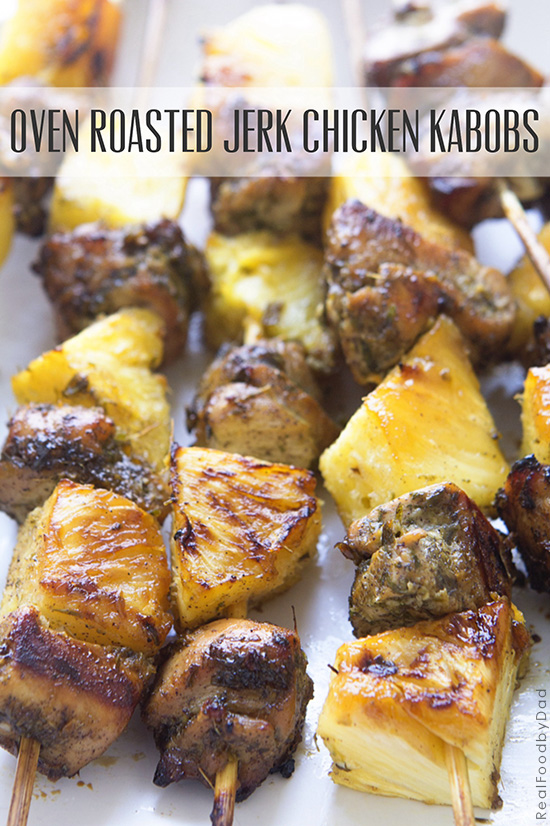 The original recipe was a bit spicy for me, so I turned down the heat by lessening the habanero chili by one, adding in the juice of half a lime, and finally giving the molasses an extra tablespoon. It was perfect, not too spicy and just sweet enough with a slight citrus tang. The best thing about this marinade—just throw it all in a food processor. No heavy prepping.
And since we have no games scheduled this Saturday, guess what I'm doing? Cleaning my grill. It's grillin' time, so expect some fun summer recipes over the next few weeks. That is, if Connor doesn't suddenly start keeping us up at night. Which, since I mentioned it here, I'm sure he will!
Oven Roasted Jerk Chicken Kabobs
By Matt Robinson Published: May 29, 2014
I rarely believed my friends when they would tell me how their newborn was already sleeping through the night. Until now. Our little …
Ingredients
Instructions
Preparation: Soak wood skewers in water for 20-30 minutes. Line bakesheet with foil and lightly cover with non-stick spray.

Place scallion, oil, habaneros, ginger, molasses, garlic, thyme, all spice, cardamom, salt and lime juice in a food processor or blender and puree. Toss chicken in mixture. Skewer the chicken and pineapple pieces onto sticks. Place kabobs on foil and roast at 425 for 30 minutes.

**NOTES** (1) Taste your marinade before you toss the chicken in it to make sure the flavor is to your liking. Add more habanero to turn up the heat, or to reduce the heat after the habanero has been added, try adding more lime juice one tablespoon at a time to neutralize some of the heat.