Here's how to make the easiest Teriyaki Chicken recipe. I know there are a plethora of recipes tagged as such, I myself have a few versions, but this one here – this is the best one. The homemade sauce is packed with flavor  and the method of  broiling the sauce-covered chicken makes it  easy.
It's simple, straight to the point, and no-fuss. It's also one I lifted from Naomi. That's what happens when there are two cooks and two food bloggers in one home. Lucky for me, I'm married to her so all monies, assets and recipes are shared. That's how it goes, right?
All joking aside, I lifted this recipe because it works and she doesn't make it enough. And when I ask for the recipe, she's always telling me, "I don't know, Matt. It should be a balance of salty, sweet and just a tad sour." By sour, I've come to realize she means brightened with rice vinegar. I've also come to realize all her childhood dishes are a splash of this or that—by that I mean, she has the recipe tattooed to her taste buds, not neatly transcribed for others to follow.
That's where I come in. I'm adding order to the "a little this and that". Yes, you want to taste along the way, I like to know my starting point. I don't want to figure that out along the way.
That being the case, here we are. . . the best teriyaki sauce to come out of my kitchen and onto your table. Made from scratch and literally better than any restaurant. As for the sides, steam some edamame and buy the egg rolls to keep everything uncomplicated.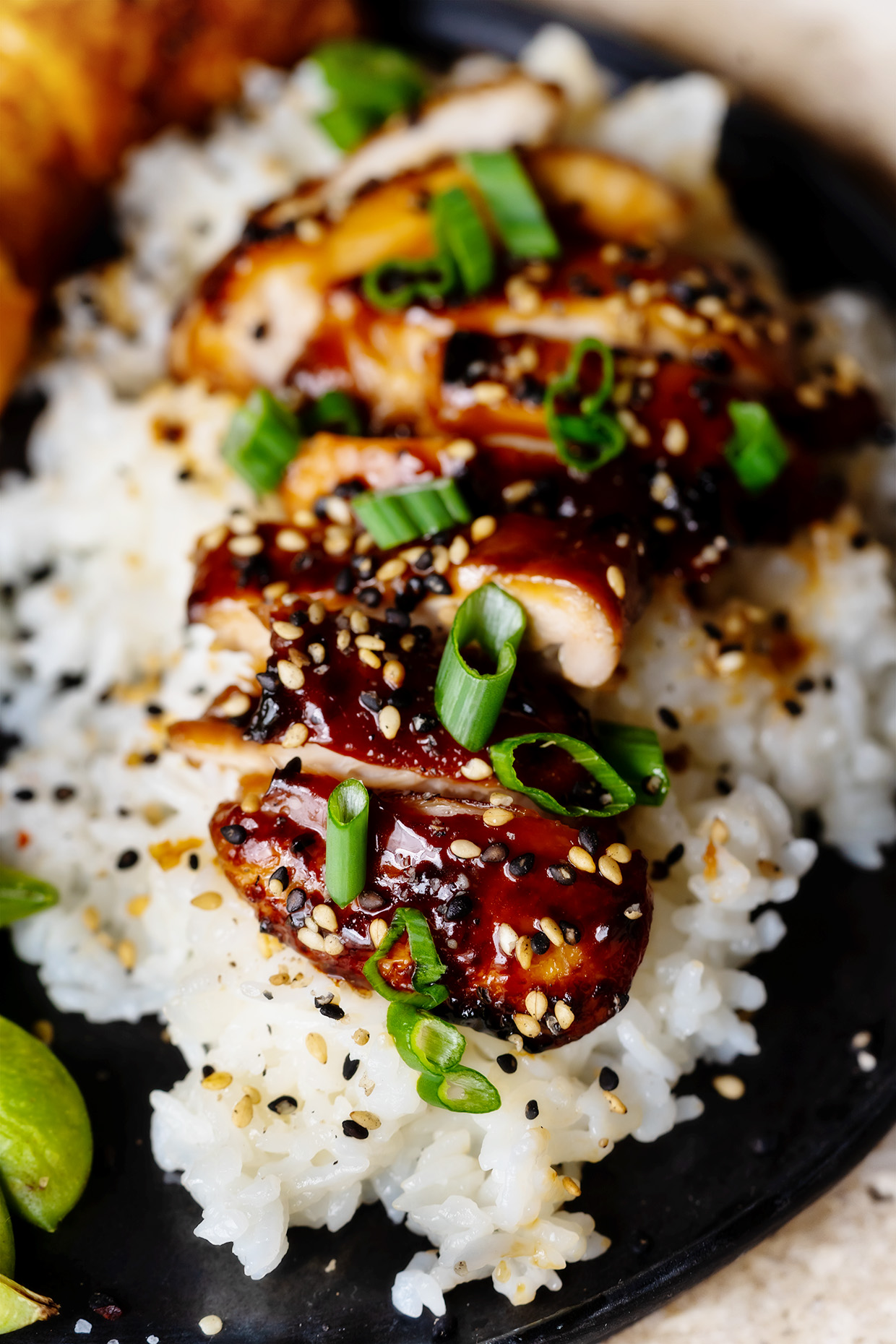 Yield: Serves 4
Oven-Broiled Teriyaki Chicken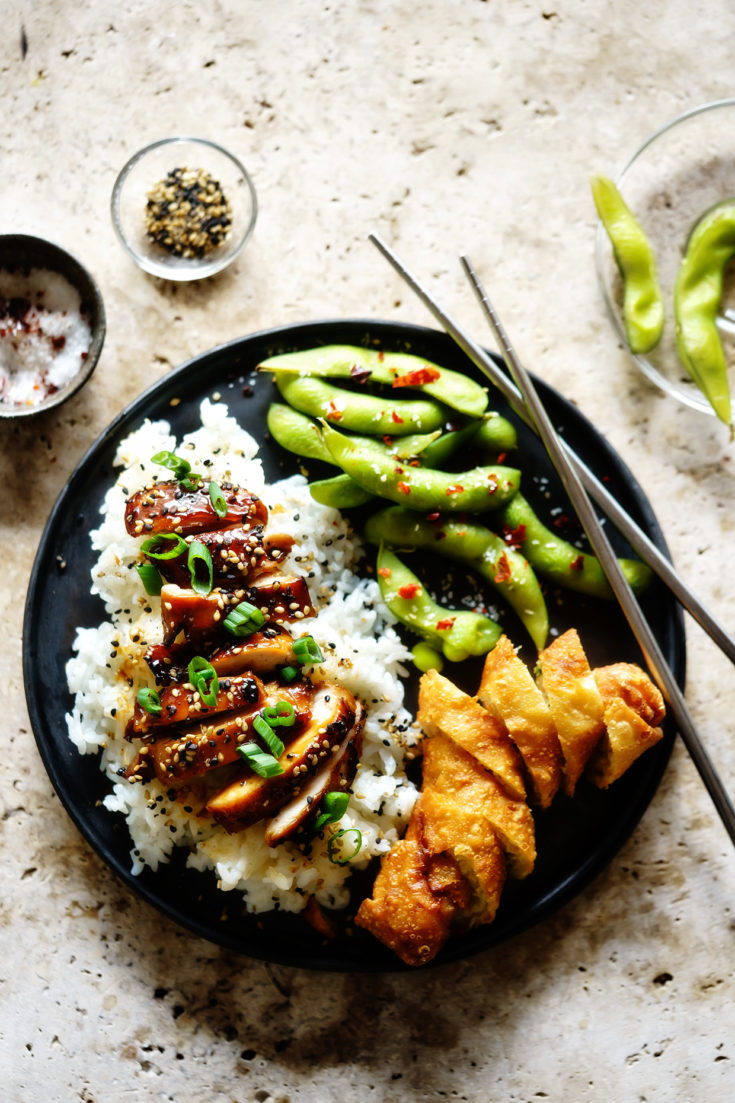 Ingredients
1 1/2 lbs chicken breast or thighs (combo of the two will work as well), the breast should be butterflied or flattened to 1/2-inch thickness
1 cup soy sauce (I don't use low sodium, but the recipe works fine if you need to)
1/2 cup Mirin
1/2 cup granulated sugar
1/4 cup rice vinegar (not regular distilled vinegar)
1/2 teaspoon cayenne pepper (not a traditional, not necessary, but I like the added layer of heat)
'2 teaspoons cornstarch (for thickening, but not necessary)
Instructions
In a large bowl, whisk together soy sauce, Mirin, granulated sugar, rice vinegar and cayenne pepper. Add the chicken and toss to coat. Cover the bowl with plastic wrap and transfer it to the refrigerator to marinate for at least an hour, preferably four (see notes for a short cut). If you don't have time to marinade see note below.
Remove marinated chicken and place chicken pieces at least half-an-inch apart on a baking sheet. Pour the marinade from the bowl into sauce pan and set aside.
Turn oven to broil on low. Move the oven rack so it is approximately 8 inches from the heating element. Transfer the baking sheet to the oven and broil for 2 minutes. Remove from oven and flip each piece of chicken and broil for 2 minutes. Repeat twice more, for a total cook time of 8 minutes. Parts of the chicken and sauce will char. This is normal because of the sugar in the sauce.
In the meantime, to finish the teriyaki sauce, stir together the cornstarch and 2 tablespoons of cold water and then add it to the sauce pan with the marinade. Place the sauce pan over medium heat and bring to a boil. Lower heat and let simmer for 5 minutes. Beyond the 5 minutes, the longer it simmers the thicker the sauce will become. If it becomes thicker than you prefer, thin it with 1 tablespoon of water at a time until preferred consistency is achieved.
Remove teriyaki sauce from heat and serve with finished dish.
*Note: If you bypassed marinating the chicken, set aside 1/2 cup of teriyaki sauce to brush on the chicken with each two minute interval when flipping the chicken.
Remove chicken from the oven and let rest for 2 minutes before serving it over rice and additional sauce if preferred.