Easy One Skillet Chicken Tortellini ~ An easy and delicious dinner recipe – creamy mushroom sauce and chicken tortellini prepared and cooked all in one skillet.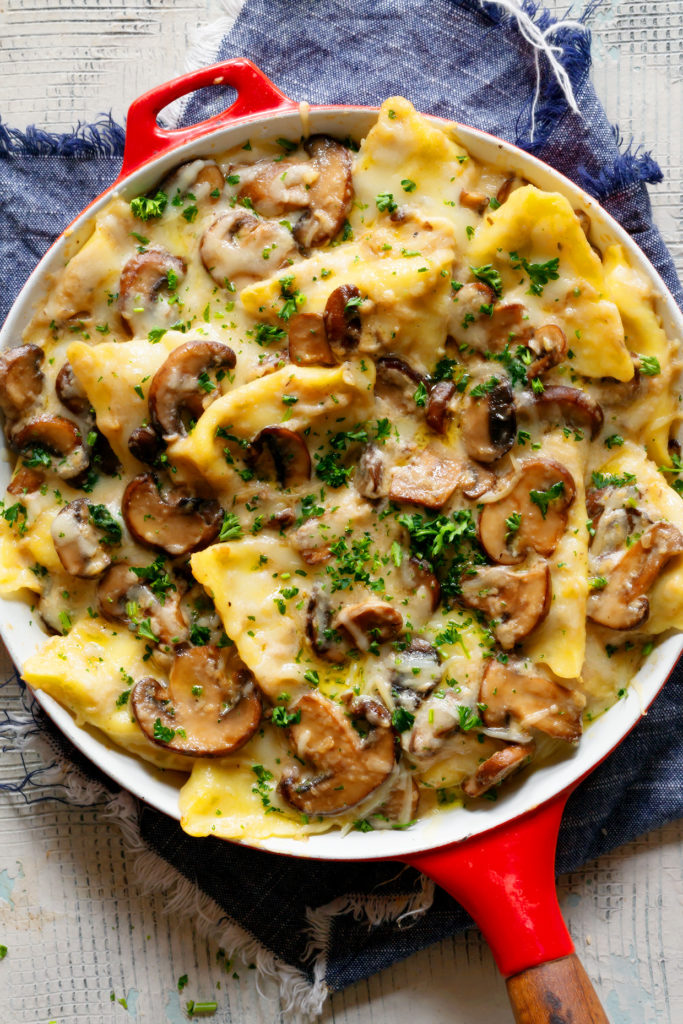 Another day, another pasta dish, right?! That's usually the case in my home. There aren't many pasta dishes my kids won't eat. This one is no exception.
Creamy sauces are their jam, so for those easy weeknight meals, I used pre-made tortellini and made the sauce from scratch. To switch things up, I did mushrooms and skipped the greens. I would have happily added kale or spinach, but the kids get tired of me sneaking greens into everything.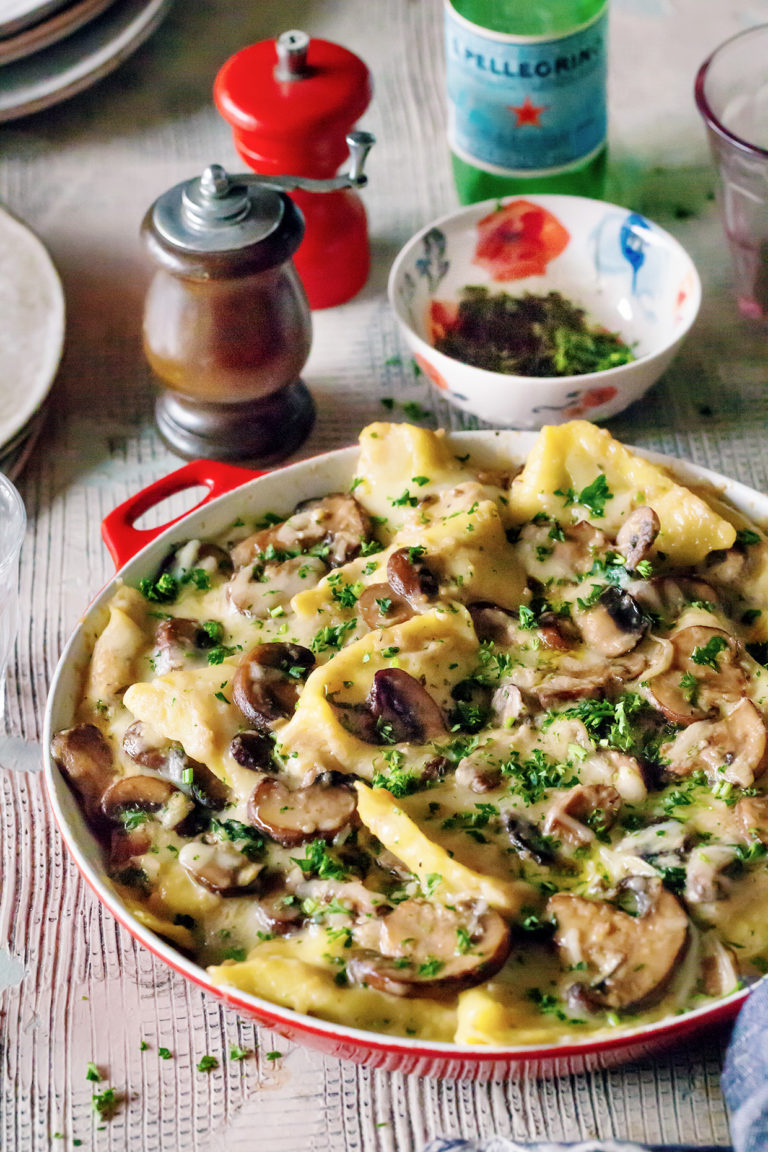 So no greens here, but I did manage to slip it into their smoothies that accompanied this dinner. They were none-the-wiser and my sneaky self got my way.
Remember I'm doing all I can to prevent them from becoming picky eaters, because it's only taken me nearly 20 years to work towards dismantling my picky eating habits. I still have my struggles, but kids make you try harder. So cheers to holding the greens in this pasta dishe , but serving them up in dinner drinks like smoothies.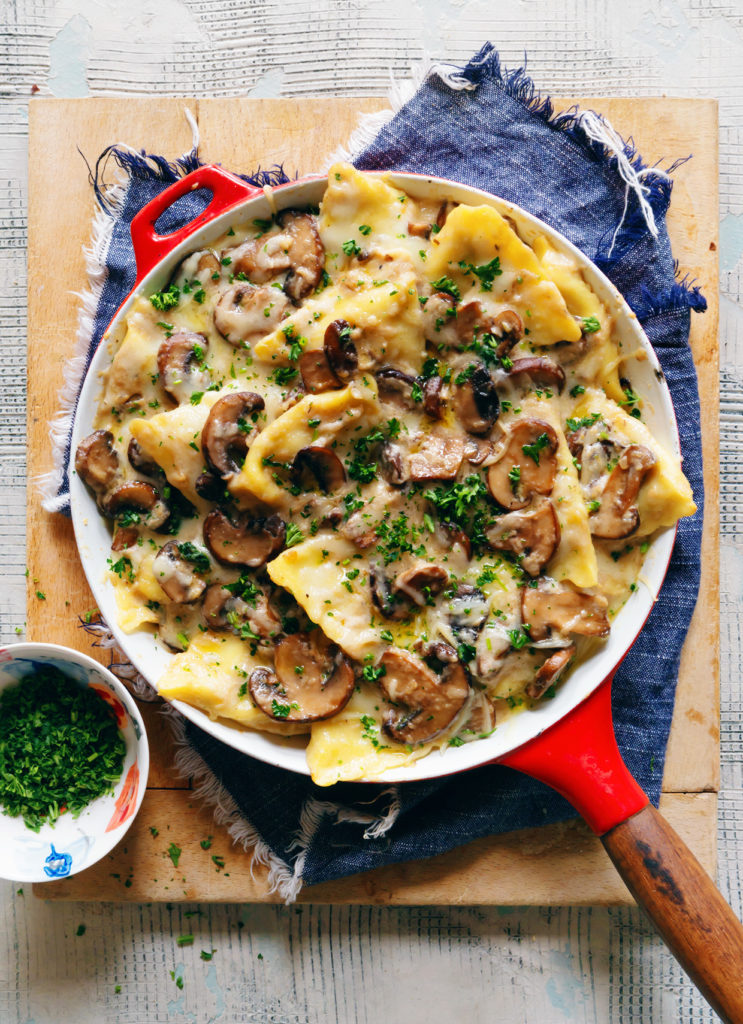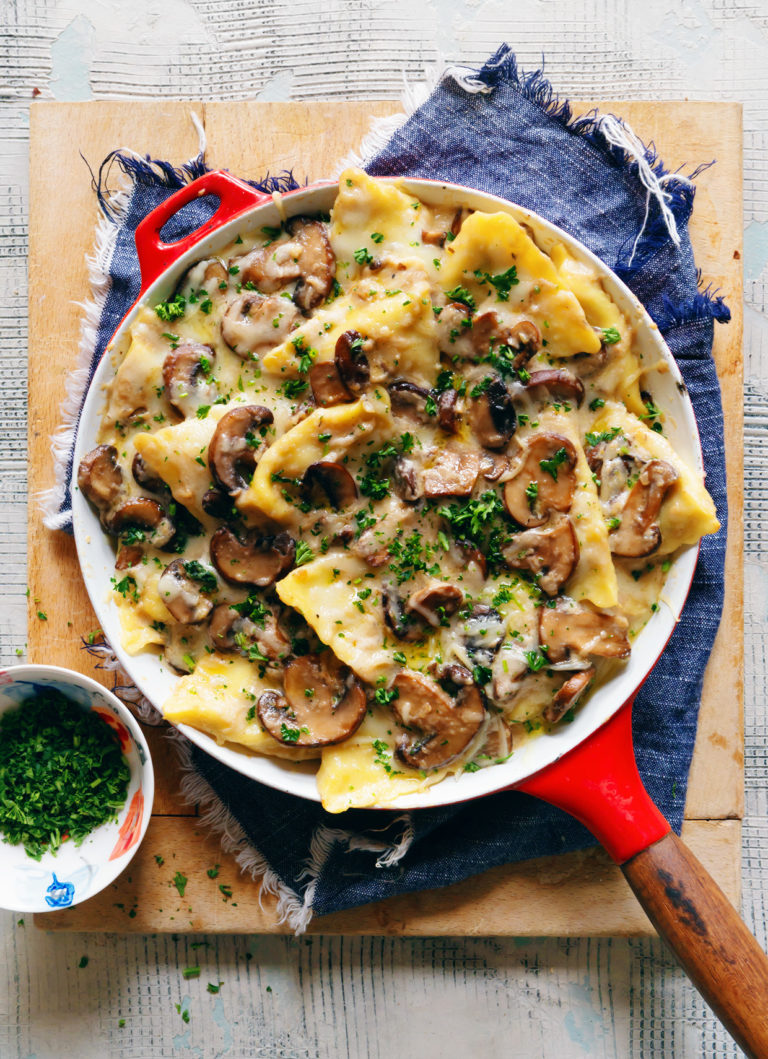 Yield: Serves 6
One-Skillet Creamy Chicken Tortellini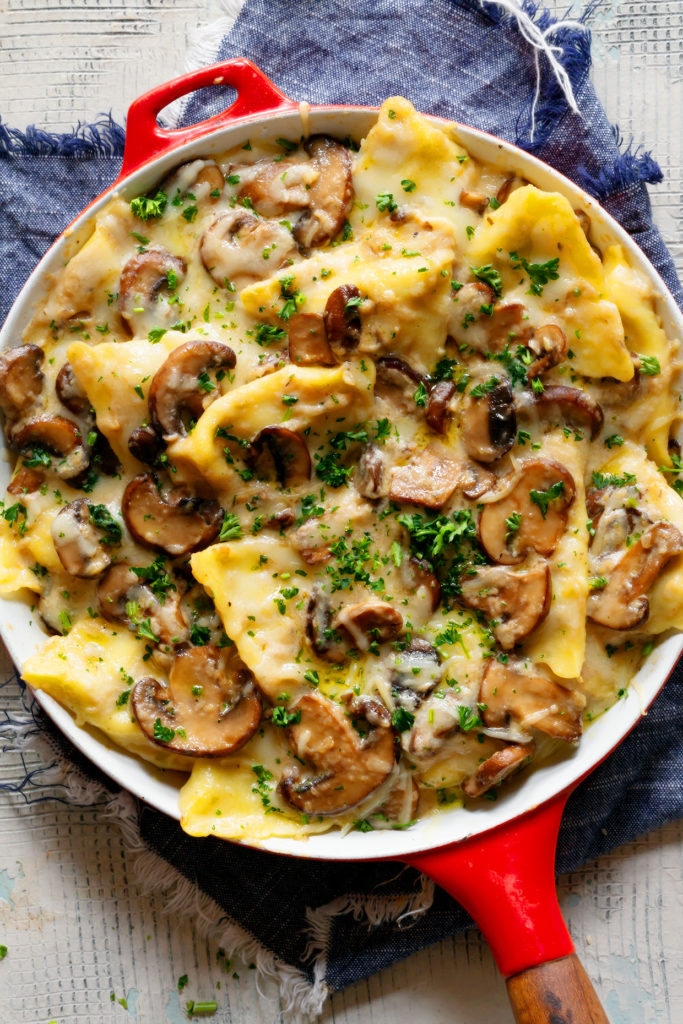 Ingredients
2 tablespoons butter
3 tablespoons olive oil, divided use
4-5 sage leaves
8 oz. sliced baby bella mushrooms
1 shallot, finely chopped
1 garlic, finely chopped
2 tablespoons flour
1 cup chicken stock
2 cups milk
1 1/2 teaspoon garlic powder
1 1/2 teaspoon onion powder
1 teaspoon kosher salt
1/2 cup parmesan cheese
4 oz. low moisture mozzarella cheese, shredded
2 9oz. chicken tortellini (I used Three Bridges brand)
Instructions
In a large oven-proof skillet, over medium-high heat, add 2 tablespoons butter and 2 tablespoons olive oil. Heat until butter is melted; stir to combine. Add sage leaves and and cook until crispy and butter is browned, about 4 minutes. Remove crispy sage and discard. Add the mushroom, stir to cook until mushroom starts to brown at edges about 5 minutes. Transfer mushroom to a plate and set aside.
Using the same pan, add the olive oil and heat until oil starts to shimmer, about 1 minute Add in the shallots, stir and cook until translucent, about 1 to 2 minutes. Add the garlic and cook for another 30-seconds. Sprinkle flour on top, stir and scrape the pan until a paste-like texture appears, about 1 minute. Slowly stir in chicken stock, whisking the whole time to combine. Add the milk and whisk until well combined. Add in the garlic powder, onion powder and kosher salt; stir to combine. Add the cheese and stir constantly until cheese is fully melted. Add the ravioli in and cook until ravioli is tender, about 4 to 5 minutes. Turn off heat and remove pan from the stove top. (Sauce will be appear thin at this point, but will thicken as it cools. Don't be tempted to add more cheese of flour, or else the sauce will be too thick once the pasta starts to rest). Stir in the mushrooms and top with mozzarella cheese. Transfer pan to the oven, and bake for 4-5 minutes or until cheese melts. Remove from oven and serve immediately.