Nashville Hot Chicken Sandwich with a Mango Relish ~ Grab your napkins and open big for this beauty! It's crispy, spicy and leveled up with a heavy scoop of mango relish for a sweet and spicy finish.
This post is sponsored by National Mango Board.
If you like spicy fried chicken, this recipe is for you. You can of course level down the heat if you like by decreasing the hot sauce and the cayenne pepper.
Although if you are anything like me, instead of leveling down the heat, I like to offset it with a heavy scoop of mango relish. Not only does it temper the heat, the mangos give this ensemble a sweet spicy finish.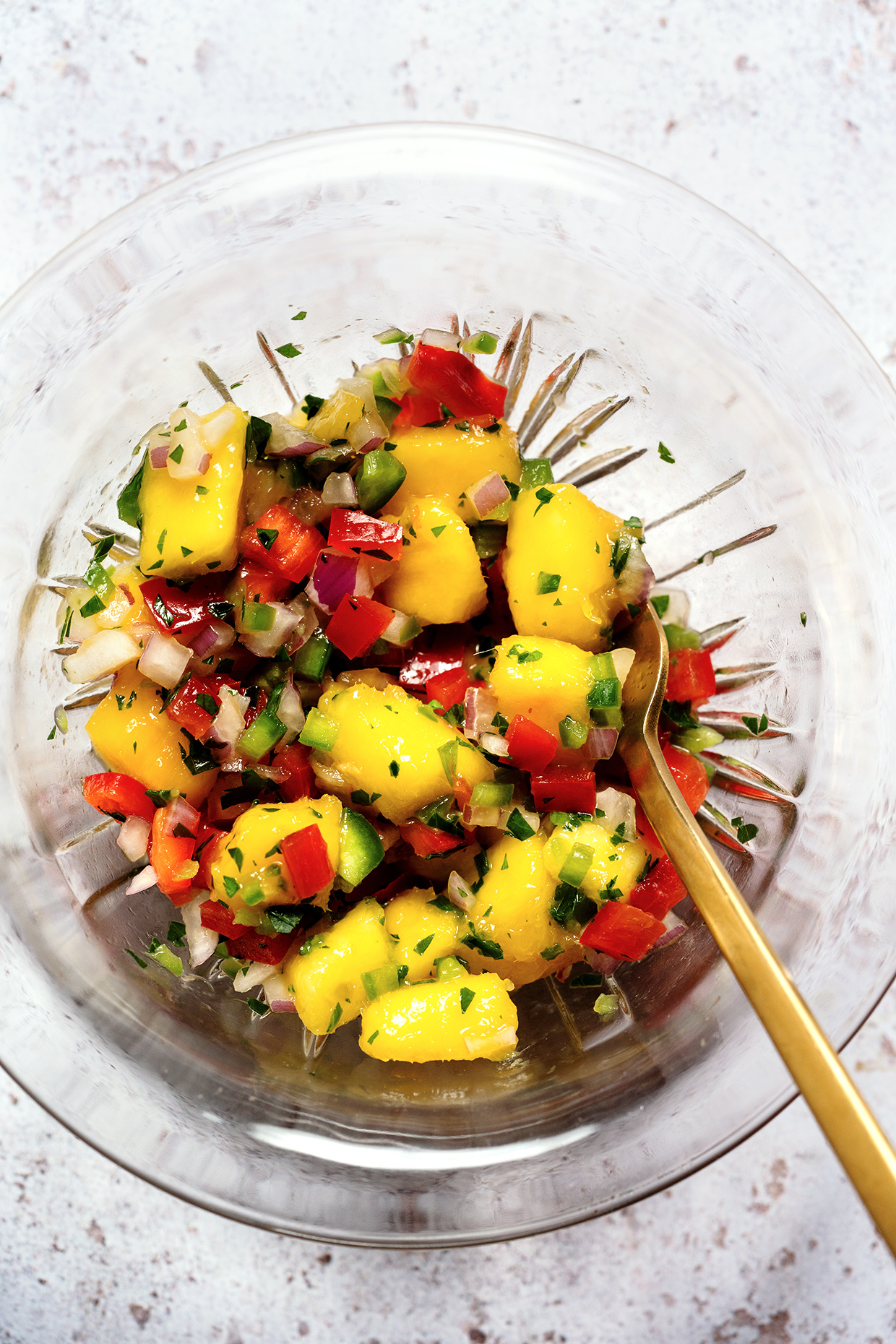 Mangos are a favorite in my home and always a top choice for snacking. Thankfully they are available year around, so we are never without them. Here are a few hot tips for choosing ripe mangos and how to speed up the ripening process if needed:
Ripeness: This is determined by feel, not color. Give a mango a soft squeeze. If it gives, then it's ready.
How to speed up ripeness: Place mangos in a brown bag to ripen and then transfer it to the refrigerator once ripe to slow down further ripening.
Nutrient density: Mangos have nutrients like vitamin C (50% DV), folate (15% DV), vitamin A (8% DV) and vitamin B6 (8% DV) per ¾ cup serving.
Aside from being a better-for-you choice when it comes to snacking, I'm all about mangos when it comes to cooking. I use mangos often as a foil to heavy meals in the form of chutneys and relishes to provide balance. Mangos work well as a thickener in smoothies while providing sweetness and often times I use a bit of mango in lieu of adding processed sugar in desserts like cakes or quick breads.
With so many uses grab extra mangos for when shopping this recipe – some for the relish and some more for everyday eating and cooking!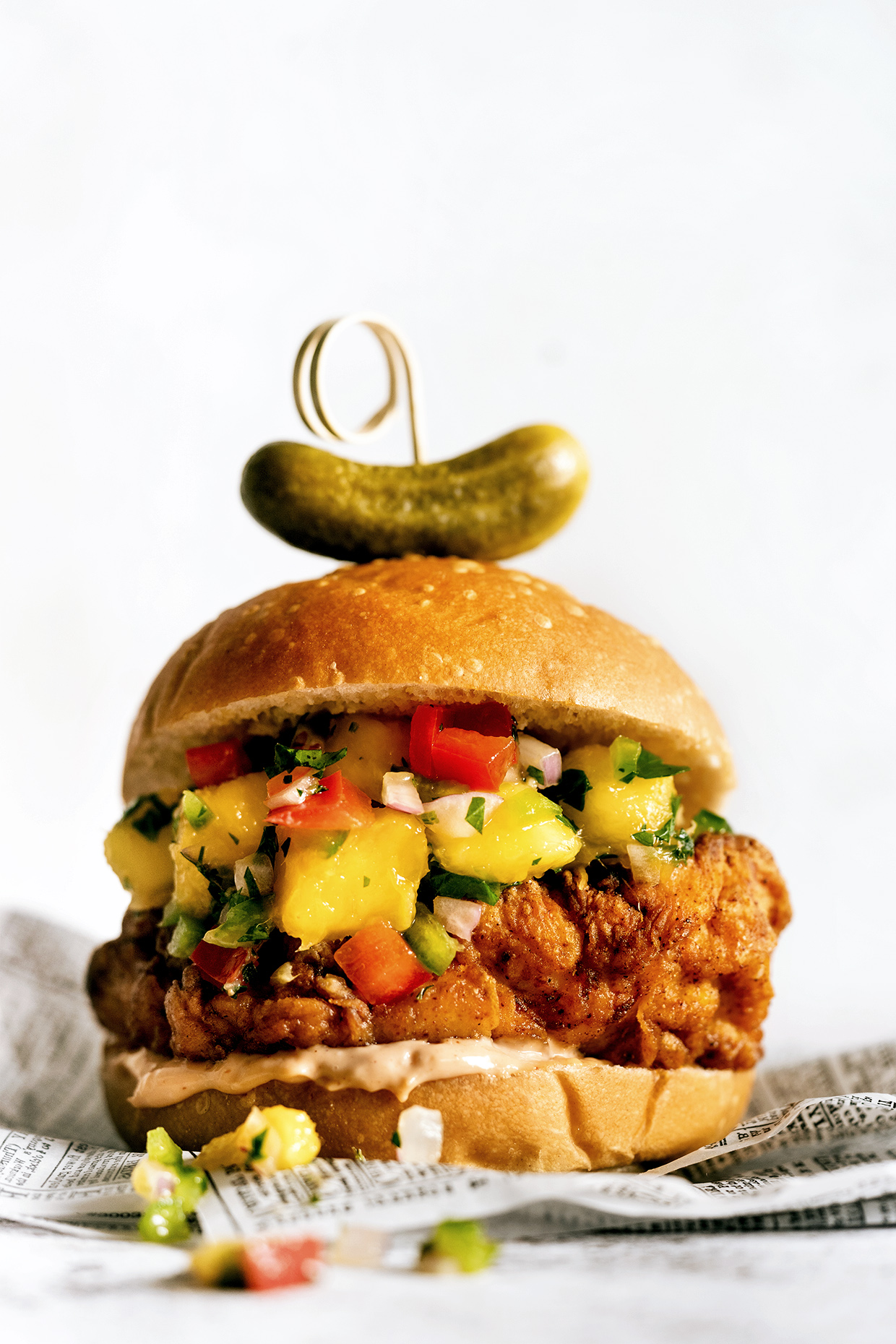 Yield: Serves 4
Nashville Hot Chicken
Ingredients
4 chicken breasts
4 buns
vegetable oil
For the relish
2 mangos, diced
2 tablespoons cilantro, chopped
1/3 cup red bell pepper, diced
1/3 cup red onion, diced
1 jalapeno, seeded and diced
1 tablespoon fresh lime juice
For the chicken
Wet Dredge
3 eggs
1 1/2 cups buttermilk
2 -3 tablespoons hot sauce add more for additional heat
1 teaspoon kosher salt
Dry Dredge
2 cups all-purpose flour
2 tablespoons cayenne pepper
2 tablespoons black pepper, freshly cracked
1 teaspoon paprika
Spicy sauce
2 teaspoons garlic powder
1 teaspoon paprika
1 teaspoon chili powder
1 teaspoon kosher salt
1 teaspoon black pepper, freshly cracked
Instructions
To make the mango relish: In a medium size bowl, toss
together all ingredients. Set aside to make the chicken.

To make the wet dredge In a large bowl, whisk together the eggs, buttermilk, hot sauce and kosher salt. Transfer to a shallow dish and set aside

To make the dry dredge: In a shallow dish whisk together the flour, cayenne pepper black pepper and paprika; set aside.

To heat the oil: Fill a large pot with at least two inches of oil. Heat oil until a thermometer reads 350 degrees.

To fry the chicken: Pat chicken dry and working with 1 piece at a time, dredge it in the flour mixture, shake off any excess, then dip it in the buttermilk mixture shaking any excess off and then giving the chicken one final dredge in the flour mixture once more. Working in two batches, slowly lower two chicken breasts in
to the oil at a time. Make sure to bring the oil back up to 350F if needed. Fry chicken, as needed to ensure an even golden brown finish, about 6 to 8 minutes. To ensure doneness, make sure to an insert thermometer in the thickest part reads 160F. Transfer chicken to a wire rack and let cool slightly. Portion out a 1/2 cup oil and discard the remaining oil once cooled.

To make the spicy oil sauce: In a large bowl, add the 1/2 cup of portioned out oil and whisk garlic powder, paprika, chili powder, kosher salt and black pepper. Brush fried chicken with spicy oil sauce.

To assemble sandwich: Place bottom bun on a cutting board and spread with mayonnaise. Arrange chicken on top, followed by the mango relish. Place remaining half of bun on the top.