I know spring has only just begun, but I'm already craving summer. I'm ready for the beach, popsicles and a whole lot of granitas. All things that don't cost too much money and are easy to pull together. A summer must when you have kids.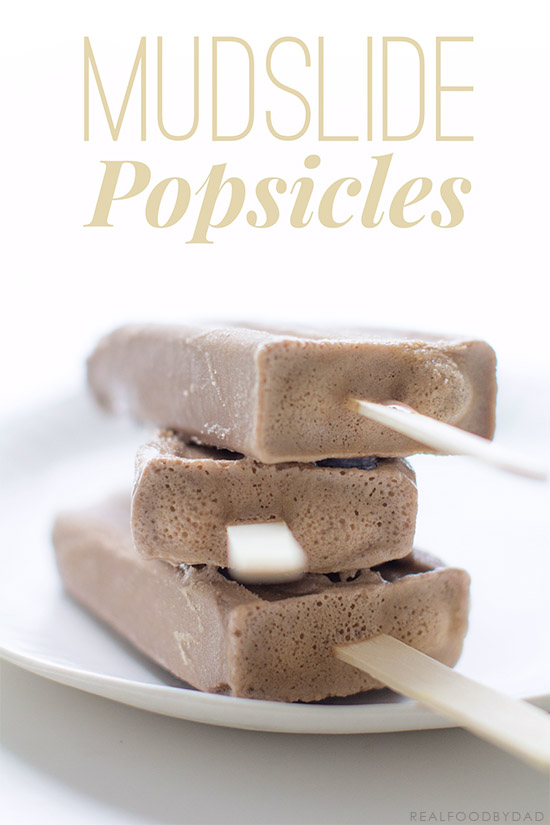 Remember these popsicles here, here, here, here and especially, here? Well I'm back at it with these Mudslide Popsicles. These have appeared in around my house for a few years now, but this time around I've switched up the recipe for what you see here.
And yeah, this is my favorite iteration of the family recipe—it's rich, it's creamy and it's got a bite to it! A nice strong coffee flavor. Here's the weird thing, I don't even drink coffee. But I love the taste of coffee in ice cream, so I figured why not work it into some Mudslide Popsicles?
Aren't you glad I did? Because these boozy popsicles are going to be a summer must!
Mudslide Popsicles
Ingredients
3/4 cup chocolate ice cream
1/2 cup chocolate milk
1/3 cup Kahlua
1/4 cup vodka
1/4 Irish cream
1 teaspoon instant coffee (use one with a good strong flavor like Starbucks Via French Roast)
Instructions
Combine all ingredients in a large bowl and whisk until ice cream is melted and everything is well combined. Pour mixture through a strainer to filter out any small clumps of instant coffee. Fill popsicle molds. Cover top with foil and poke a hole just large enough for a popsicle stick to fit through. Freeze for at least four hours or overnight. (Freeze time will vary according to freezer setting and how full your freezer is). Remove from the freezer and run hot water on the outside to remove popsicles from mold.