** This is a sponsored post in collaboration with Disney Book Group.
I cannot even believe my littlest guy is already four. It seems that with each kid the time goes by twice as fast. This means before I know it, he will be starting kindergarten, losing teeth and playing baseball.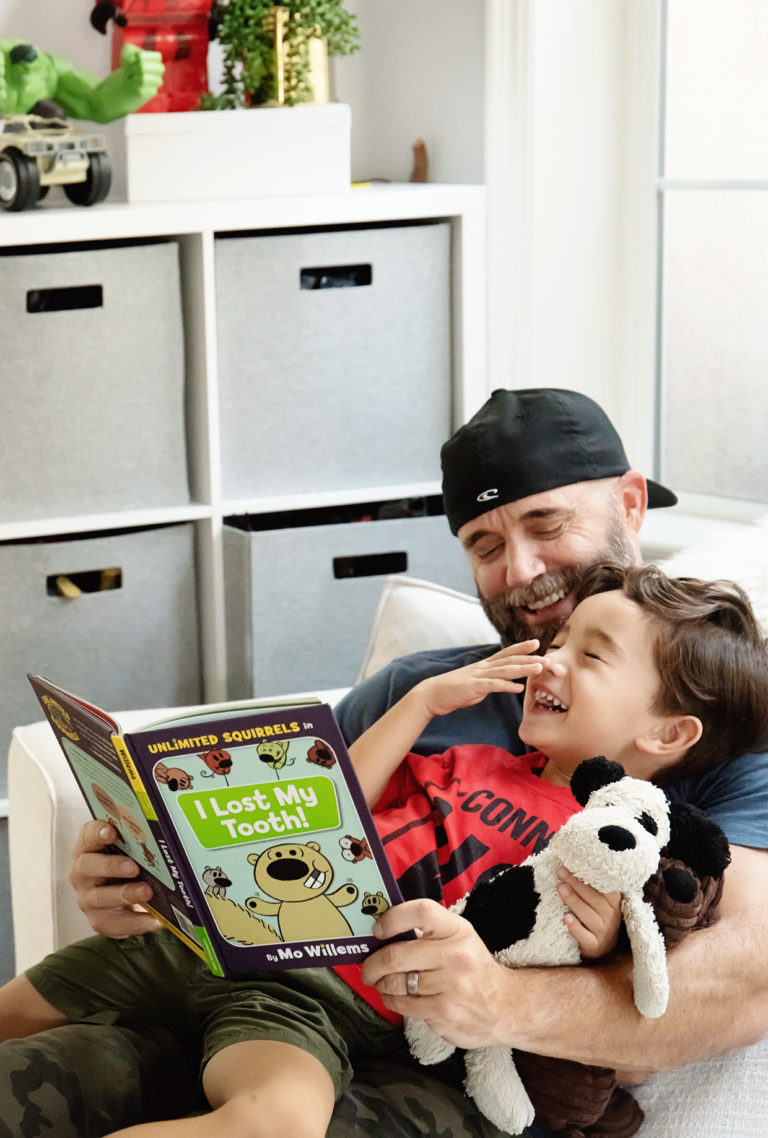 I'm not ready, but I'm equipping myself with a few things to help me. Things like Mo Willems' new book series: Unlimited Squirrels. It addresses a range of physical, emotional and social development milestones. I've been a Mo Willems fans since his Pigeon book series, so naturally I couldn't wait for this series when it was announced.
I love how the series covers high-interest subjects like the first book, Unlimited Squirrels: I Lost My Tooth! Not only does it provide a reading experience that my little guy Connor and I love, it gives me a humorous way to discuss what happens when a tooth is lost in a relatable conversation.
Beyond that, Connor absolutely adores the humor and the illustration. He's a book lover for sure, so when I can't sit down to read with him right away, I will often have him "practice" reading to his puppies. It works every time and he feels so big and accomplished.
His current favorite book as you can guess is this Mo Willems one. He loves it so much, I even made a kid-friendly treat using the squirrel's favorite ingredient: nuts! It's basically a granola bar formed into little bites sizes for his toddler hands.
Granola Cups
Ingredients
1 1/2 cup old-fashioned rolled oats
½ cup toasted pecans, chopped
¼ sunflower seeds
¼ cup sweetened shredded coconut
¾ teaspoons kosher salt
¾ teaspoons ground cinnamon
¼ cup olive oil
¼ cup brown rice syrup
3 tablespoons honey
1 teaspoons vanilla extract
Instructions
Heat oven to 325 degrees F. Lightly cover mini muffin pan with non-stick spray.
In a large bowl, whisk together the oats, pecans, sunflower seeds, coconut, salt and cinnamon.
Stir in the olive oil, brown rice syrup, honey and vanilla
extract.
Evenly divide the oat mixture between the muffin pan wells and firmly press down mixture. Bake for 15-20 minutes. Remove pan from the oven and transfer it to a wire rack to cool completely before removing granola cups from the pan
Now if I can only discover a way to slow down how fast he's growing up I can deal with all the other things like registering for kindergarten and signing him up for Little League.