Mixed Berry Buckle Cake – This is what happens when you can't decide between coffee cake and a buckle.
Sure I could have called it a mixed berry coffee cake, but that confused my 2nd grader. He asked, "Why is it called coffee cake, if there is no coffee in it?" I had no answer for him, so from that point forward, this has been called a buckle cake. **This is a sponsored post in collaboration with Rubbermaid. All thoughts and opinions are my own.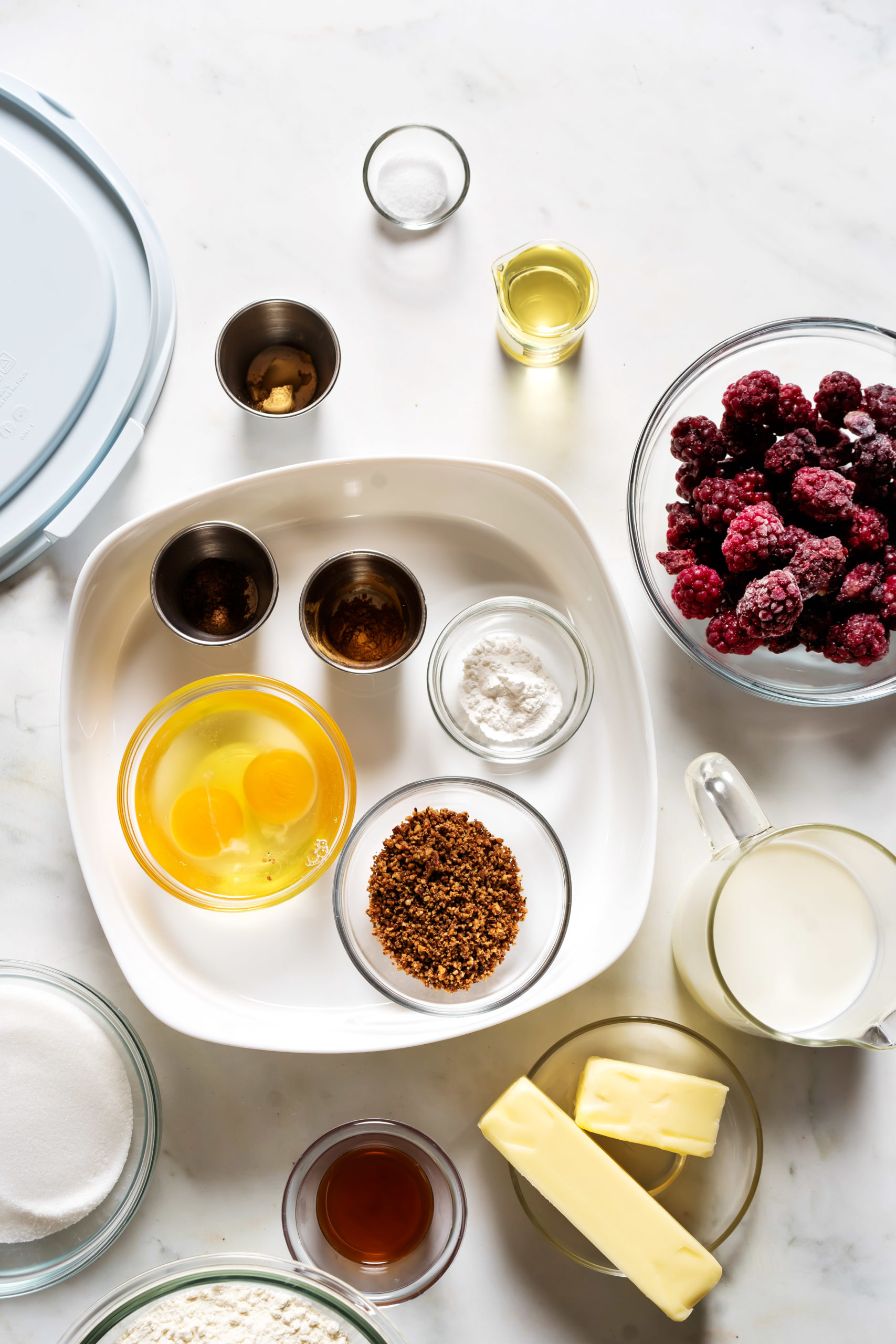 He helped me make it because we are taking this to my mom's for our Sunday meal with her.
It's made in Rubbermaid's new DuraLite™️ Bakeware. My little guy loves that he can easily handle it because it's extra light weight. I love that it's also, stackable with or without lids, and and it can also easily go from oven to table.
Which means I can make and transport buckle cakes like this, plus more, without worries of messy spills to my mom's monthly Sunday luncheons.
Head to Walmart, Target or Amazon to upgrade your bakeware with Rubbermaid's DuraLite™ Bakeware.
Yield: Serves 8 -10
Mixed Berry Buckle Cake
Ingredients
Streusel
3/4 cup (148g) sugar
1/4 cup (53g) brown sugar
3/4 cup (90g) all-purpose flour
1 teaspoon (2g) cinnamon
1/2 teaspoon (8g) fine salt
1/2 cup (113g) cold unsalted butter, melted
Batter
1 3/4 cup all-purpose flour
1/4 cup (28g) finely ground toasted pecans
1 cup (193g)sugar
2 teaspoons (9g)baking powder
3/4 teaspoon (6g) fine salt
1/2 teaspoon (1g) ground all spice
1/2 teaspoon (1g) ground ginger
1/2 teaspoon (1g) ground cardamom
2 large (110g) eggs
3/4 cup (169g) unsalted butter
2/3 cup whole milk
1/4 cup (50g) vegetable oil
2 teaspoons (5g) vanilla extract
Instructions
Preparation - Position the rack in the center oven. Heat oven to 350ºF.

To make the streusel - Place all ingredients in a large bowl and stir to mix. Pour melted butter on top and use your fingers to "rake"

through the mixture to combine and create crumbles. In between raking, squeeze streusel together then break it up to create larger and smaller crumbles. Set aside

To make the batter - In large bowl, stir together the flour, finely ground pecan, baking powder, salt, all spice, ginger and cardamom. Set aside. In a stand mixer bowl, fitted with the paddle attachment, cream together butter and sugars util smooth and creamy about 3 minutes. Add the eggs and beat until combined. Next add the oil and vanilla extract and beat until combined.

On low speed, add the flour mixture in three batches, alternating with the milk in tow batches , beginning and ending with the flour mixture. Make sure to beat well after each addition, stopping to scrape down the side if needed to ensure even mixing. Turn off mixer and fold in berries.

Scrape batter into Rubbermaid's 7.9" x 7.9" x 1.5" Duralite™ Bakeware (or a 9-inch cake), smooth top and layer with streusel. Bake for 30 minutes or until skewer inserted in the center comes out free of wet batter.