**This is a sponsored post in collaboration with Colman's Mustard.**
I've told you how Naomi and Cole love spicy food, right? Well I may not like my heat ghost-pepper spicy like they do, but I do love it Colman's Mustard-style hot (think wasabi and cayenne), which is different and—ahem, way better! And much more interesting.
It's the kind of hot that enhances flavor while bringing just enough heat to give dimension. That is exactly why I used the Colman's Dry Mustard in the mini quiches and the prepared Colman's Mustard in my Mustard and Chive Vinaigrette.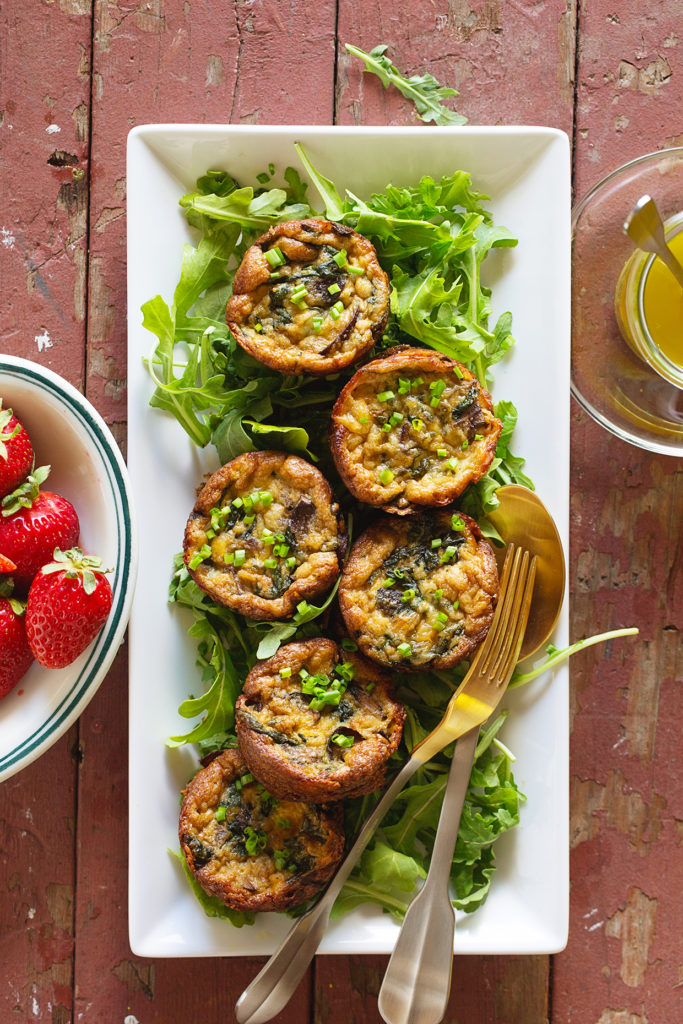 I'm thinking the quiches are going be the first day of school recipe. It has all the necessary components for a proper start to a day, things like: protein, veggies and enough heat to wake you up and clear your head. Exactly what my boys and I need to as we kick start another school year.
Lucky for me, I already have their buy-in. The only variable left is getting my sleepy heads to the breakfast table. Because if your boys are anything like mine, the night before is filled with excitement and anxiousness. Two things that makes falling asleep a bigger task than it should be.
But the plan is, these are the "it" breakfast, so whether or not they eat them at the table or on the run, Colman's Mustard and I are going to give them a little zip to get them going.


Yield: Makes 12 mini quiches
Mini Mushroom and Spinach Quiche
Ingredients
8 oz. sliced mushrooms
1 5.5 oz. bag of baby spinach
3 tablespoons butter
1 tablespoon olive oil
1 tablespoon thyme
2 teaspoons kosher salt
4 large eggs
¾ cup heavy cream
1 ½ teaspoon Colman's Dry Mustard
½ cup parmesan cheese
1 cup fontina cheese
Mustard and Chive Vinaigrette
1 garlic, crushed in a mortar and pestle
1 tablespoon finely chopped chives
1 tablespoon white wine vinegar
1 ½ teaspoon Colman's Prepared Mustard
1/8 teaspoon salt
1/3 cup of extra virgin olive oil
Instructions
Preparation: Spray a standard muffin pan with non-stick spray. Set aside. Heat oven to 375 degrees F.
To make mini quiches: In a large skillet, heat butter, olive oil, until butter is golden brown and fragrant. Add mushrooms and and cook until tender. Stir in spinach in two additions, making sure the first addition is soft and wilted. Sprinkle with kosher salt. Set aside to cool slightly.
In a large bowl whisk together remaining ingredients until well blended. Fold in mushroom and spinach. Ladle mixture evenly between the wells (mixture will fill each well about two-thirds full). Cook for 20-25 minutes or until quiche slightly gives when top is pressed. Remove from oven and transfer to a wire rack to cool slightly.
In the meantime, make the dressing by whisking together all ingredients until vinaigrette is fully combined and emulsified.
Serve mini quiches over preferred salad with Mustard and Chive Vinaigrette.