If you've been keeping up with me on Instagram, then you know these Melon Basil Moscow Mule popsicles were supposed to be posted a week ago, but life has a way of getting in the way of things. Summer has been busier than usual with work, travel and then just last week, we also had a pipe burst in our kitchen.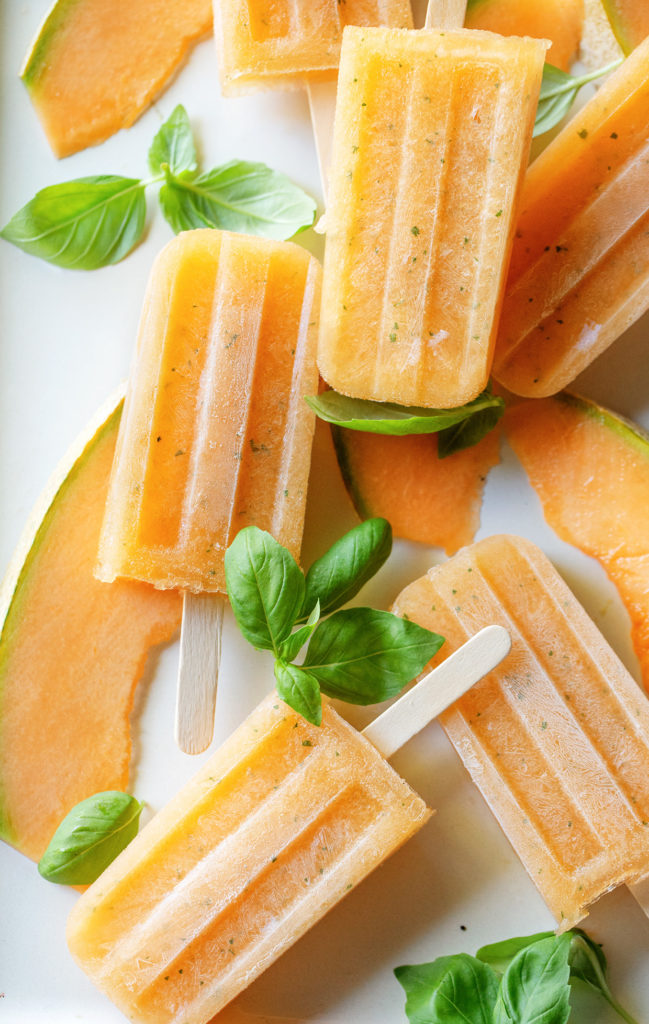 It's been chaos ever since and the only time I seem to be able to catch a breath is when the kids close their eyes. Which as of late, is at the most unreasonable times, like three hours after their normal bed time because the fans that run 24/7 to dry the walls are super noisy. It's like someone parked a jet engine in kitchen and left it on idle.
The only good thing to come out of all this so far is, I'm having these popsicles morning noon and night. Because along with the noise level, those giant fans are also equipped to let out heat to accelerate the drying. That means no matter how much I crank the AC to offset the heated fans, I'm still left sitting in my own sweat while having one of these in hand.


Yield: 10 popsicles
Melon Basil Moscow Mule Popsicles
Ingredients
1 lb. cantaloupe
5-7 mint leaves
6 oz. cup Tequila Reposado
4 oz. cup limeade
4.oz up ginger beer
2 oz. cup simple syrup (less if the melon is perfectly ripe and sweet)
Instructions
Add cantaloupe, mint leaves, Tequila and limeade into a blender and process until smooth. Add the ginger beer and stir to combine. Add 1 tablespoon of simple syrup at a time to sweeten the mixture if needed.
Pour mixture into wells of the popsicle mold. Place a sheet of foil on top and using your finger trace the edge of each well. Use a small knife and cut a small hole in the center of each well. Insert popsicle stick and transfer popsicle mold to the freezer. Freeze until set, about 4 to 6 hours. Time will vary according to freezer setting and how full your freezer is.