Grab the paper towel roll, this zesty lamb burger is going to be messy and worth every drippy bit! Okay, so you can minimize the mess and skip the yogurt sauce (which is one ingredient shy of tzataziki sauce), but really don't. It provides a nice counterpoint to the zest-up pesto and the lamb patty—which by the way, the latter has my secret ingredient—apricot jam to sweeten it up a bit.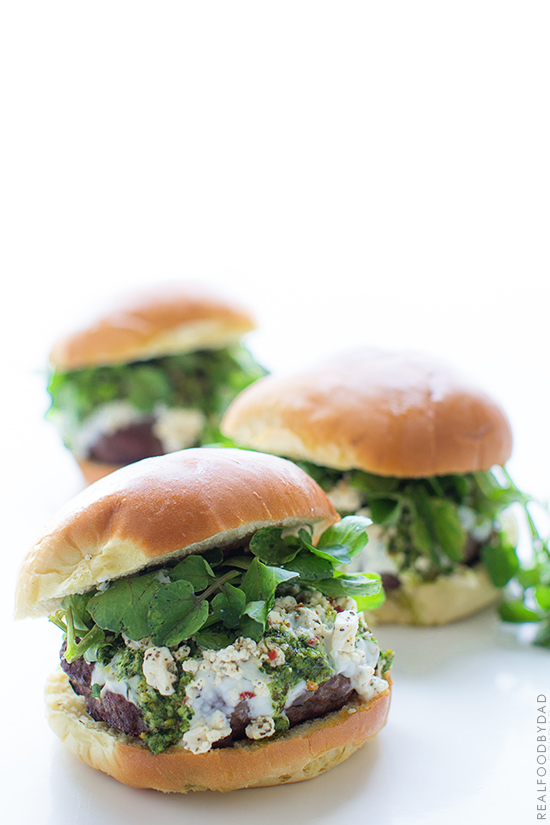 Bookmark this recipe, because it's going to be a repeat offender in your house for it's face-stuffing goodness. And it comes together in just 30-minutes. The pesto is a cinch to make, just throw it all in a blender or food processor and you're good to go. The lamb burger is a one-bowl mix. And if you go for the yogurt sauce—same thing—one-bowl mix.
Now for the part that pulls it all together: the grill. To be more specific, my favorite Weber Grill. It's the classic one that hasn't changed it's dome shape for years. It's the no-frills workhorse of grills–the one you always count on to deliver. While there's not much to grilling up these lamb burgers, here are few things to remember:
Have everything ready. You don't want to be shuffling around looking for tools, plates or anything.
Make sure the grates are clean. If you are using charcoal, clean out any ash.
Set-up the grill for direct heat (anything under 20 minutes) at 450°F.
Preheat the grill for 15 minutes
Form 3/4-inch-thick patties. To make this an even simpler task, I used the Weber Burger Press.
Cook each side once for 4 minutes. The lamb patty is done when the internal temperature reaches 160°F. Let the patties rest for 2 minutes before assembling.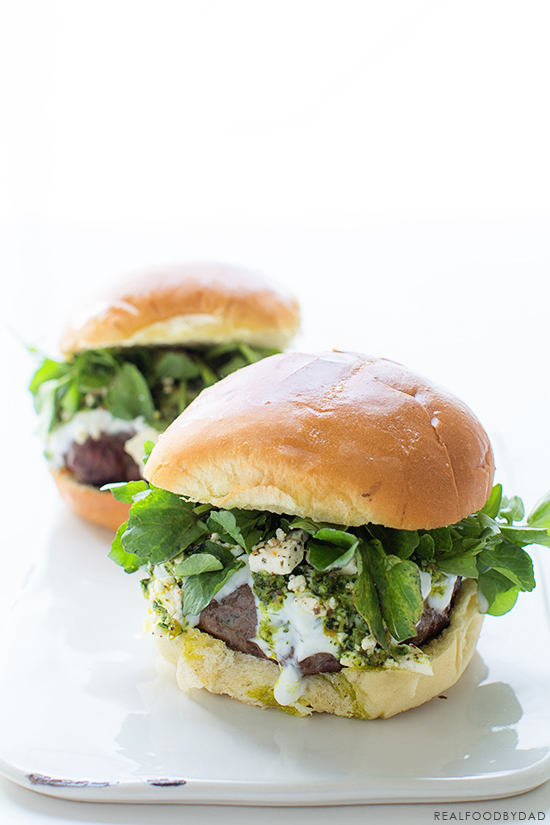 See how easy that is—zesty lamb burgers in less than 30 minutes. Now this something you can pull off on a weeknight and feel good because it's also lean—only 170 calories per 3-0unce serving. To boot, it's also an excellent source of protein, vitamin B12, niacin, zinc and selenium and a good source of iron and riboflavin. Are you feeling healthier already? Here's an added bonus to send you over the top – 3 oz. packs a 23 grams of protein. Yup, this is a protein punch for carnivores and a few reasons why lamb is a new regular in my dinner rotation.
Now that you have the low-down on lamb and all it's goodness, don't forget to check out this site from Lean on Lamb for recipe ideas and inspiration.
Yield: Serves 4
Mediterranean Lamb Burger
Ingredients
Pesto
1 cup Italian parsley
1/2 cup mint
1/4 asiago cheese
2 garlic cloves
3/4 teaspoon Kosher salt (1/2 teaspoon if using regular salt)
1/3 cup olive oil
1 tablespoon lemon zest
Burger
1 tablespoon apricot jam, melted
1 tablespoon coriander
3/4 teaspoon cumin
1/4 cup chopped fresh mint
2 teaspoons Kosher salt (1 teaspoon if using regular salt)
2 lbs. ground lamb
1 cup feta
4 hamburger buns
*Optional - Yogurt sauce
1/2 cup Greek yogurt
1 tablespoon lemon juice
2 teaspoons dill
salt as preferred
Instructions
To make pesto: Place all ingredients in a food processor or blender and pulse until well combined. Set aside.
To make burger: Prepare grill by heating charcoals to white hot or medium high on a gas grill. In a bowl combine, mix first 5 ingredients; mix in lamb. Divide lamb into four portions, about 3/4-inch-thick patties. Cook patties on the grill for about 4 minutes per side for medium.
Preheat broiler. Broil buns until golden, about 1-2 minutes. Top bottom bun with burger, watercress and feta (yogurt sauce if desired). Cover with bun top.
To make yogurt sauce: Combine all ingredients in a bowl. Set aside until ready to use.

This is a sponsored post in partnership with The Tri-Lamb Group; however all opinions are my own. Thank you for supporting the brands that help make running this site possible.