Mediterranean Salad Wraps – A lunch time recipe that takes less than 30 minutes to make is great for those always on the go since it's a hand-held meal.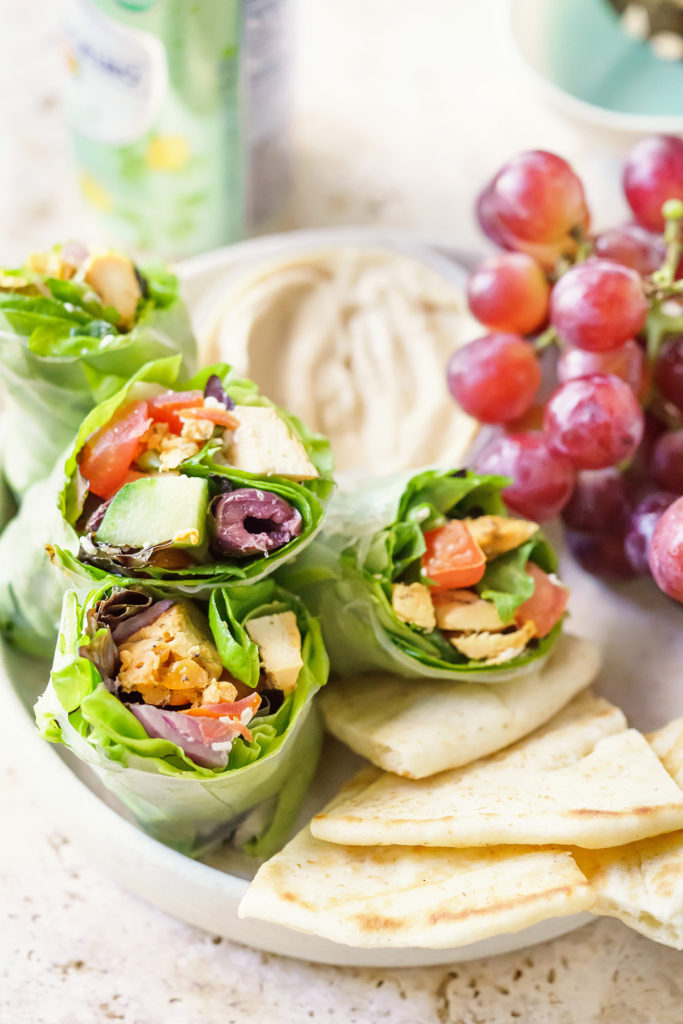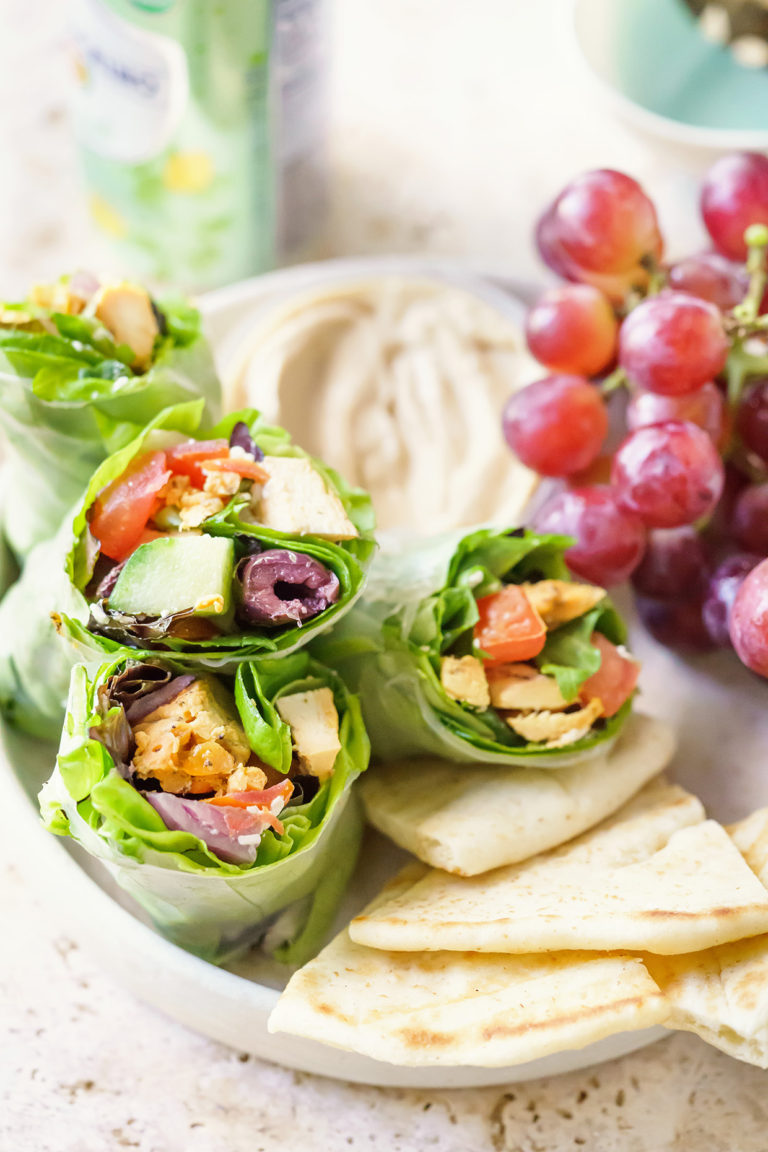 This is often my go-to for those days when I need something fast, easy and better-for-you. The added plus about this recipe is you can make this a head of time, so instead of reaching for a bag of chips you, can reach for something like this.
I love pizza as much as the next person, but it's all about balance, right? I mean someone has to adult amongst my boys. Left to their own devices I'm sure the the little one would have strawberry cake and call it day. My oldest one would do burgers for the rest of his life without complaint. The only one that seems to have balanced healthy food choices down without any nudging from me or Naomi is my middle one. Although if he could make that happen through soup and salad everyday he would.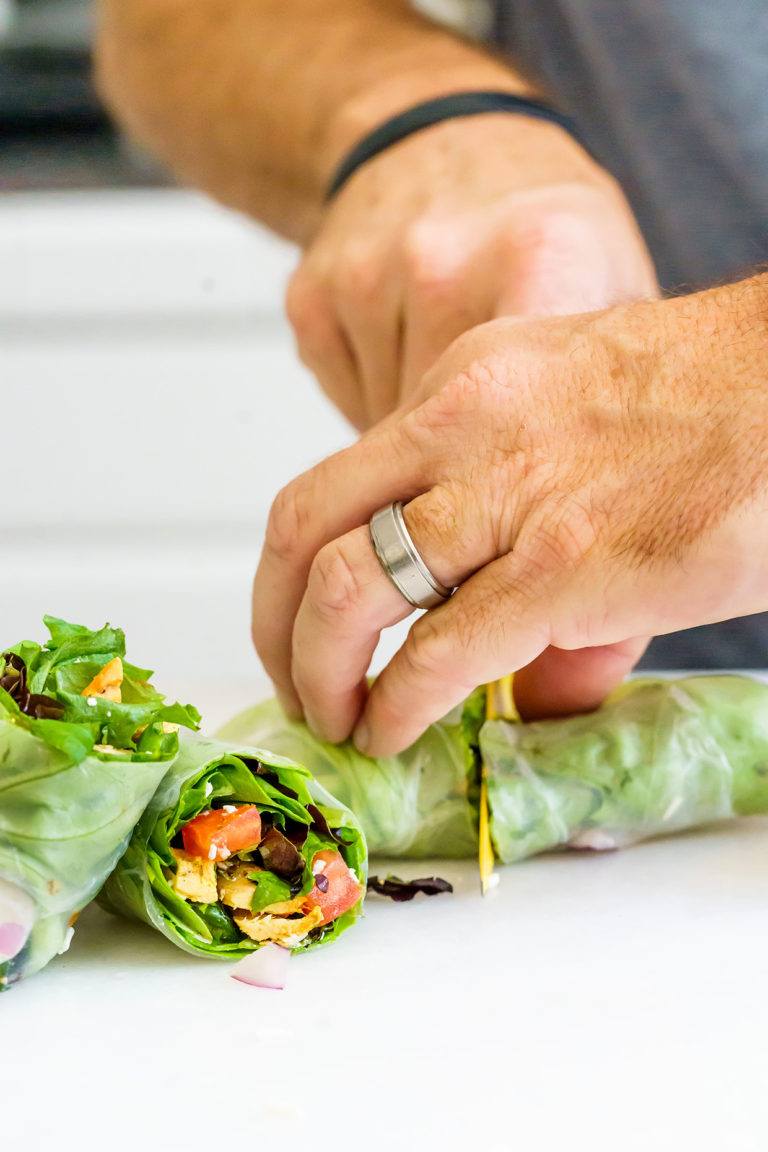 Given all the varying palates and preferences in my home, I like to keep things like these salad wraps on hand. They are easy to make, 100% customizable, and the less the kids have to wait to be fed, the more likely they are to reach for something like this vs. a bag of chips.
Yield: Serves 4
Mediterranean Greek Salad Wraps
Ingredients
Easy Homemade Greek Dressing
1/4 cup extra virgin olive oil
3-4 tablespoons red wine vinegar
1 tablespoon fresh lemon juice
1 clove garlic, minced
1 teaspoon dijon mustard
1/2 teaspoon dried Oregano
Filling
12 rice wrappers
1 head of butter leaf lettuce
1 - 1 1/4 cup hummus
2 oz. spring salad mix
3 cups coarsely chopped Persian cucumbers
1 cup Kalamata olives, pitted and coarsely chopped
1 large tomato, chopped
3-4 scallions, chopped
4 oz feta, crumbled
Kosher salt and freshly ground black pepper
Instructions
To make the dressing: Add all the ingredients into a mason jar. Place lid on top and tightly seal. Shake jar vigorously until dressing is well combined and emulsified, about 10-15 seconds.
In a large bowl add, spring salad mix, cucumbers, Kalamata olives, tomatoes, scallions and feta cheese. Drizzle salad dressing on top and toss to combine. Season with salt and pepper to preference. Set aside.
Fill a pie pan with warm water. Submerge 1 rice paper into the hot water for about 2-4 seconds. Transfer wet rice paper on to a flat damp towel (flour sack towel works best). Lay one piece of butter leave lettuce down, leaving about 1/2-inch border all the way around. Spread 1 -2 tablespoons of hummus on top. Layer with salad mixture. Fold the bottom of the rice paper over the filling. Next fold both sides in towards the center. 3. Roll it up, while making sure that along the way, the filling is being tucked and pressed into a tight cyclinder. Cut in half if serving immediately. If lettuce rolls are being saved for a later time, wrap each one individually with plastic wrap.
**For added protein, chopped chicken works well in this recipe.