Pizza never gets old around here. Sure there are the family favorites, but I'm always tinkering with those and trying to come up with new surprises for my boys. This week, I got one–hash brown pizza.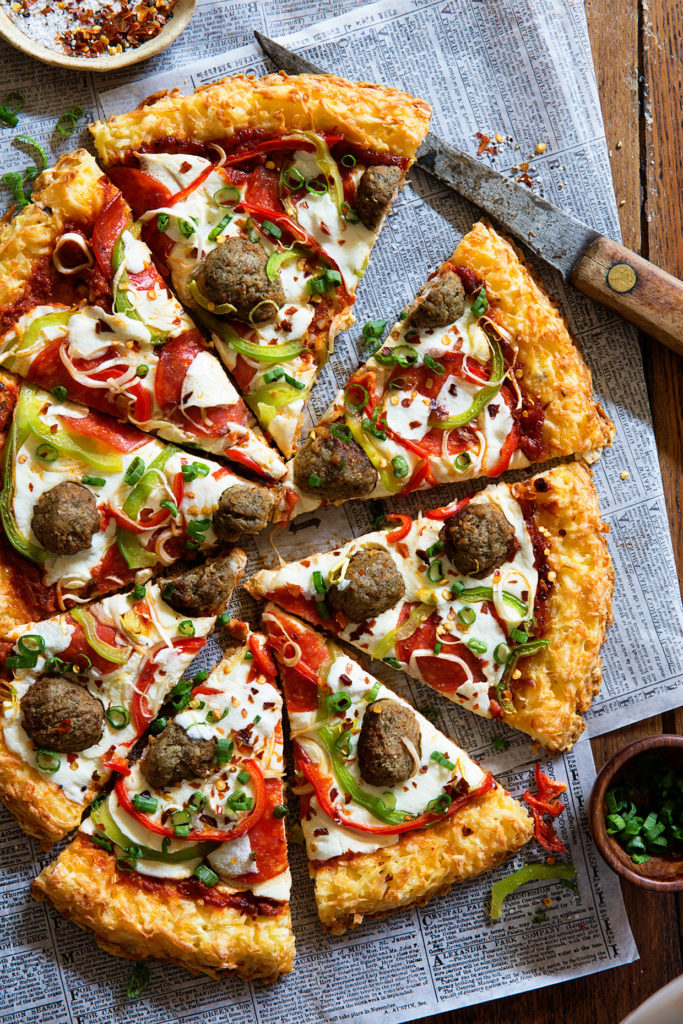 It was part of the family game day eats contest that my brother and I put on for the boys. Lucky for me, they chose my dish as the winner. I got to keep my king of game day eats crown with this hash brown pizza crust winner! But you will definitely want to check
this contender
.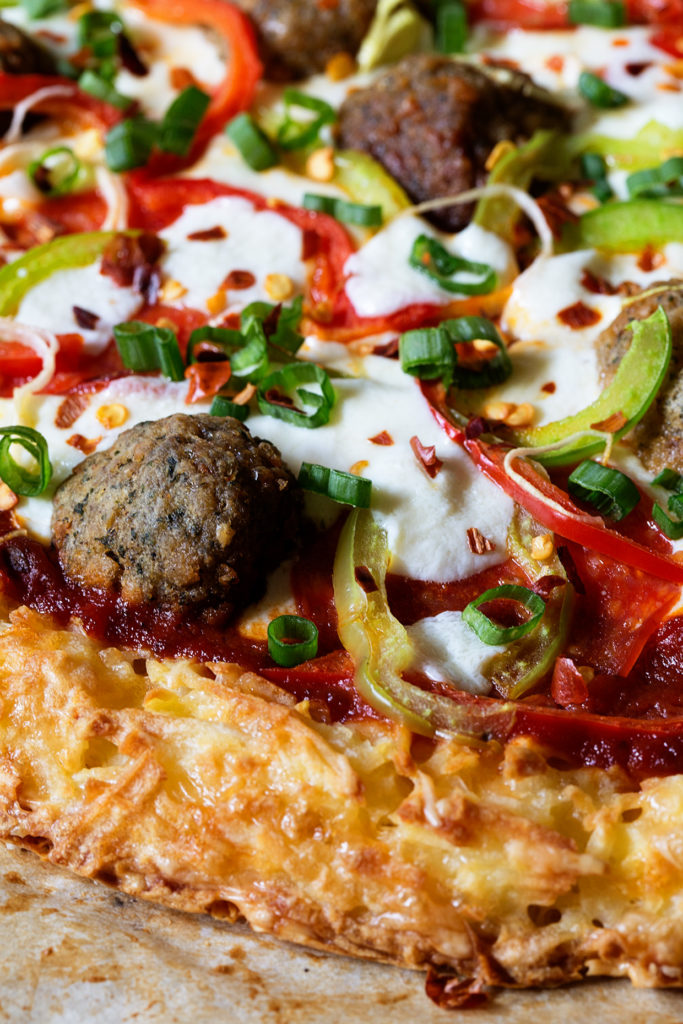 Sure, my boys might be a little biased, but I know my audience. Pizza is always a winner and they went crazy for the hash brown crust. Me too, but more so because it was so easy – no dough, no knead – and because I had a freezer full of half-empty hash brown bags that I wanted to use up. Gotta love it when when being efficient results in something tasty like this.
Now the pressure is on to keep the crown for next week's game day eats challenge.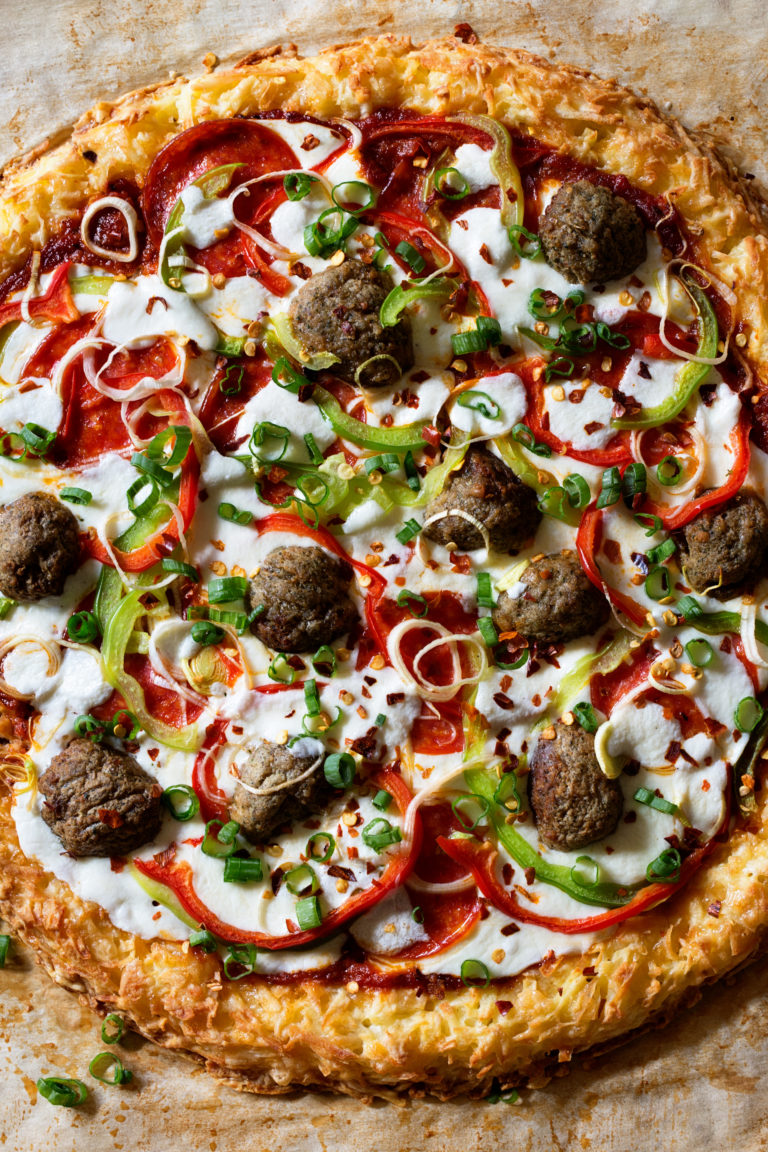 Meat Lover's Hash Brown Crusted Pizza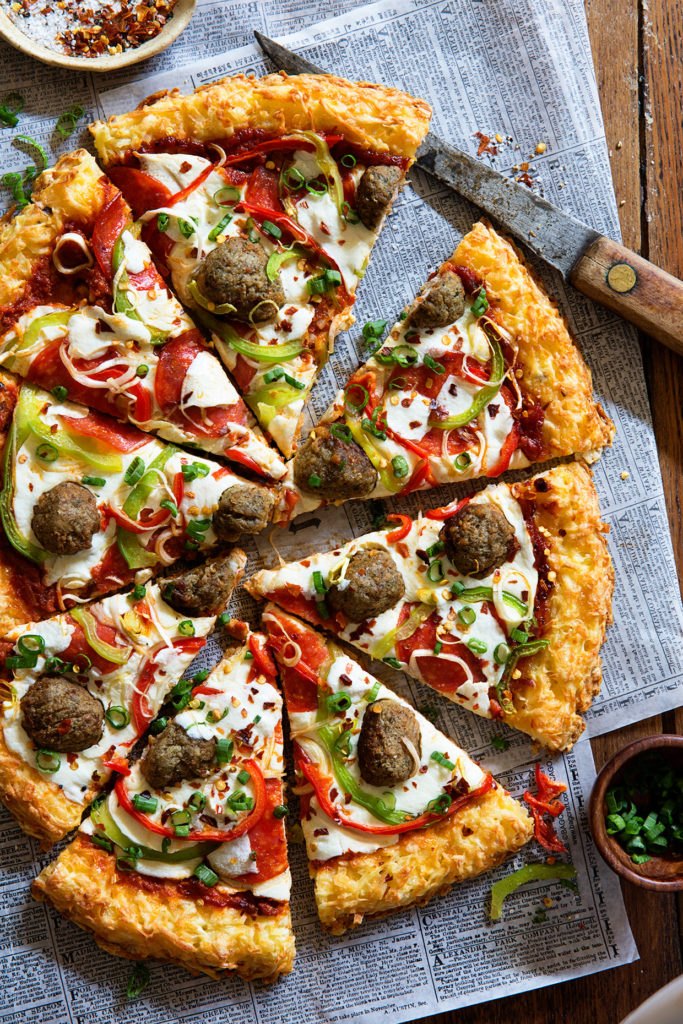 Ingredients
2 eggs, lightly beaten
1 teaspoon kosher salt
3 cups of hash brown, defrosted (if frozen)
1/2 cup cheddar cheese
1/2 cup parmesan cheese
4-5 tablespoons pizza sauce
10 oz. fresh mozzarella
1/2 cup green bell peppers
1/2 cup red bell peppers
1/4 cup leeks
10 fully cooked meatballs
10 slices of pepperoni
Garnish
green onions
red pepper flakes
Instructions
Heat oven to 400 degrees F. Line the bottom side of baking sheet with parchment (if using a pizza stone, line with parchment paper).
In a large bowl, combine and mix together eggs, salt, hash brown, cheddar cheese and parmesan cheese. Pour mixture out onto parchment, flatten and shape hash brown mixture to a round shape, a 1/2 inch thick. Transfer to oven and bake for 20 minutes or until golden brown crust and crisp.
Remove from oven and layer with pizza sauce and mozzarella cheese. Return to oven and bake for another 5 minutes or until cheese is melted. Remove from oven and layer with remaining ingredients. Return to oven and bake for another 5 minutes. Remove from oven and allow to cool for 5-7 minutes. Top with garnishes and serve immediately.