**This is a sponsored post in collaboration with the National Mango Board.
Do you remember when you had your first mango? I distinctly remember mine because Naomi introduced it to me by way of the soup you see pictured. Naturally being a picky eater (currently a recovering picky eater) it took some persuading.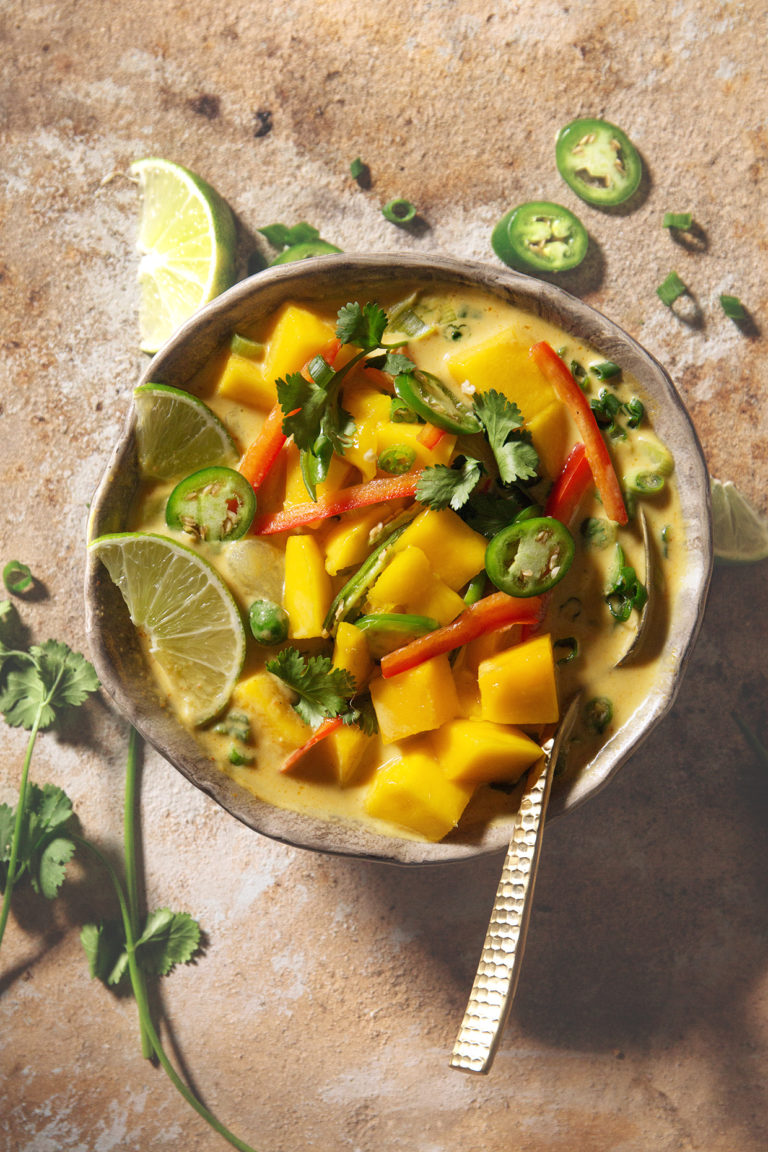 From that point forward, I've never turned down anything mango in front of me. I like it on its own, in dessert, in drinks, in cocktails and in savory soups like this one. This is our family go-to soup recipe when anyone is sick, but most importantly, it's the soup that everyone gets involved in making. 
The hope is the kids will eventually be able to make this without mine or Naomi's help, but for now I'll take the kitchen time as family play time. I've learned that teaching is best received through lots of laughter, jokes and funny faces—at least that's the house rule when it comes to cooking lessons.
Thankfully this is one of those recipes that's been on repeat so often that we can make this while playing Mad Libs through Google Home. As an extra added benefit, I just recently found out that mangos are a superfruit. They contain over 20 different vitamins and minerals. Along with that, they also provide 100% of the daily recommendation for vitamin C, 35% for vitamin A and 12% for fiber – all in one cup.
Can you guess what this means in terms of how it relates to us? It means we should all share more mango recipes. If you have a favorite, share it with the rest of us in the comment section.
For now, go get your mangos. And when you do, here are few tips to help you:
Selecting: Color is not an indication of ripeness. Some ripe mangos will stay green in color. To find the correct indicator of ripeness, gently give it a squeeze. A ripe mango will give and be slightly soft like a peach or avocado, along with having a sweet smell. A firm mango will easily ripen at room temperature over a few days.
Ripening:  To encourage ripening, leave mangos at room temperature.
Storing: Keep unripe mangos at room temperature. Do not refrigerate mangos before they are ripe. Once ripe, mangos can be moved to the refrigerator for chilling and to slow down the ripening process for several days.
Prepping: Stand the mango on a cutting board stem end down and hold, then simply slice off the sides of the fruit, avoiding the large seed in the center. Once you have these two sides, slice or dice within the mango halves as needed being careful not to break through the skin. Then, scoop the mango out of the skin. Check out this video for a helpful tutorial:



Yield: Serves 4
Mango Coconut Curry Soup
Ingredients
• tablespoon oil
• 1 shallot, finely chopped
• 1 garlic clove, finely chopped
• 1 tablespoon ginger, finely chopped
• 2 tablespoons curry powder
• 1 1/2 teaspoons of turmeric
• 1 cup of full fat coconut milk
• 4 cups chicken stock
• 1/4 cup fish sauce
• 2 tablespoons soy sauce
• 1 tablespoon brown sugar
• 2 medium russet potatoes, cubed
• 2 large carrots sliced
• 2 cups cubed rotisserie chicken breast
• 2 mangos, cubed
• 5-6 cilantro sprigs
• 3-4 tablespoons of sliced green onions
• 2 tablespoons sliced serrano peppers
Instructions
In large heavy-bottom saucepan, over medium high heat: Heat the oil until hot, add the shallot, garlic and turmeric. Cook and stir for 30 seconds until fragrant.
Stir in the coconut milk, then add the chicken stock, fish sauce, soy sauce and brown sugar. Bring to a boil for 2-3 minutes. Add potatoes, carrots and turn down heat to low. Cover and cook until vegetables are fork tender, about 90 minutes.
Serve with cubed mango, cilantro, green onions, red bell pepper and serrano peppers.