**This post is made in collaboration with the National Mango Board.  All content, ideas, and words are my own.**
Forget appletini, this "mangotini" is going to be all the rage. It's made with homemade mango cider and is the perfect drink to brighten up these cold, winter days.
Ripe mangos are indicated by feel, not color, because every variety looks a bit different. The color of the skin has various combinations of yellow, green or red. Gently squeeze your mango

—

a ripe mango will give slightly and sometimes have a fruity aroma. For the Haden variety you see in this drink, the softer texture is the first indicator of ripeness. But keep in mind, all mangos ripen at room temperature, so be patient if you pick one up that's not 100% ready. You can also speed up the ripening process by placing it in a brown bag.

To cut mangos, start by finding the stem

. The long, flat seed runs from stem to nose. Cut around the seed by making two cuts on either side of the stem. Finish by dicing or slicing and scooping out the flesh.
Outside of making this mangotini, I've been using the mango cider in my kids' smoothies. It works great as a base. Mangos are a great source of vitamin C and A– one cup of mango provides 100% of your vitamin C daily and the vitamin A is important for immune function and helps maintain a healthy skin. Who is going to say no all that goodness?
This mango cider has been so popular with Naomi and the boys, I have a feeling it's going to be making a regular appearance in my refrigerator. I'm not complaining, yay to more bright homemade juices like this!


Yield: Makes 2 cocktails
Mango Cidertini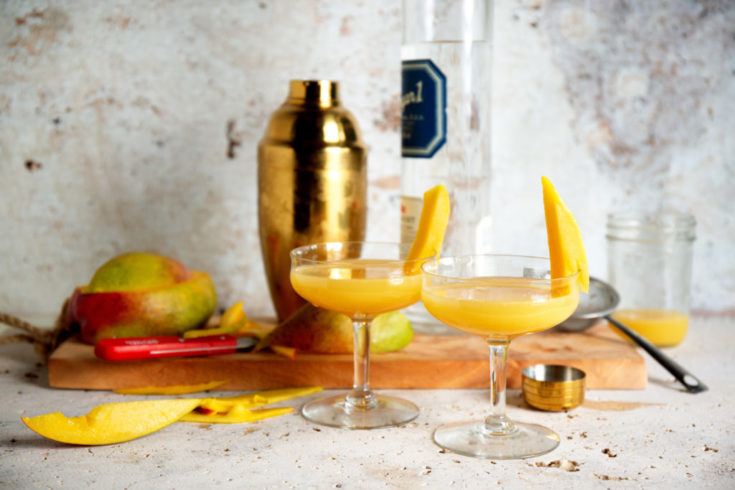 Ingredients
6 oz. mango cider (recipe follows)
1 1/2 oz. vodka
1 oz light rum
1 oz. Grand Marnier
Squeeze of fresh lime juice
Instructions
Fill the shaker with ice. Add all the ingredients and shake vigorously. Strain into the glasses. Serve with a mango slice.
Homemade Mango Cider - 7 fresh mangos, seeded and cut into large cubes; 5 apples, cored and quartered;1/2 cup granulated sugar; 4 cinnamon sticks (if using ground cinnamon, use 2 tablespoons); 2 tablespoons cloves (if using ground cloves, use 2 teaspoons); 1 tablespoon of fresh sliced ginger 1 tablespoon allspice. Homemade Mango Cider method: Place all ingredients in a slow cooker, set to low and let cook for 6 hours. Strain and discard solids. Drain cider through a cheesecloth-lined sieve. Store in the refrigerator.