Anyone with a baby will tell you that traveling with one has its challenges. But since this was the third trip to El Capitan Canyon, I was confident that the black sheet, make-shift lean to for the baby would prevent him from waking us all up at the first crack of light; teaching Cole how to start a fire would not lead to an after school special starring Smokey the Bear and this time there would actually be time to have a cocktail or a few.
Everything went as planned. The weekend went by in a flash. The only unexpected event—Naomi brought along her new camera and took over 500 pictures. I'm not joking, 538 to be exact.
I should just admit it up front: I'm never going to be good at taking direction when it comes to pictures, but Naomi is great at capturing the moment, grabbing shots of life and shooting stills that involve such minutiae movement of things that the boys and I end up goofing off and playing a whole game with their Uncle Mick before she is done.
Speaking of which, Uncle Mick, a.k.a. EFU, short for Everyone's Favorite Uncle, came along and as you can see, there was no shortage of laughter. My boys love him. He has watched both Blake and Cole grow from babies to boys, and for Blake to a teenager. A high school teenager who would rather hang with his friends than go glamping—I get it.
You heard the term "glamping", right? Glamour camping – by glamour camping, I mean cabins with bathrooms. Although there are safari tents on wood slabs with nice beds, but no bathrooms. Something I have yet to convince Naomi of—communal bathrooms with strangers makes her shudder.
Needless to say, we do the cabin. If and when you go, if you have a little ones, request the lower meadow. It has the green belt in the center, like you see above, so kids can play in plain view and you'll be close to the market if you need anything. And whether you have a cabin or safari tent, each one comes with a fire pit and a large outdoor table—a place to gather for meals and make cocktails of course!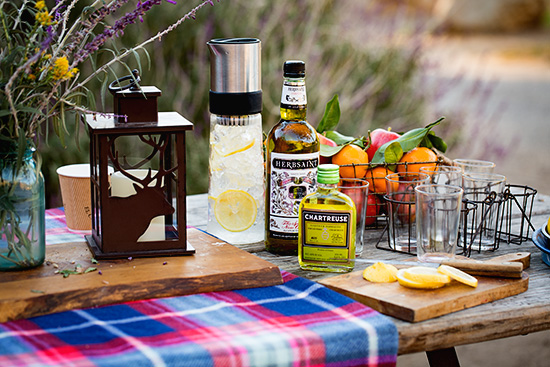 While the cabins are equipped with some unexpected camping things like a microwave, plug-in coffee maker and even a blow dryer, there's no TV and internet is spotty. The days are spent hiking, the afternoons playing football and the evenings sitting around the fire laughing and doing crazy Mad Libs. The other big plus, no driving, so when Naomi did finally put away that camera, we did cocktails with dinner and then eased into the evening with a few to top off the night.
For as much moaning and groaning that I did make about the camera clicking away, I'm thankful moments like these were captured.
I loved listening and watching Cole try to teach his baby brother about the principle of fire starting while showed him how to gather birch bark while I got the wood.
It all looks real peaceful doesn't it? What you don't see is the baby melting down while I was making the bacon and Cole asking, "When is breakfast going to be ready?" 5 times in the span of ten minutes. Is it just my boys, but I swear when we camp they always act like their last meal was two days ago—so that bacon, it couldn't cook fast enough!
Once it was ready, the wait was worth it. There is nothing like bacon cooked in its own grease then eggs going straight into the pan afterwards. And no it doesn't taste the same when made at home. Please don't dispute me on this, because I've convinced the boys otherwise. The breakfast you see below quieted their bellies and bought about 10 minutes of silence as we all scarfed it down. Apparently that "empty-stomach-for-days syndrome" is not limited to kids 10 and under.
With breakfast and morning drinks out of the way, we set out for a hike down to the beach. And if you can believe it, after all these pictures, there are none at the beach. We somehow convinced Naomi to leave her toy—ahem, the camera, behind.
All that said, if you are looking for a weekend getaway, El Capitan Canyon is a great family choice. It's less than 15 miles from Santa Barbara, so if you get bored of hiking and are jonesing for a fast internet connection, you are only 15 minutes away from getting your city fix.