It's March Madness time and this year I decided to tweak up standard nachos with an Asian twist, by making these Korean Beef Nachos with Wonton Chips.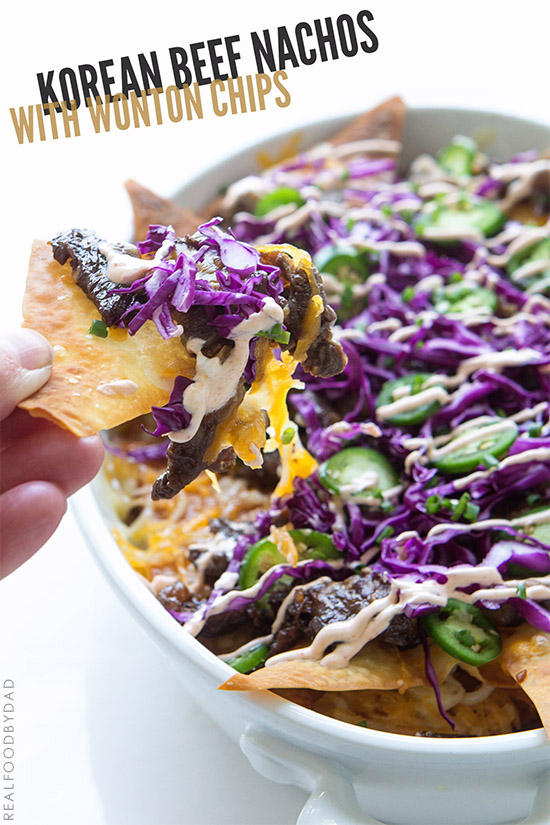 And if you can believe it, those nacho chips are homemade baked wonton chips. Most of the time I'm all about shortcuts, but for this dish, the baked wontons are well worth the time. They're easy to make and can be prepped and done in 25 minutes. Trust me, you won't regret it.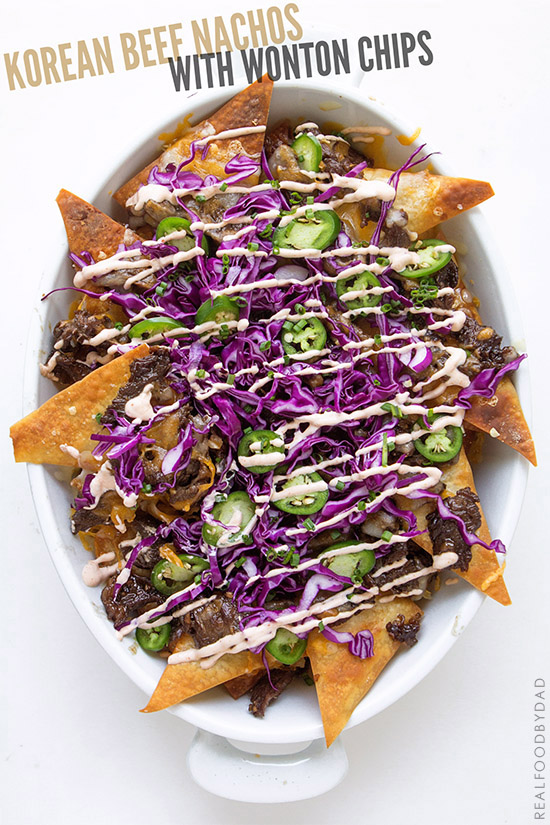 As for the the beef, that's easy too. The real key to it is using a higher cut beef like rib eye and slicing it almost paper-thin. To do so, make sure you use an extra sharp knife. If your knife isn't at its finest, then freeze the beef for 30 minutes after step two and then slice it. For the cheese, I used mild cheddar and monterey jack in this one for some extra gooeyness and then finished it with a hit of heat with the serranos and a Sriracha crema.
That's it. Grab the recipe below. When you're done here check out these easy-to-make Street Tacos for another finger-happy March Madness dish. And after that stay tuned, because we're in the midst of March Madness, so I'll be sharing a few more dishes to keep you and your friends well fed as the teams are reduced to the final two.
Yield: 4 servings
Korean Beef Nachos with Wonton Chips
Ingredients
Wonton Chips
2 tablespoons butter, melted
1 teaspoon canola oil
25 wonton sheets, halved diagonally
salt
Korean Beef
1 lb. rib eye meat
3 tablespoons sugar, divided use
1/4 cup fresh grapefruit juice
2 tablespoons soy sauce
1 tablespoon sesame oil
1 teaspoon finely chopped garlic
1 teaspoon kosher salt (1/2 teaspoon if using table salt)
1 tablespoon canola oil
1/2 cup mild cheddar
1/2 cup monterey cheese
1 cup shredded purple cabbage
1 Serrano chili, sliced
Sriracha Crema
1/2 cup sour cream
3 tablespoons Sriracha sauce
Instructions
To make wonton chips:
Heat oven to 350 degrees. Line a bake sheet with foil. In a small bowl mix together butter and canola oil until well combined. Use a pastry brush and cover both sides of the wonton pieces with the butter mixture. Salt to preference. Bake for 12 - 14 minutes at 350 degrees F, rotate bake sheets half way through. Remove from oven and transfer chips to a cooling rack in a single layer. Set aside
To make Korean beef.
Sprinkle 1 tablespoon of sugar on each side of beef; set aside for 10 minutes. Pour grapefruit juice over beef and massage it into the meat; set aside for 10 minutes. Slice beef as thin as possible and set aside to make marinade.
In a large bowl, mix together remaining 1 tablespoon sugar, soy sauce, sesame oil and garlic. Toss sliced beef in marinade; set aside for 10 minutes.
Heat a 10 inch skillet with 1 tablespoon of canola oil. Cook and stir beef in three batches (batch cooking will prevent steaming the beef).
To assemble nachos:
Heat oven to 425 degrees F. Cover bottom of casserole dish with wonton chips, layer with cheese and meat. Repeat once more and place assembled nachos into the oven and bake at 425 degrees F until cheese is melted. Serve with purple cabbage, sliced serrano chili and Sriracha Crema.