There is nothing fancy about this dish, but don't be fooled by its humble appearance. It is so full of flavor and comes together quickly and easily. The perfect game day grub without a doubt.
Yesterday was my brother's birthday and I was tasked with bringing a dish. He generally follows a paleo diet, so anything waffled was out…bummer! So instead, I went for something meaty.
And of course, I needed something simple. Well, it doesn't get any easier than this. The "hot tub" is a three ingredient brew made with beer, an onion and a couple tablespoons of butter. Grill the brats to a golden finish and throw it all in the brew and let go. The end result is brats that are balanced with a subtle beer flavor.
That's it. This turned out to be a bigger hit than I thought—with the adults and kids.
Johnsonville Brat Hot Tub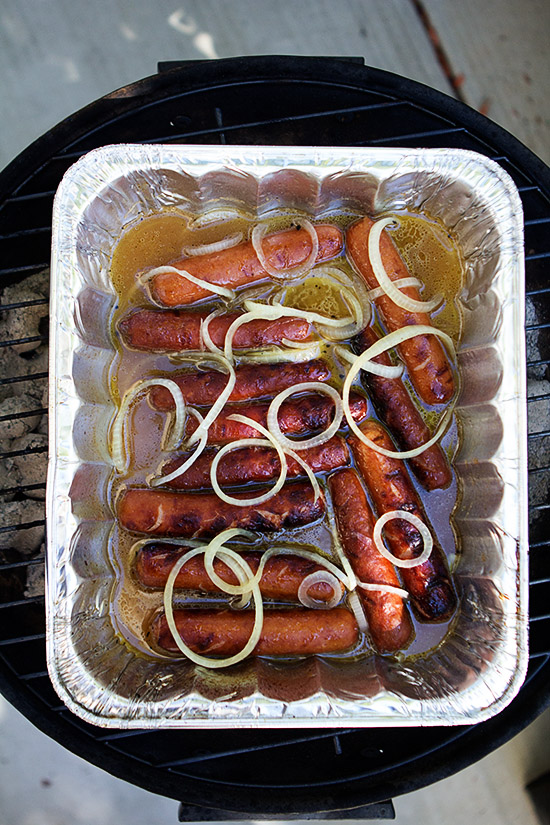 Ingredients
1 11x9x2 3/8 inch aluminum foil baking pan
2 cans of beer
2 tablespoons butter
1 white onion
2 Johnsonville Brats packs
Instructions
Place pan on grill and pour in beer and add in sliced onions.
Grill brats until golden and then add into liquid mixture. Serve immediately and place any remaining brats into the steaming hot tub.
When folks are ready for seconds or thirds, or when stragglers show up late, grab a Johnsonville Brat out of the hot tub and enjoy!