I have done nothing but brag about our new baby, and specifically, what an angel he is and how he does nothing but sleep and rarely cries. Boy has that changed lately! He is 2 months old today and is starting to show his feisty personality. While it's exhausting, it's still cute. It's all part of the process. So coming up with recipe ideas in the midst of his fussiness is not all that easy. However, I am pretty darn happy with these little Jalapeno Chicken Popper appetizers that I made for some company tonight.
It was one of those last-minute get togethers this afternoon and I feel like I've been in a creative rut lately, so creating these were lots of fun. Something about touching my food, pounding the chicken, folding, wrapping it, then filling the house up with the savory smell of it, nothing changes my mood for the better faster. And I only needed a quick run to the store for the prosciutto, so that helped a ton.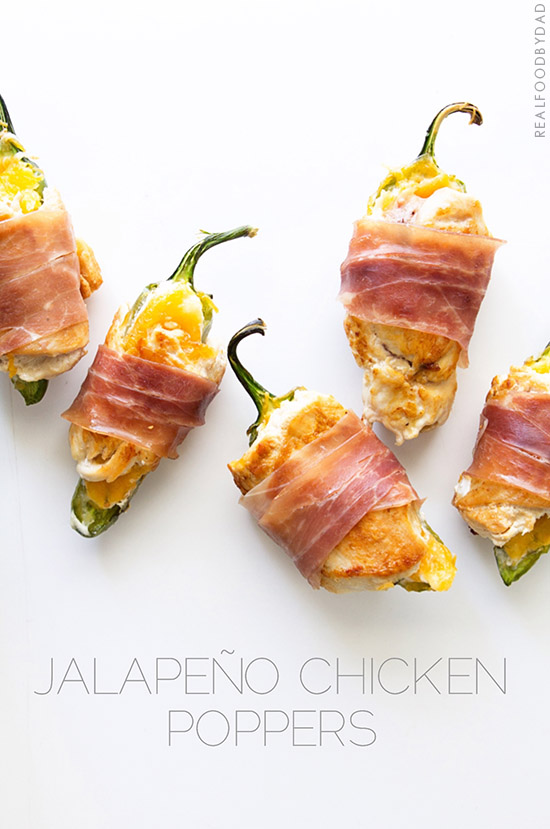 I had some amazingly perfect jalapenos in the fridge that I recently bought for some margaritas and the second I saw a bag full of them, I knew exactly what I wanted to do with them. I love chicken, and especially smashed and combined with cream cheese, so these were so fun to mash up, fill and wrap.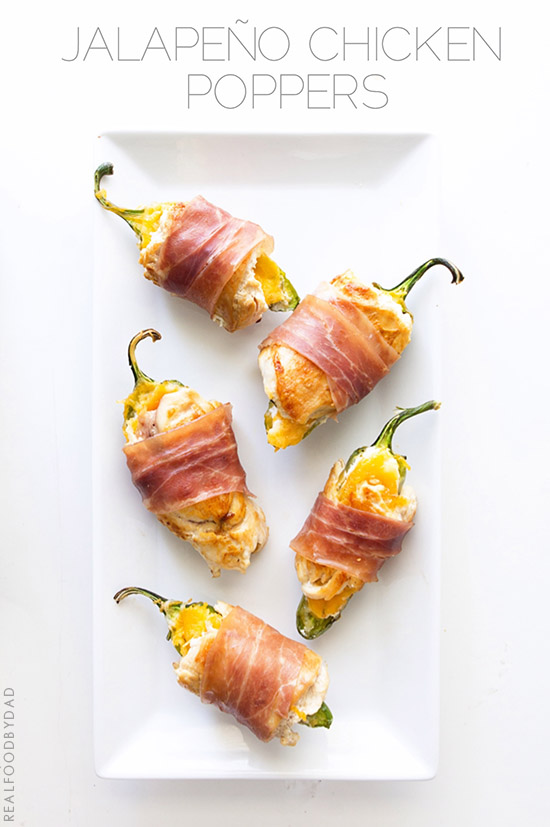 And you know you nailed it when your guests ask for the recipe the second they take a bite. That puts a big ol' grin on my face and makes the newly inevitable crying and screaming so much more tolerable. My poor little guy. Hope he gets some rest tonight. For his sake and ours.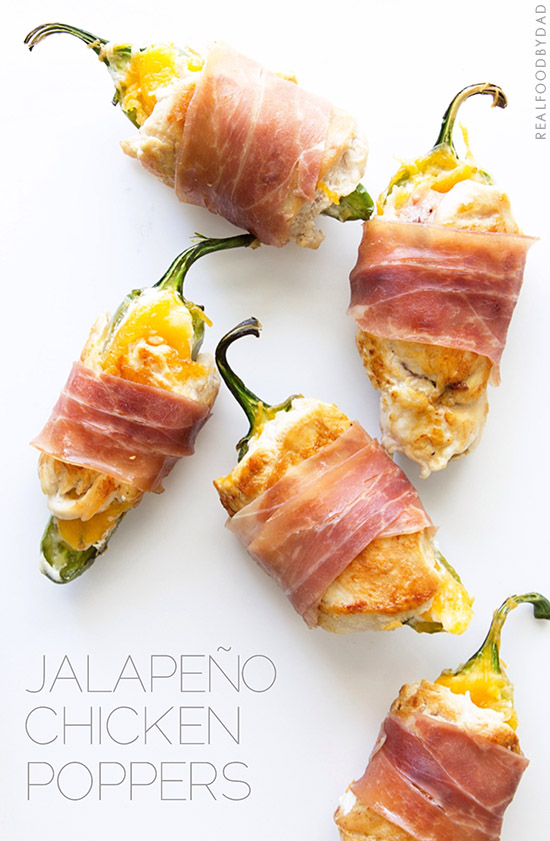 Here's to a great week!
Yield: 14
Jalapeno Chicken Poppers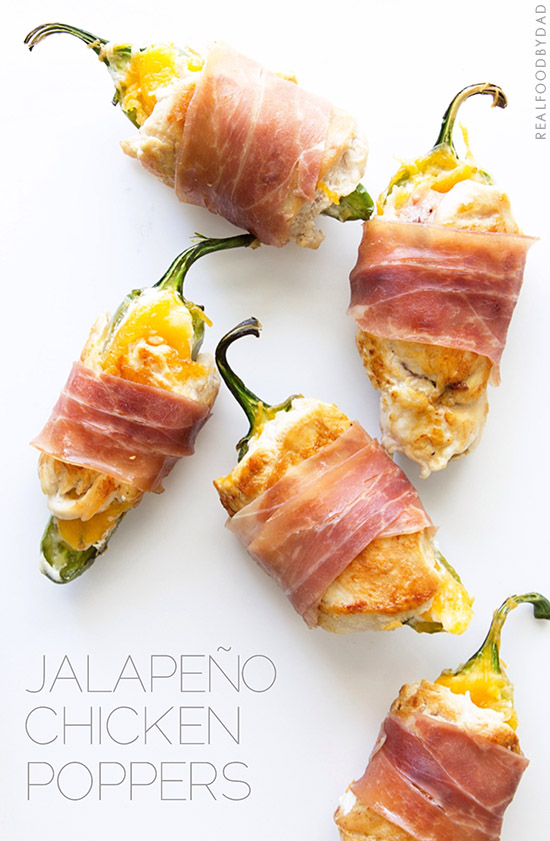 Ingredients
7 large jalapenos, halved, seeded, and membrane removed
1/3 cup onion and chive cream cheese
3/4 cup Mexican cheese
2 1/2 lbs. chicken breast, pounded thin to 1/8 inch thickness
2 tablespoon s canola oil
14 pieces proscioutto (or depending on where you source it and how it is cut, get just enough to wrap each popper)
Instructions
Preparation: Heat oven to 400 degrees F. Line bakesheet with parchment paper. Pipe cream cheese into each hollowed out jalapeno half. Layer filled jalapenos with cheese and bake for about 12-14 minutes or until jalapenos are fork tender. Remove from oven and allow to cool enough to handle.
Cut pounded chicken breast into 2 inch strips. Wrap strips around stuffed jalapenos, making sure ends of chicken strip slightly overlaps.
Heat oil in a large skillet over medium high heat. Place poppers seam side down and cook until golden brown. Turn popper and continue to cook and turn until chicken is fully cooked, about 10-12 minutes. Remove from pan and allow to cool enough to handle. Wrap proscioutto around chicken.
**Notes** (1) If you have sensitive skin, make sure to use gloves when seeding the jalapeno. (2) If you have trouble keeping the chicken together prior to cooking, use kitchen twine to hold it together. The cooking process will fuse the edges together (so long as the chicken edges are touching).