Let's talk mole, specifically red mole–a sweet and warmly spiced variety.
There are all kinds of mole that range from sweet to spicy to fiery. Additionally, mole also comes in a variety of colors dependent on the peppers used along with other ingredients that contribute to its final hue.
The version you see here is adapted from the Mole Amarillo recipe written by Gonzalo Guzman, owner of Nopalito, in his book Nopalito's. In this adapted recipe, I've also included ingredients from chef Gabriela Camara's Mole Rojo De Tepoztlan book My Mexico City Kitchen. The adaptations are based my personal preference for certain flavors and other choices based on what ingredients are most accessible to me.
In Guzman's recipe, he uses a chile combination of guajillo, ancho and morita. Keep in mind the chiles are the workhorse of mole. What you use will give the mole the dominant flavor profile and will also have a heavy hand in the color of it.
Funny when I told my mom that Naomi and I, along with the boys, were making this, she asked if there was chocolate in it, as did my sister. To be honest, I always thought all moles needed to contain chocolate as well. That's actually not the case, Naomi and I obsessively buy cookbooks, which naturally allows me to do my homework and readily cross-reference and research recipes.
Mole, as described by Gabriela Camara in her My Mexico City Kitchen says, " . . there are so many components in a mole, each adding its own unique flavor to the finished sauce every person comes to one of these parties brings their unique personalities to the mix." The party she referring to has to do with the story behind her Mole Rojo de Tepoztlan. If you love Mexican food, and really want to know the flavors and peek into the culture, it's a book I highly recommend. Think of that quote as your on-ramp for exploration.
Now back to where I was going. Not all mole contains chocolate and not all moles are dark amber either. In fact, as I've come to learn mole comes in many colors like green, yellow and red like this one. It is as Guzman says, "Achieving the balance of flavors in a mole is a bit like blending paint colors, it is why the best versions have many ingredients".
Which brings me to another point — don't be scared of the ingredient list. Yes, you need them all to build the flavor, but you can also do a few swaps and changes to bring your own personality to it or to work with what you have on hand.
I will admit, mole does take sometime to make, so gather the kids like I do. Lucky for me, Cole loves cooking, so he usually handles the peppers. Naomi does the spices because she's super Type A about getting it to a fine grind and she loves to manipulate that portion of the flavor by mixing and matching the nuts and seeds. I head up the aromatics—and Connor—well he's usually buzzing around with a bag of chips going from one person to the next, but mainly sticking close to his older brother while trying to boss him around.
We don't make it often, so when we do, I always make sure we do a batch of the mole recipe.
A few notes on how to make mole before you get started and some answers to questions you may have:
Does mole need chocolate?
No. In fact a lot of moles don't contain chocolate at all.
Where can if find dried chiles?
You can find them in the produce or international section of most grocery stores. If not, look to Mexican markets or you can even order on Amazon.
What can I use mole sauce on?
Mole sauce works great on tamales, enchiladas and if you come dinner at my house, you might see it as a spread on a tostada shell before being piled high with other fixings.
What is needed to make mole?
Your basic tools are a baking sheet for toasting peppers, seeds and nuts. A skillet or saute pan for the aromatics. To grind the spices you can use a mortar and pestle, coffee grinder, spice grinder. To blend the recipe to a fine sauce, I use a food processor, but a blender or a good immersion blender works well too.
My recipe adaptation, as mentioned, is from Nopalito by Gonzalo Guzman and My Mexico City Kitchen by Gabriela Camara.
Changes I made to the recipe: I swapped out the morito chiles for New Mexico Chiles because the latter is easier to find and less spicy, although it's also less smoky in flavor, so that's a bit of a loss. I used fresh Roma Tomatoes (as featured in one of Camara's mole recipes) instead of diced tomatoes because I prefer the softer flavor of Roma. The addition of the walnuts alongside of the peanuts is personal preferences. I skipped the masa for and a handful of tortilla chips – super untraditional, but also very flavorful. Sesame seeds were added as a preferred flavor enhancer and another thing I learned from Camara's recipe. Most importantly, I did not fry off the mole as Guzman does. It's an extra step that doesn't yield enough of a difference.
Now that you how the recipe came together, I would love to hear about any mole recipes you have tried, made – loved or hate – sharing makes us all better cooks!
Yield: Makes about 4 cups
Red Mole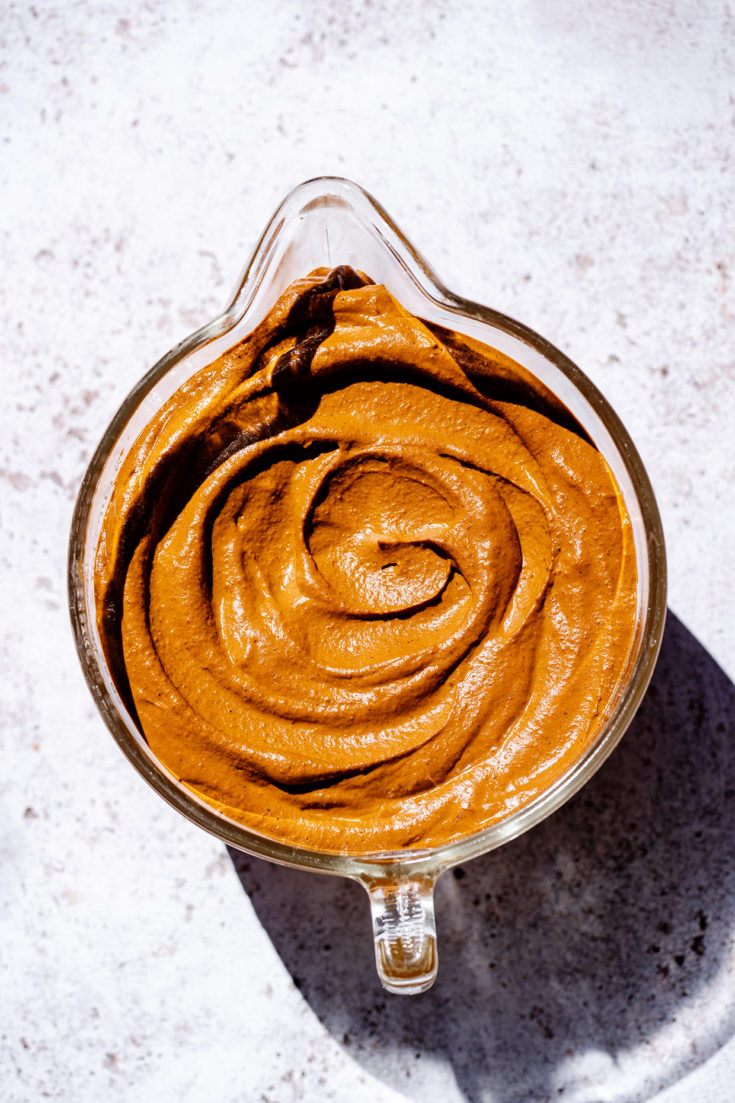 Ingredients
* 6 dried guajillo chiles
* 3 dried New Mexico chilies
* 3 dried pasilla ancho chiles
* ½ cup peanuts
* ½ cup walnuts
* 4 tablespoons sesame seeds
* 4 tablespoons pepitas seeds
* 1 ½ teaspoons cumin seeds
* 1 ½ teaspoon ground all spice
* 4 whole cloves
* ½ cinnamon stick
* 2 tablespoons canola oil
* 2/3 cups raisins
* 1 large onion
* 4 garlic cloves
* 4 Roma tomatoes, cored and quartered
* 6 tomatillos, husked and coarsely chopped
* 3 bay leaves
* 10 tortilla chips
Instructions
Heat oven to 350 F. Place peppers on a baking sheet and roast for 5 minutes. Remove from oven. Transfer peppers to a heat proof bowl and submerge peppers in boiling water to reconstitute.

Using the same baking sheet place spread out the peanuts and walnuts to roast for 5 minutes. Remove baking sheet from the oven and add the pepitas and sesame seeds alongside the nuts. Return pan with the seeds and nuts and roast for another 5 minutes, or until toasted and fragrant. Remove from oven, transfer mixture to a plate to cool.

On the same baking sheet, toast the cumin seeds ground all spice, cloves and cinnamon stick until aromatic, about 7-9 minutes.

In a skillet, heat 2 tablespoons of oil in a skillet over medium-high heat. Add the onion and cook until softened and translucent, about 10 minutes. Add the garlic, cook and stir 30 seconds. Stir in the raisins, tomatoes, tomatillos and bay leaves, let simmer for 30 minutes.

Transfer the reconstituted peppers to a blender and process until pureed, adding 1 cup of the soaking water, or more as needed, to blend. Add the nuts and seeds mixture along with the onion-tomato mixture and the tortilla chips, blend until very smooth. Season with salt to preference.

Transfer mole to saucepan and bring to a boil. Lower heat and let the sauce simmer for 30 minutes. Remove from heat to cool.