Hot Italian Sub Sliders for a crowd is your stress-free way to feeding everyone on game days. These mini sandwiches pack a lot of taste with minimal effort. It's the one-pan way to please a crowd!
I know sports aren't totally back to normal, but at least we have games to view and we can now finally gather with friends and family, albeit in small groups. With that, gamed day bites are back and coming in hot!
Although admittedly, I've been making this for dinner too because it's easy and the kids portion out their own little corners and layer it according to what they like. So what you see here looks well-stacked, what happens off camera is another story.
My little guy is going through a phase in which he likes to layer his sandwiches with Goldfish or potato chips. While you may not see that here, know that these sliders, or any for that matter are really just an open invitation and canvas to get crazy. At least that's the interpretation of it coming from my 6-year-old.
A few notes about this Hot Italian Sub Sliders recipe:
Can I swap out the deli meats?
Yes, for sure. I do that often based on what I can find. For the recipe here, I had to use black forest ham and pepperoni because I couldn't find any capicola or mortadella. But generally you want to stick to Italian cold cuts, since the idea is Italian Sliders.
How much in advance can I make this?
I wouldn't make this more than 15 minutes in advance. You want the sliders to be hot and the cheese to be melty. If you need to shortcut the time, my suggestion is to assemble it ahead of time, keep it covered with plastic wrap and then throw it in the oven at the last moment right before serving.
What else can I serve with this for a game day spread?
What can't you serve this? But to answer this question more specifically, here are a few ideas: Chorizo Queso Fundido, Buffalo Chicken Frachos, Pizza Bread Sticks
Hot Italian Sub Sliders for a Crowd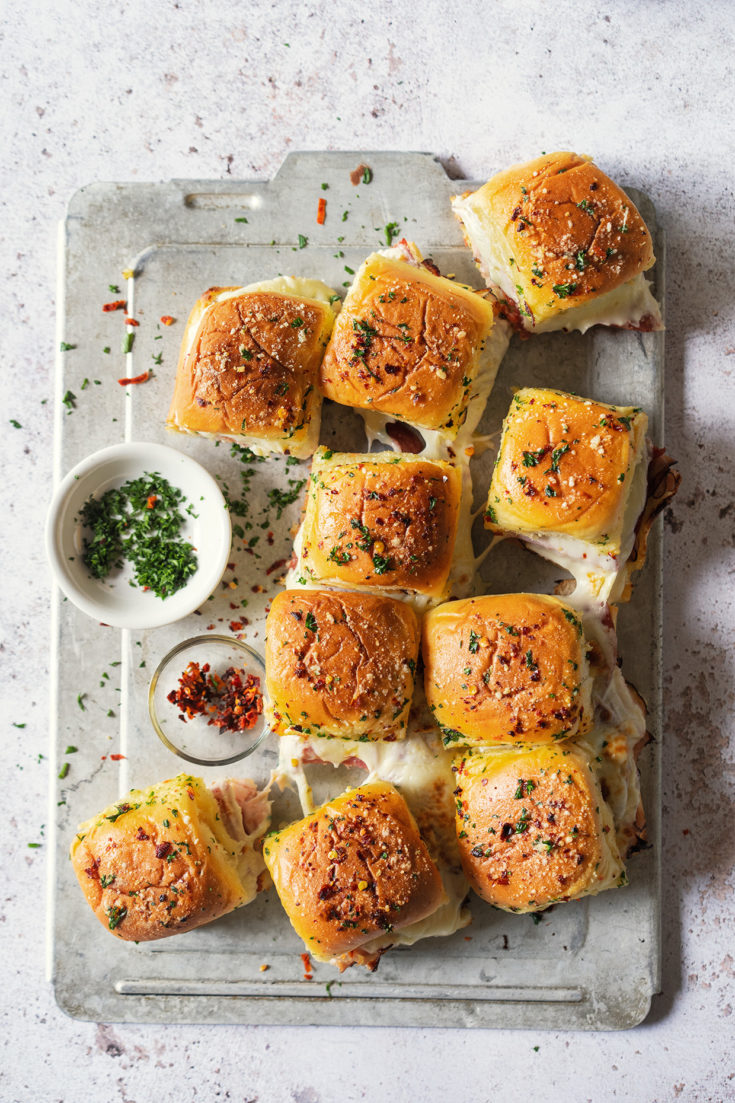 Prep Time 10 minutes

Cook Time 12 minutes

Total Time 22 minutes
Ingredients
4 tablespoons melted butter
1 tablespoons chopped Italian parsley
12 slider buns
4 tablespoons mayonnaise
4 tablespoons mustard
2 oz. genoa salami
2 oz. pepperoni
4 oz. provolone
2 tablespoons grated parmesan
1 tablespoon crushed red pepper flakes
Instructions
Preparation: Heat oven to 350 degrees F.

In a small bowl, whisk together melted butter and parsley. Set aside to assemble sliders.

Split slider buns horizontally. Place bottom half on a baking sheet. Spread 2 tablespoons of mayonnaise and mustard on the bottom half. Layer with deli meats and cheese. Spread top half of buns with remaining 2 tablespoons of mayonnaise and mustard, then place it on top of the cheese.

Use a pastry brush and spread butter sauce on tops of bun. Sprinkle with parmesan cheese and crushed red pepper flakes.

Transfer baking sheet to the oven and bake until cheese is melted, about 10 to 12 minutes. Remove from oven and serve immediately. Optional: Serve with pepperoncinis, lettuce, tomato, oil and vinegar.
Notes
If this the buns start to brown before the cheese melts, place foil on top and tent slightly.