Honeydew and Kiwi Limeade ~ Get your summer on with this refreshing limeade. Its sweet and herbaceous blend makes it a top choice for summer sips.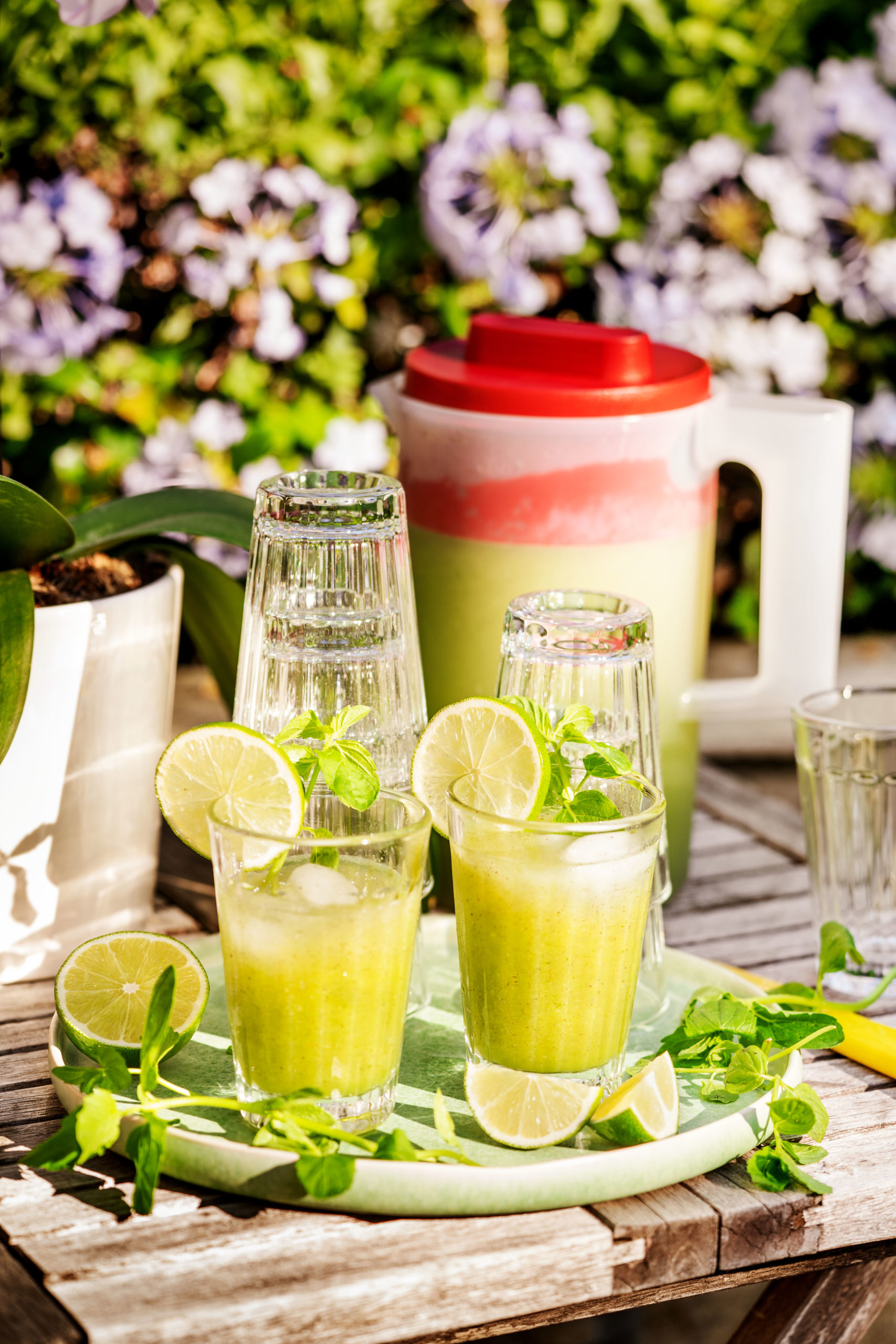 *This post is written in collaboration with Rubbermaid. All thoughts and opinions are my own.
It comes together quickly and easily. Hot pro-tip, which almost goes without saying—but as a summer refresher—smell the honeydew. If you can smell a floral sweetness, put it in your cart—it's ripe and ready. For a visual cue look for a big sun spot—you know that big yellow patch on a melon. The yellow patch is indication the melon has been sun ripened.
Another hot tip: Use Rubbermaid's Simply Pour Pitcher. You can mix, pour and serve all in one pitcher. The leak resistant lid prevents spills. That means you can give the pitcher a good stir and pour without the drink spraying everywhere or leaking down the side of the pitcher.
I'm all about that, especially since my kids are great at helping themselves, but not so great with clean up. If you are a parent, I'm sure you are familiar with those annoying sticky messes. No more wiping down puddles in the refrigerator or scrubbing off those dried sticky juice leaks on the countertop. Nope.
The pinch-grip handle also makes it easier for little hands and big hands alike to grip it and helps to keep everything balanced for easy pouring.
Lastly, let's not forget the Easy Release Flexible Ice Tray. There is nothing worse than twerking your wrist for a few ice cubes. Goodbye ice tray wrestling and hello to soft flexible material that easily gives and yields ice cubes with a quick turn of the wrist.
Now that you have the low-down go get your fruit and get juicing. This Honeydew and Kiwi Limeade is kid and parent approved!
Yield: Serves 6
Honeydew and Kiwi Limeade
Ingredients
4 lbs. honeydew (about 2 or 1 extra large melon)
3 kiwis, peeled
2 English cucumber (1 chopped and 1 sliced)
1 cup fresh mint leaves (plus a few sprigs for garnish)
1 cup simple syrup*
1/2 cup fresh lime juice (about 8 lime)
1 lime, sliced (for garish)
Instructions
Place the melon pieces, kiwi, chopped cucumber and mint until smooth. Push the the mixture through a fine-mesh strainer.

Sir in the lime juice, simple syrup, water sliced cucumber. Chill for at least 30 minutes or overnight. Serve over ice and garnish with lime wheels.

*To make the simple syrup ~ In a small saucepan, over medium high heat, combine 1/2 cup granulated sugar and 1/2 cup water. Simmer and stir until sugar is dissolved. Let cool and then seal in a jar. Simple syrup can be kept in the refrigerator for up to a month.