Grilled Zucchini with Savory Yogurt Sauce ~ This is a summer side dish that goes well with nearly any grilled meat. The accompanying Savory Yogurt Sauce is the ticket to leveling up all your grilled veggies and meats.
I promise this is an easy recipe to pull off. Throw some chicken on the grill, next to the grilled zucchini, and dinner will be done in less than a half an hour.
A must nowadays since most of us are back in school with distance learning. Which means if you have a small one like I do, you're basically saddled in a chair next to your kid helping him navigate online class.
How is it that these little 6-year-olds can whip around an iPad with no pause or hesitation, but asking most of them to mute their mics is like asking them to look for Where's Waldo on their computer screen?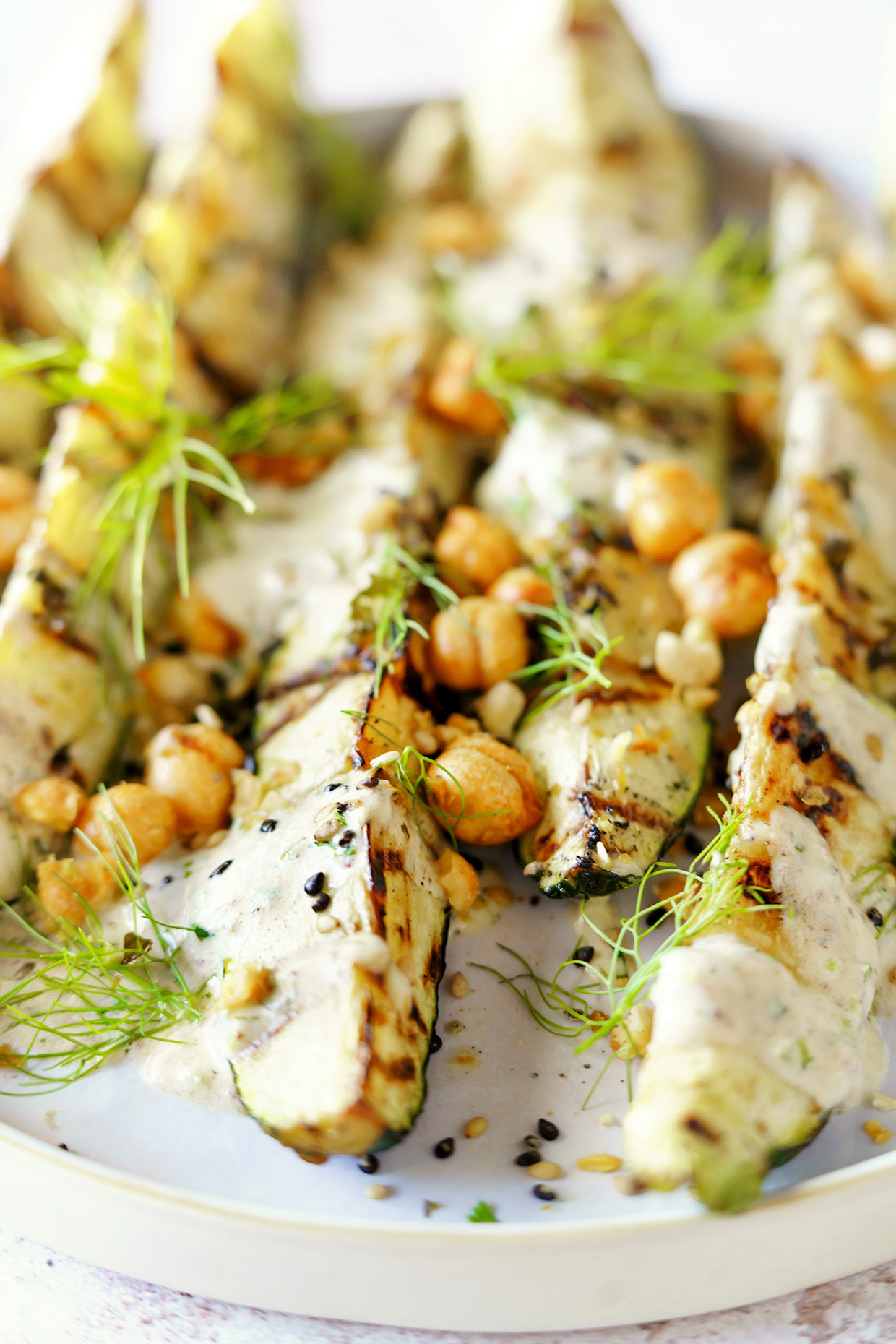 It's an adjustment for sure and the little guy is adapting, but fingers crossed we can get back to normalcy of in-person school soon. It's just not the same for him. He likes the live interaction with his friends and teacher.
A few notes before getting started on the Grilled Zucchini with Savory Yogurt Sauce recipe:
If you aren't able to use grilled zucchini, roasted or pan-seared will work just as well.
For the yogurt sauce I prefer Wallaby's Whole Milk Yogurt, but Greek yogurt works too.
If zucchini is not your thing, any roasted or grilled vegetable pairs well with the yogurt sauce.
The yogurt sauce an be made three days in advance and kept refrigerated in an airtight container.
Yield: Serves 4-6
Grilled Zucchini with Savory Yogurt Sauce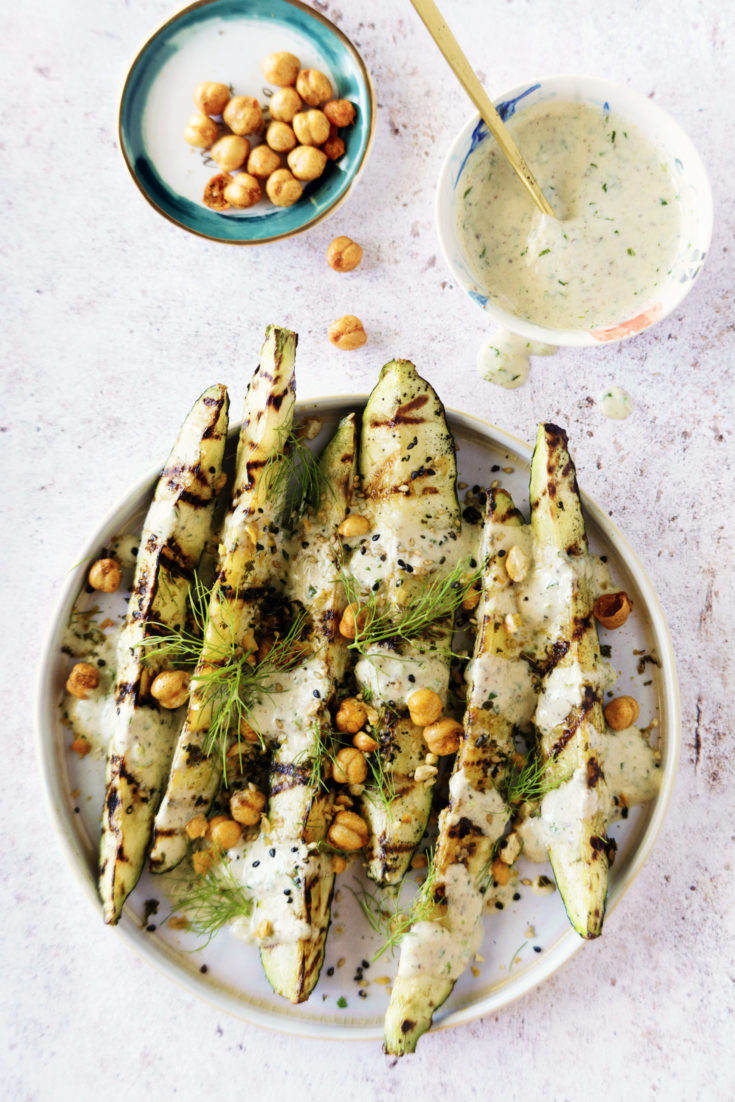 Prep Time 15 minutes

Cook Time 12 minutes

Total Time 27 minutes
Ingredients
2 lb. zucchini, cut into long wedges
1 tablespoon olive oil
kosher salt and freshly ground pepper, to taste
1/2 teaspoon cumin seeds
1/2 teaspoons coriander seeds
1/2 teaspoon grated garlic
1/2 cup whole milk (or Greek) yogurt 1/4 cup extra virgin olive oil
2 teaspoons lemon juice
1 1/2 teaspoon low-sodium soy sauce
1/2 kosher salt
Instructions
Toss zucchini with olive oil, salt and pepper.

To grill zucchini: Heat grill on high for 15 minutes with the lid closed. Turn heat down to medium and open the lid. Tightly fold a paper towel into a square and dip in oil. Use the heavily soaked paper towel and brush the rack to oil it. This will prevent the zucchini from sticking.

Grill zucchini, turning every 2 minutes for a total of 4 - 6 minutes, or until preferred doneness.

To make savory yogurt: In a small skillet, over medium heat, toast cumin and coriander seeds. Transfer toasted mixture to a mortar and pestle with dehydrated minced garlic, crush to a coarse finish. Transfer to a bowl with Wallaby Whole Milk (or Greek) Yogurt and remaining ingredients. Whisk to combine.

To serve: Drizzle sauce on grilled zucchini and top with crispy chickpeas, dill fronds and black sesame seeds.