I'm all about the grill lately. This grilled steak dinner is no exception. I've grilled everything from the steak to the salad. Okay, minus the arugula portion of the salad, but that seemed like overkill next to the grilled watermelon and avocado. Although make no mistake about it, I'm not beyond grilling my greens, for reference check out this Grilled Cesar Salad.
I've decided that summer means taking the kitchen outside. What can be easier than doing all your prep with abandon. There's no worrying about wiping down counter tops, picking up spilled food off the ground. Nope. One quick sweep of of the power hose and it's all done. And the grill is even easier. Lift the food and leave the sticky bits on the grates for next time.
You know that, right? You clean your grill as part of the pre-heating process because it will either cook off the food or the food becomes nice and dry, thereby making it easier to scrub off with a metal grill brush. This saves you time and it saves you from replacing the brush more frequently from food gunking up the bristles.
Here's to more reasons to stay outside and grilling more food!
Yield: Serves 4
Grilled Steak with a Grilled Watermelon and Avocado Salad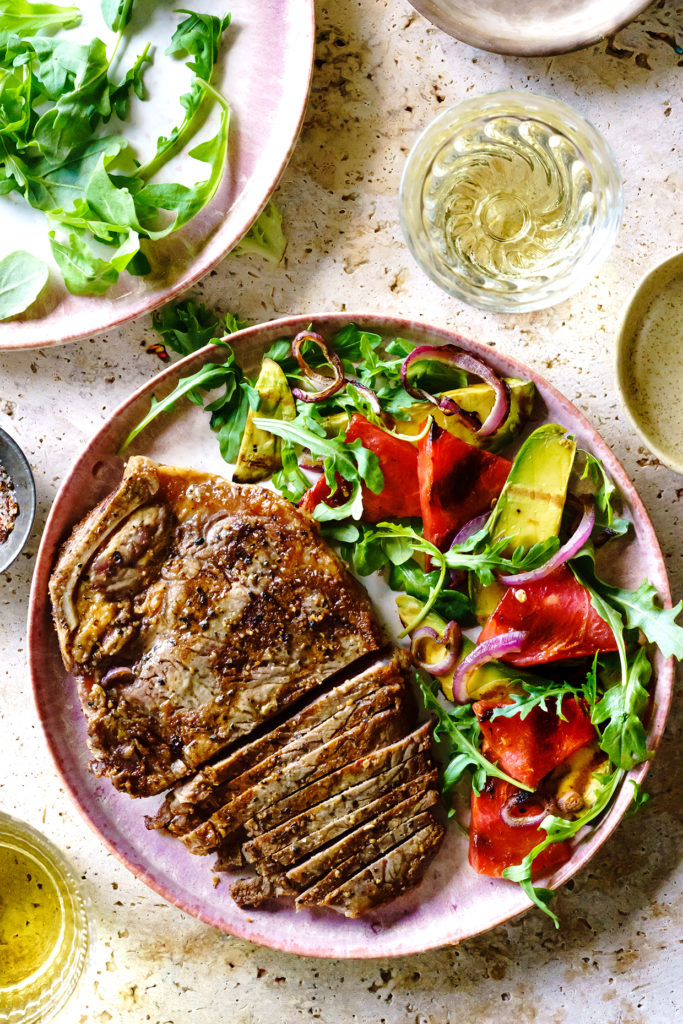 Ingredients
4 10 oz. strip steak
2 tablespoons olive oil
2 tablespoons kosher salt
2 tablespoons black pepper
2 lbs watermelon, sliced
2 avocados, sliced
1/2 small red onion, sliced
2 oz arugula
Instructions
Prepare grill for direct high heat. While the grill is pre-heating, prepare the steaks by brushing on olive oil on each side. Evenly season both sides with kosher salt and fresh black pepper. Brush cooking grates clean.
Place steaks on grate. Close the lid and grill for four minutes. Flip the steaks and grill for another 4 minutes for medium rare. Remove the steaks from the grill. Set aside to rest for 3 to 5 minutes before serving or slicing.
In the meantime, add the watermelon and avocado on to the grate. Grill with the lid open for 2 minutes on each side. Remove from the grill and gently toss with onion, arugula and your preferred vinaigrette. Salt and pepper to taste.
Plate salad with steak and serve immediately.