When it comes to dinner duty in our home, Naomi and I are pretty good about rotating. So often, one of us is knee-deep in a project or helping the boys with their schoolwork, so that means one of us steps up and do back-to-back dinners. And if that person is me, I tend to default to something fairly easy that I know the boys will like. Or at least, won't complain about too much. Pizza or tacos. Who's with me here?
I am a little pizza-d out lately, so I decided on Taco Thursday. And the family didn't argue. When I usually make tacos for the boys, 90% of the time that means ground beef/turkey or chicken. So to switch things up a bit, and because time was of the essence, and also because I love grilling, I did a search for some taco ideas and came across this recipe for Skirt Steak Tacos with Roasted Tomato Salsa, by the always reliable Bobby Flay. And I'm glad I found it!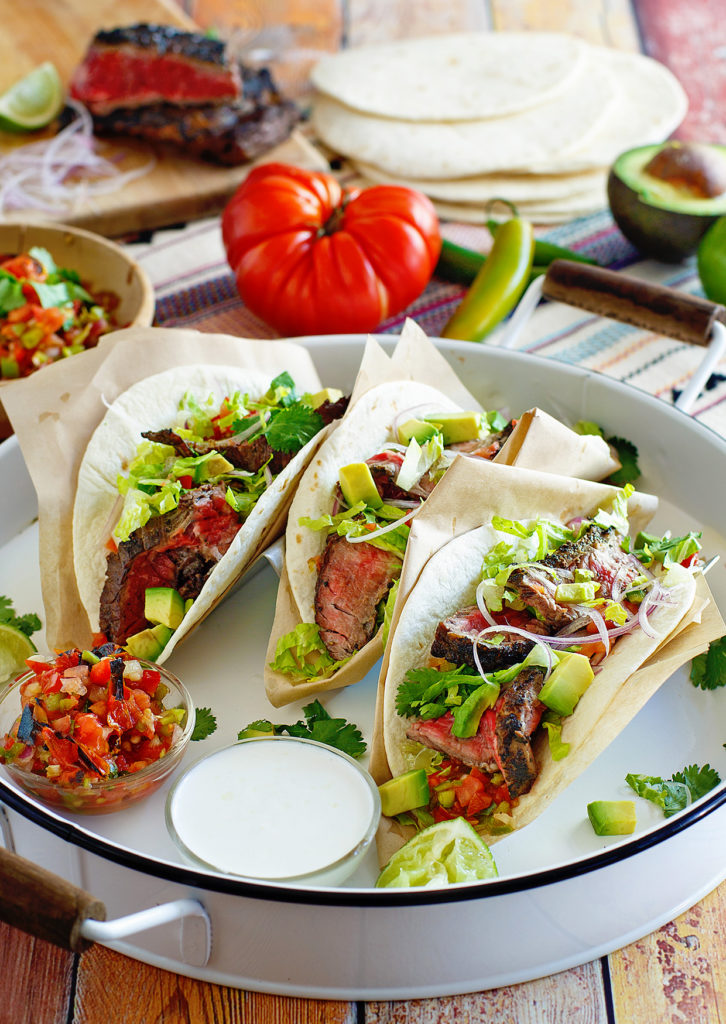 A quick run to the grocery store for some skirt steak while the grill heated up, dinner was on the table in 30 minutes. I was a little afraid that the salsa would turn out a little too spicy for the boys due to the serrano chiles. These boys like spicy way more than I do, but the heat level was definitely on the higher end. I let them figure out a way to balance that heat and they decided upon big ol' heaps of sour cream, and that did the trick.
No doubt this taco recipe will be on our summer grilling menu going forward. It's quick, tasty, fun, and a huge hit with the entire family. Thanks Bobby!


Yield: Makes 4 servings
Grilled Skirt Steak Tacos with Roasted Tomato Salsa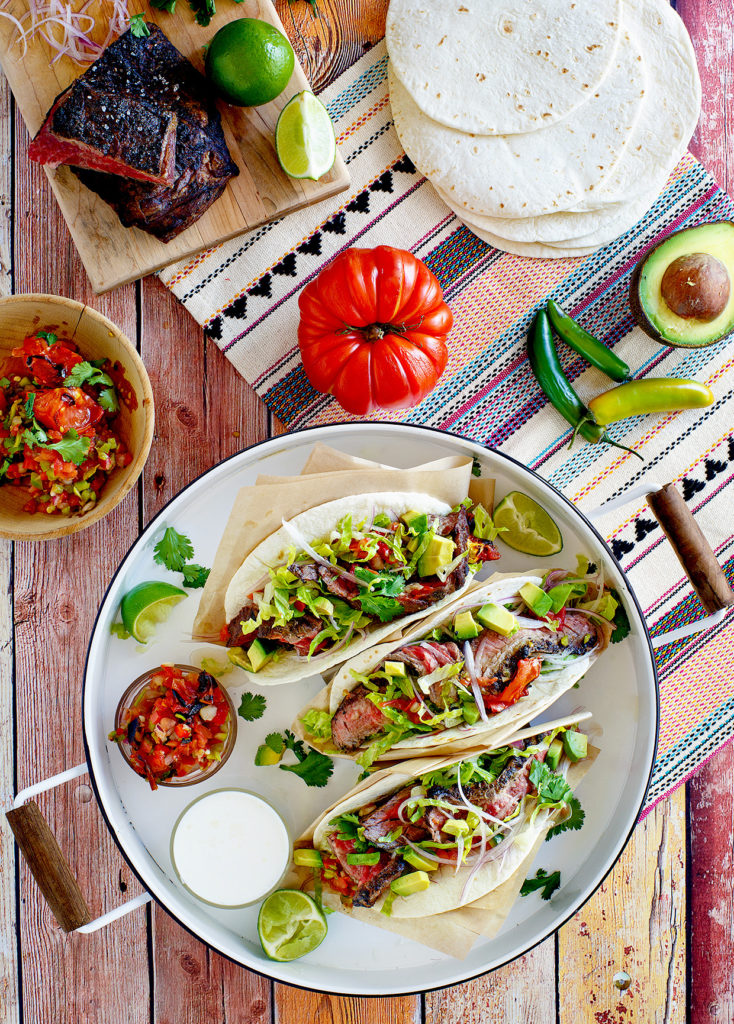 Ingredients
8 (6-inch) flour tortillas
1 1/2 pounds skirt steak
2 tablespoons canola oil
Salt and freshly ground black pepper
1/2 head romaine lettuce, thinly shredded
1 medium red onion, thinly sliced
1 ripe avocado, peeled, pitted, halved and diced
Grilled Tomato Salsa, recipe follows
8 ounces sour cream
Grilled Tomato Salsa:
2 tablespoons canola oil, plus more for brushing tomatoes
2 serrano chiles
1 small red onion, coarsely chopped
4 cloves garlic, peeled
6 plum tomatoes, halved and seeded
Salt and freshly ground black pepper
2 limes, juiced
1/4 cup chopped fresh cilantro leaves
Instructions
Heat grill to high.
Warm tortillas by wrapping it in aluminum foil and place it on the top rack of the grill while the steak is grilling.
Heat grill pan over high heat. Brush steak with oil and season with salt and pepper on both sides. Grill on one side until golden brown and slightly charred, about 3 to 4 minutes. Turn the steak over and cook to medium-rare doneness, about 3 to 4 minutes longer. Let rest 5 minutes then slice against the grain into 1/4-inch thick slices.
Split meat among tortillas and fill with lettuce, onion, grilled tomato salsa, sour cream, and avocado.
Grilled Tomato Salsa:
Heat grill to high.
In a small pan, add oil and heat, add chiles, onion, and garlic, saute until soft.
Brush tomatoes with oil and season with salt and pepper. Grill on both sides until slightly charred and soft.
Transfer tomatoes and serrano mixture to a food processor; add remaining ingredients and process until smooth. Transfer to a bowl.