Grilled Shrimp Taco Bowl ~ Calling all carb-curbing eaters, this one is especially going to be your jam. For the rest of us who carb load where we can, grab the tortilla chips and crush some on the top because the additional crunch makes this next level.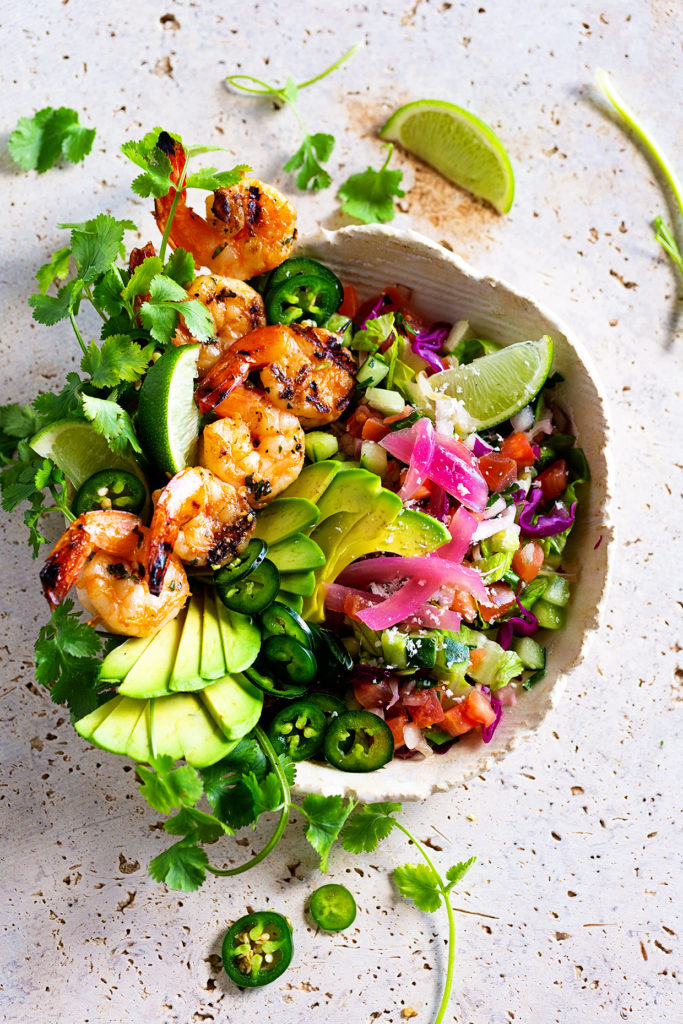 That is unless you are my boys who mowed down the shrimp and avocado, and then just moved around the rest of the bowl to look like they ate more than they actually did. In all fairness to them, they really objected to the pickled onions that I tossed throughout. I'm learning that pickled anything outside of pickles is definitely an adult thing —  an acquired taste.
Naturally like any good father, I had them sit at the table until Naomi was done. Once that last shred of green hit her lips, they jumped out of their chairs and shouted, "In and Out double-double, puh-lease." As if they even needed to, I already had the keys eyeballed and one leg swung out from under the table.
I'm pretty sure they wouldn't have starved, but they know how to play to my sympathies.
That aside, outside of my two boys who aren't even old enough or weigh enough to sit shotgun—this is a legit meal as was my second dinner with boys at In and Out.
Yield: Serves 4
Grilled Shrimp Taco Bowls
Ingredients
Honey Cilantro Lime Dressing
1/3 cup olive oil.
1/4 cup fresh lime juice.
3 tbsp honey.
3 tbsp finely chopped fresh cilantro
1 garlic clove, peeled and minced
salt and pepper to taste
Bowl ingredients
4 cup of shredded romaine lettuce
1 cup pico de gallo
1 cup chopped zucchini
1/2 cup red cabbage
1/2 cup cup picked onion
Grilled shrimp
3 garlic cloves, finely grated
1 tablespoon fresh lime juice
2 tablespoons vegetable oil, plus more for grill
1 pound large shrimp, peeled, deveined
Kosher salt
coarsely ground pepper
bamboo skewers, soaked 30 minutes in water
8 cilantro sprigs
sliced jalapeno
lime wedges
Instructions
To make Honey Cilantro Lime Dressing: Vigorously whisk all ingredients together. Set aside.
Prepare bowl: In a large bowl, toss together lettuce, pico de gallo, zucchini, red cabbage and pickled onion. Add the dressing and toss until coated.
To grill shrimp: In a large bowl, whisk together garlic, lime juice and oil. Add the shrimp and toss to coast. Season with salt and pepper. Thread shrimp onto skewers.
Prepare the grill for medium-high heat and oil grates. Place shrimp on prepared grill, turning once, until cooked through and char marks appear, about 2-3 minutes on each side.
Add shrimp to bowl. Top and garnish with cilantro, jalapeño and lime wedges. Serve immediately.