Get your grill ready, because the season has begun! I'm kick starting it with these grilled shrimp lettuce wraps that are protein-packed and full of goodies. But more importantly, they take minutes to make. So you know, you can get back doing important stuff. . . .stuff like making sure your team is winning the NBA playoffs.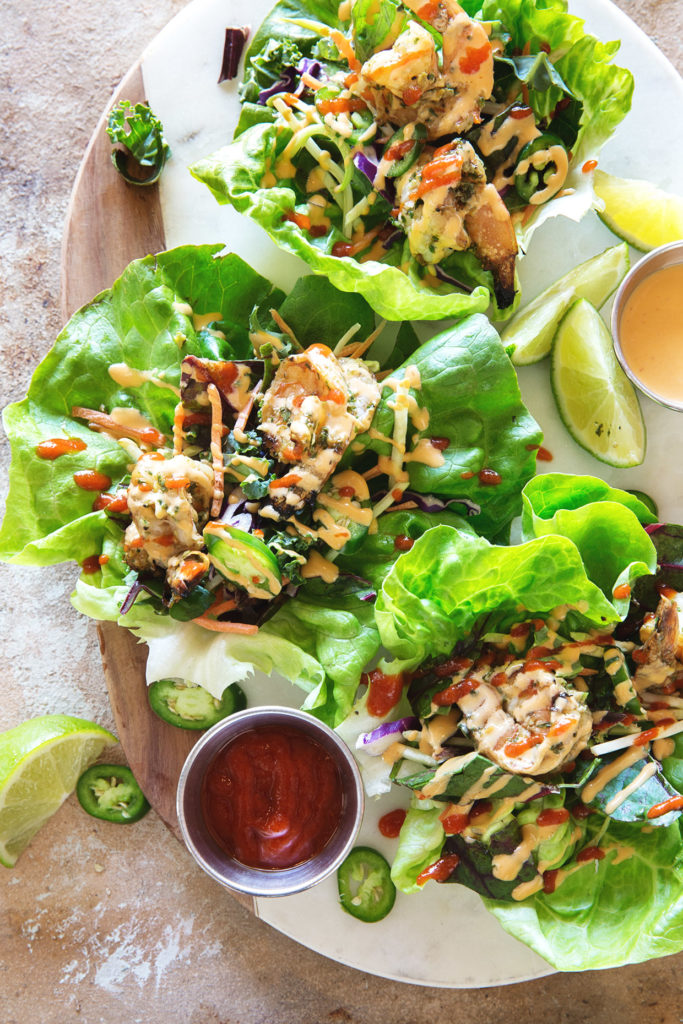 I've mentioned it on many occasions that sports are a big deal in our home. As my boys get older it gets more serious in every way. We debate everything from who the top ten players are of any given sport to who should rightfully make the All Star team.
My boys do not miss a beat. They know all the players, all their stats, and forecast and project the results of games at the start. I'm not complaining. In fact, I'm especially not since I'm winning our latest friendly wager about the Cleveland Cavaliers. 
Now, they are not my team. But they are my team when my boys are betting against me. What's at stake? Chores of course. Cavaliers win (which means I win) they have to do: laundry, wash my car, and dinner duty for two nights for the next three weeks. 
Go Cavs! And yay to fast and easy dinners like this.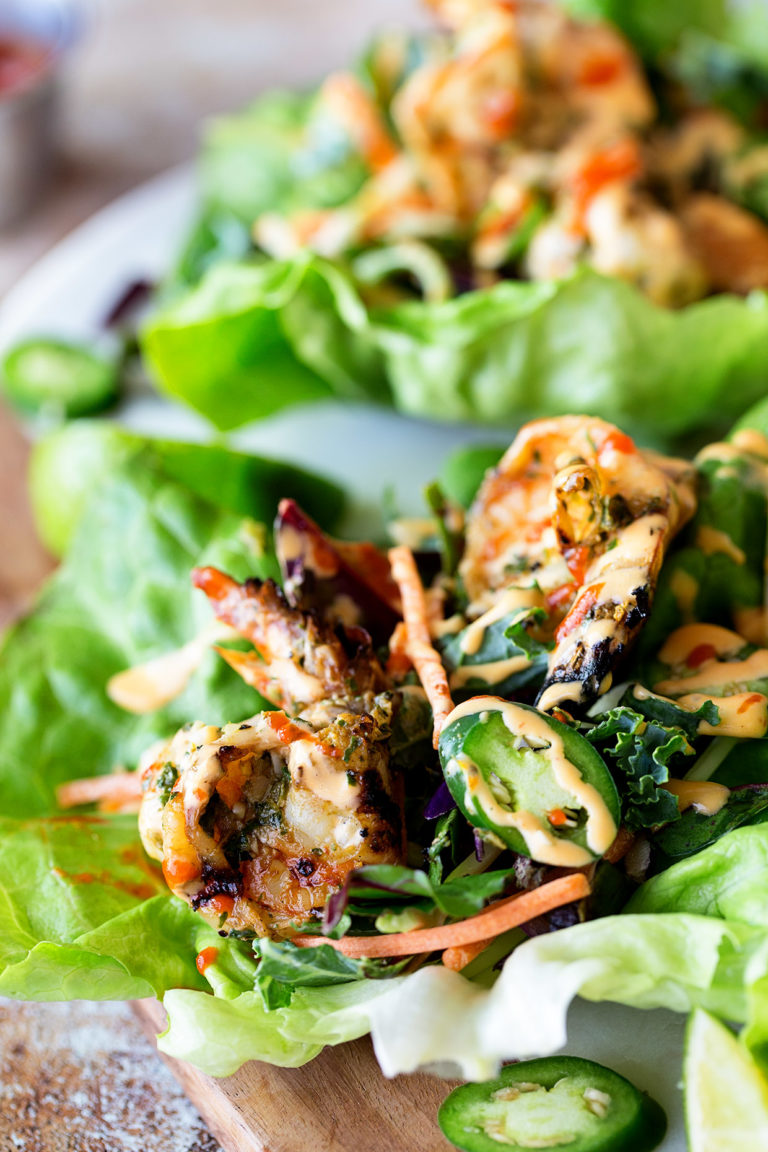 Yield: Serves 4
Grilled Shrimp Lettuce Wraps
Recipe adapted from here: http://www.foodnetwork.com/recipes/bobby-flay/grilled-shrimp-scampi-recipe
Ingredients
12 jumbo shrimp, peeled and deveined
1/2 cup canola oil
10 cloves garlic
1/4 teaspoon crushed red pepper flakes
1 teaspoon ground fennel seed
Salt and freshly ground black pepper
1 stick unsalted butter
1 large lemon, zested and juiced
1 tablespoon chopped tarragon leaves
2 teaspoons chopped fresh thyme leaves, plus sprigs for garnish
1/4 cup chopped fresh Italian parsley leaves, plus extra for garnish
8 butter leaf lettuce
4 cups shredded greens and preferred vegetables
Instructions
Put the shrimp in a large baking dish.
Combine the canola oil, garlic, red pepper flakes and fennel seed in a small food processor and process until the garlic is somewhat paste-like. Pour this mixture over the shrimp and let them marinate for 30 minutes.
Light a grill to high heat.
Strain the shrimp from the marinade and season them with salt and black pepper, to taste. Grill the shrimp on both sides until they are slightly charred and just cooked through, about 2 minutes per side. Transfer the shrimp to a plate.
Melt the butter in a large saute pan set over the grates of the grill. Add the lemon zest, lemon juice, tarragon and thyme leaves and cook for 30 seconds. Add the shrimp and cook, tossing once, about 1 minute. Finish with the parsley and adjust the seasonings, if necessary. Transfer the shrimp to a serving platter and garnish with thyme and parsley.
Layer shrimp on butter leaf lettuce and shredded greens and vegetables.